I cannot even believe that this post is finally going up!! One year and four months later, here we are. We made it through our major, major kitchen renovation. And this entire rustic modern farmhouse kitchen renovation was completely done by us; the design, demo, and rebuild – our biggest DIY to date! 😅
I had plans to share the process here along the way, but obviously did a terrible job with that – haa! I did document lots of the process on Instagram stories though, so if you're wanting to see that, you can watch those in our Instagram highlights, I started with this tour of our old kitchen space. There's also a video below, which shows a bit of the renovation process as well as the new kitchen tour!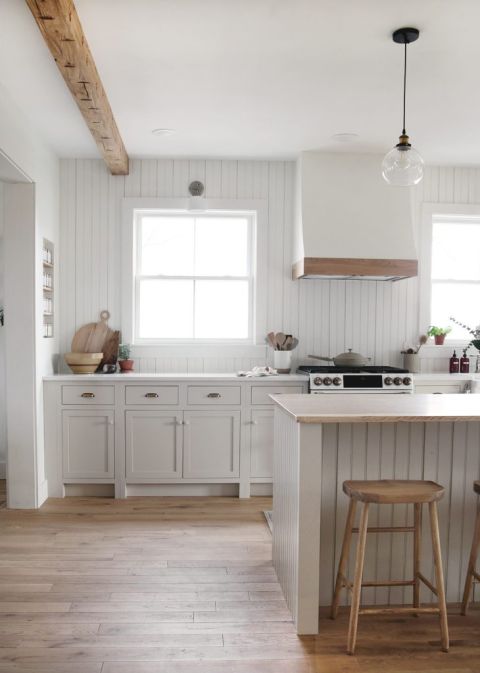 It was a lot to live through, renovating during a pandemic. We had started the process (paperwork, permits) right before everything happened, and didn't know if we'd be able to continue on, but things kept happening, so we kept going. Renovations are exhausting to live through, mentally and physically, and top that off with the stress of living and parenting through a pandemic…I sometimes didn't know if I'd make it through. That's the biggest reason I didn't share more on here, it was enough just to be living through it and sharing some on stories; most days I just didn't have the energy to re-live it all for a blog post. But I'm glad I have the photos and videos to share now. It's been so wild to look back on it all as I've been editing.
At the end of the post you can see some before and after photos, I tried to capture some of the same angles in our old kitchen and current. You can read a quick recap of what we did in this post (there's a few demo photos from the start of the process in that post too).
I've got lots of DIYs from this process coming up, so hopefully you don't get tired of seeing this space! If there's any details on anything you want to know, let me know. I've listed sources/paint colors at the end of this post. We need to finish up a couple minor things in the mudroom and dining room, and once those are done, I'll share those spaces as well. Then we've still got the laundry room and the two new rooms that we added on above the kitchen to do! 😅 Forever a project to work on!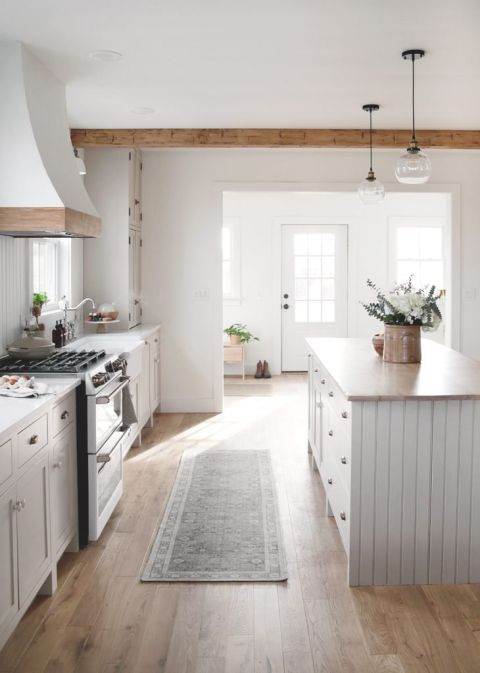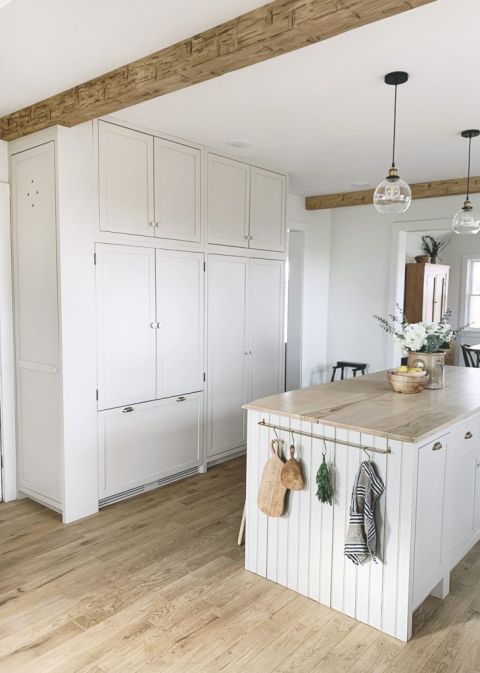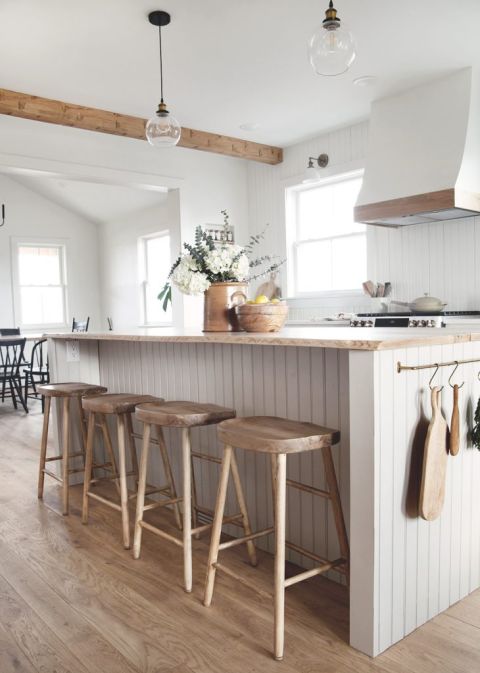 VIDEO TOUR:
And here's the video of the kitchen – it's rather long, so grab a snack and enjoy! 😉
And here's the IG Reel for a quick look at the renovation:
 

 

View this post on Instagram

 
BEFORE AND AFTERS: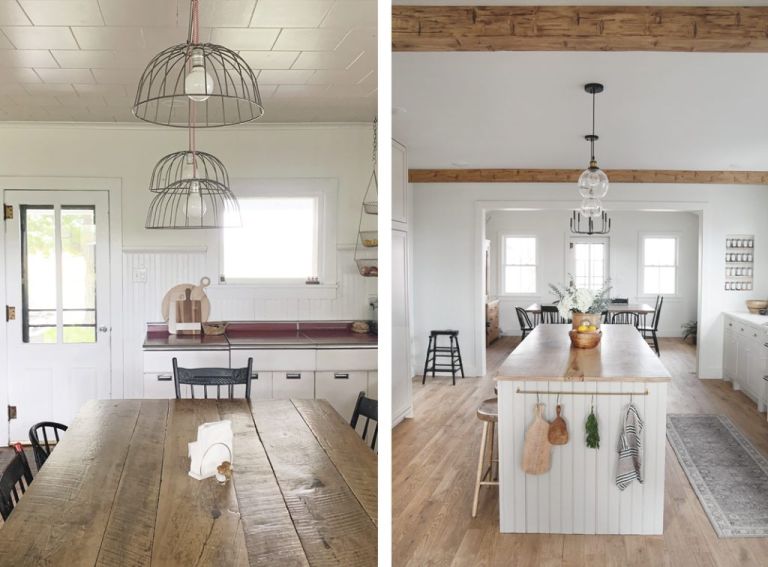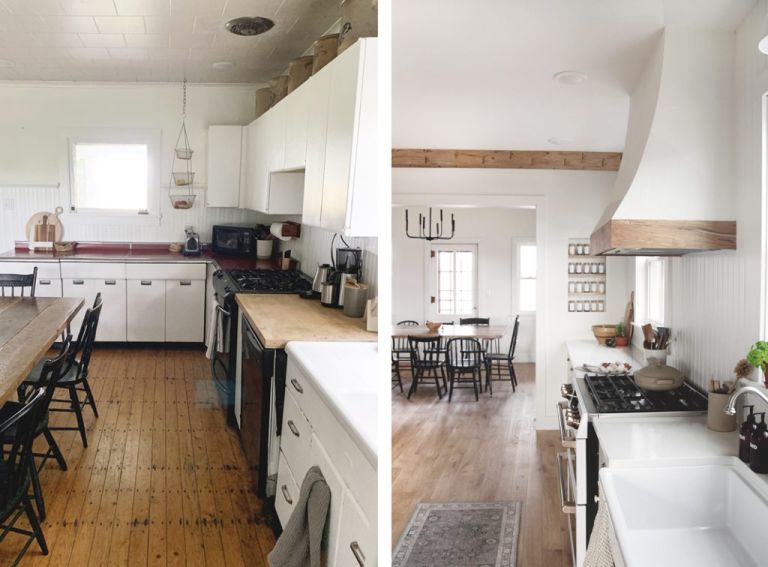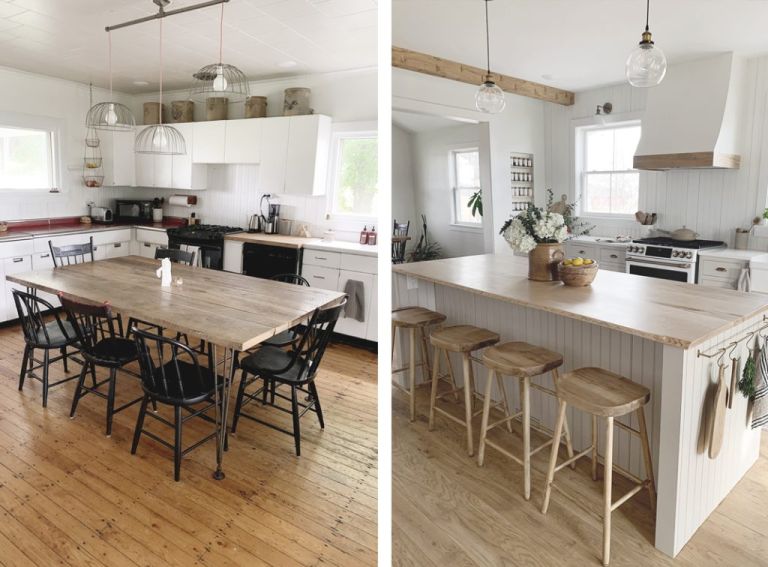 Thanks for being here on this long journey with us!
-Manda
SOURCES:
PAINT COLORS:
Cabinet Paint Color – Sherwin Williams Accessible Beige
Wall & Trim Color – Sherwin Williams Alabaster