Sharing one more donut recipe before the big celebration tomorrow – National Donut Day! A while back I read about grilling donuts and thought I definitely needed to try that – because any & all donut recipes are worth trying out! I'm not sure why it took me so long to get around to trying out grilled donuts – they are amazing! The heat caramelizes the glaze along with adding a touch of that wonderful grilled flavor and makes for one amazing donut experience. It's quick & easy to do – just be sure to watch the donuts closely, they can burn quickly – a few of mine got a little too toasty when I was going to attempt to snap my grilling experience – oops.  These donuts are delicious just fresh off the grill, but I thought a few dips to try out with them wouldn't hurt, dips make everything better, right?! So whip up a few of your favorite dips, fire up the grill and enjoy those donuts!
Grilled Donuts
– glazed donuts
– cooking spray
Spray each side of donut with cooking spray. Place on preheated grill over medium heat and grill for about 1 minute on each side, watching closely, they can burn quickly! Serve donuts with dip (recipes below).
For three of the dips, I used crème fraîche whipped cream as a base to give the dips a creamy, lighter flavor. Start by making this whipped cream, and then add in the flavors below. With each of the dips, you can adjust the ingredients to your liking, add more or less whipped cream to reach your desired consistency/taste. This crème fraîche whipped cream isn't overly sweet because the additions to it add the sweetness – if you're wanting to use the whipped cream on it's own, you should add a little powdered sugar to it (see the recipe here for that).
Crème Fraîche Whipped Cream
1 cup heavy whipping cream
1/4 cup crème fraîche
1 tablespoon granulated sugar
In the bowl of an electric mixer fitted with whisk attachment, whip heavy cream until firm peaks form. In a small bowl, stir together crème fraîche and sugar until smooth. Fold crème fraîche into whipped cream. Cover and refrigerate until ready to serve; whisk a few times before serving.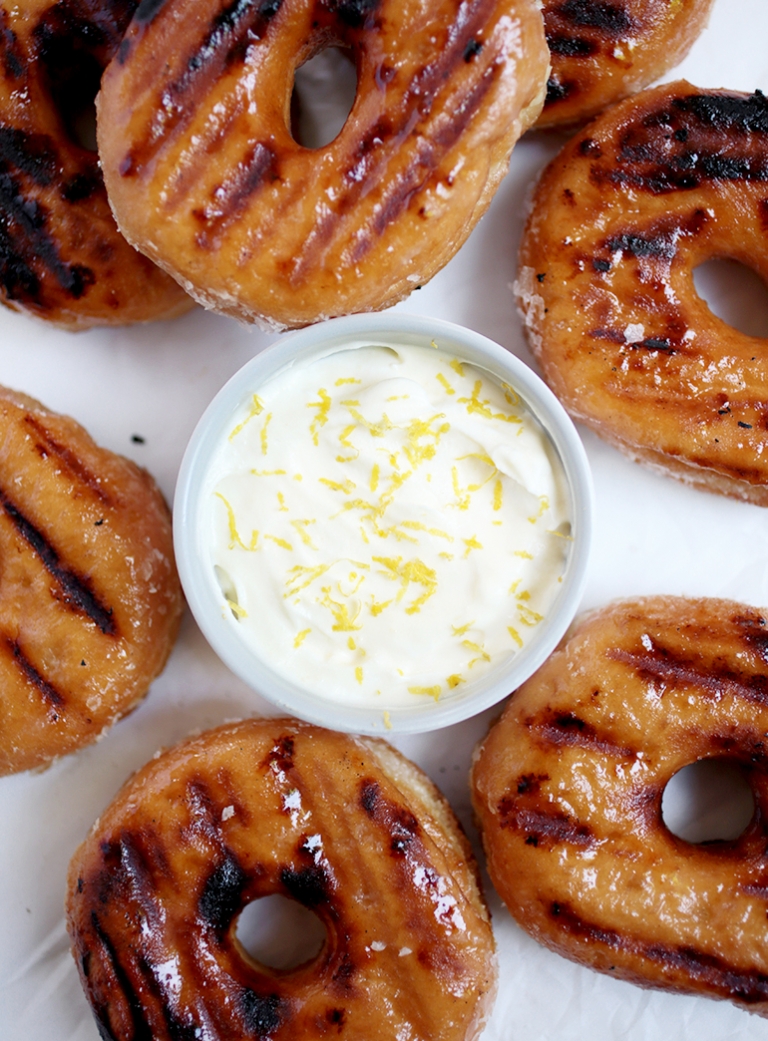 I've got a thing for lemon desserts, and had some fresh lemon curd just waiting to be used up. The recipe for the lemon curd makes a large jarful, so you can make the whole amount and use it in other recipes, or cut the recipe in half if you're only wanting it for this dip.
Whipped Lemon Cream Dip
1/4 cup crème fraîche whipped cream (recipe above)
2 tablespoons lemon curd
Gently stir together whipped cream & lemon curd. Cover and refrigerate until ready to serve; whisk a few times before serving. Garnish with lemon zest if desired.
Lemon Curd
3 lemons
1 cup sugar
1 stick unsalted butter, room temperature
4 extra-large eggs
1/2 cup lemon juice (3 to 4 lemons)
Zest 3 lemons (be careful to avoid white pith). In a food processor, pulse the zest & sugar until the zest is very finely minced into the sugar. In a mixing bowl, cream the butter and beat in the sugar/lemon mixture. Add the eggs, 1 at a time, and then add lemon juice. Mix until combined. Pour the mixture into a saucepan and cook over low heat until thickened (about 10 minutes), stirring constantly. The lemon curd will thicken at about 170 degrees F, or just below simmer. Remove from the heat, cool and refrigerate until ready to use.
Lemon Curd adapted from Food Network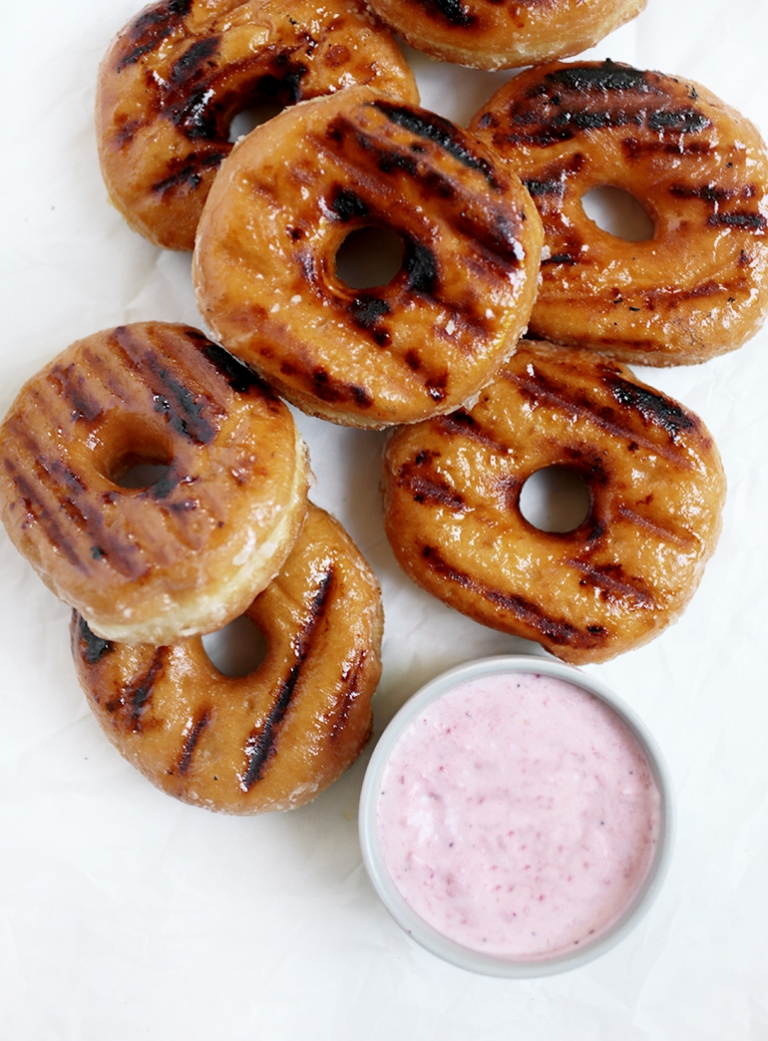 Because the Strawberry Shortcake Donuts were a favorite from our Donut Toppings post (and a favorite way to enjoy pancakes), I thought I should try making a dip with the same ingredients to enjoy our grilled donuts with!
Whipped Strawberry Cream Dip
1/2 cup pureed strawberries (I used 5 medium-large strawberries)
1 tablespoon granulated sugar
1/4 cup crème fraîche whipped cream (recipe above)
Mix sugar into pureed strawberries. Stir 3-4 tablespoons of strawberry puree into crème fraîche whipped cream. Cover and refrigerate until ready to serve; whisk a few times before serving.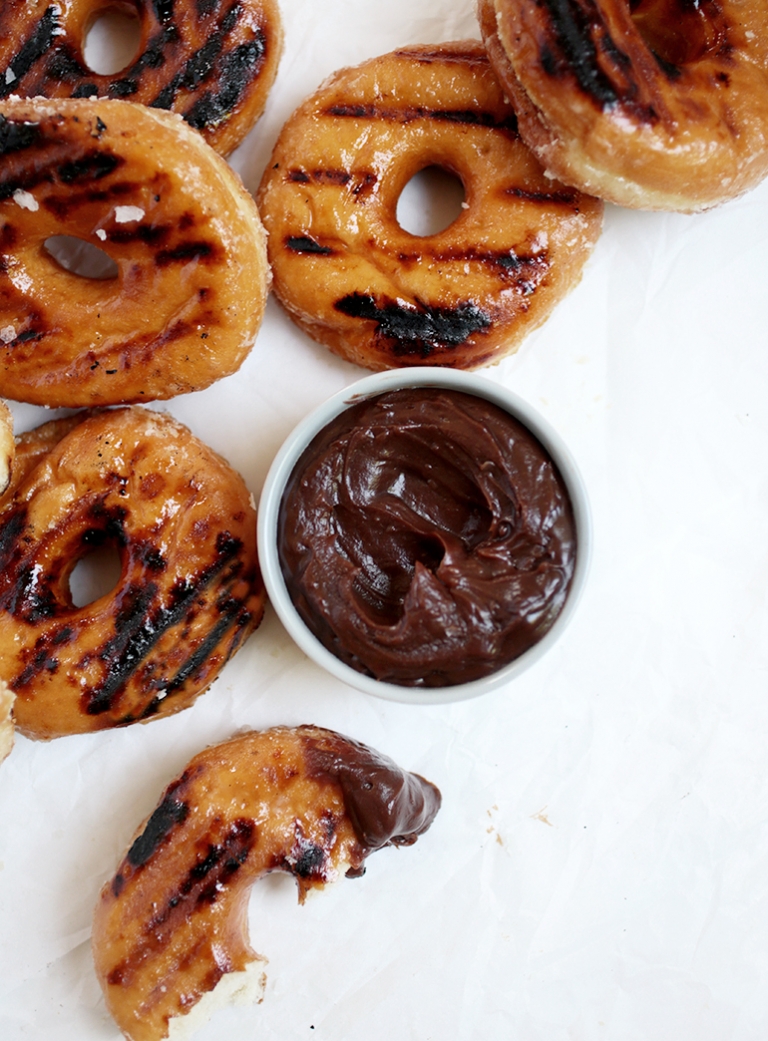 Because peanut butter and chocolate just go so well together and I knew I needed a chocolate dip for all the chocolate lovers out there! You can leave out the peanut butter if you're not of fan of that and just make chocolate ganache, just be sure to use good quality chocolate.
Chocolate Peanut Butter Ganache Dip
1/2 cup good quality milk chocolate, chopped
2 tablespoons creamy peanut butter
1/3 cup heavy whipping cream
Add the chocolate and peanut butter to a bowl. In a small saucepan, heat heavy cream over medium heat just until it reaches a simmer. Remove from heat and pour over chocolate & peanut butter. Let sit for one minute. Whisk until smooth and creamy.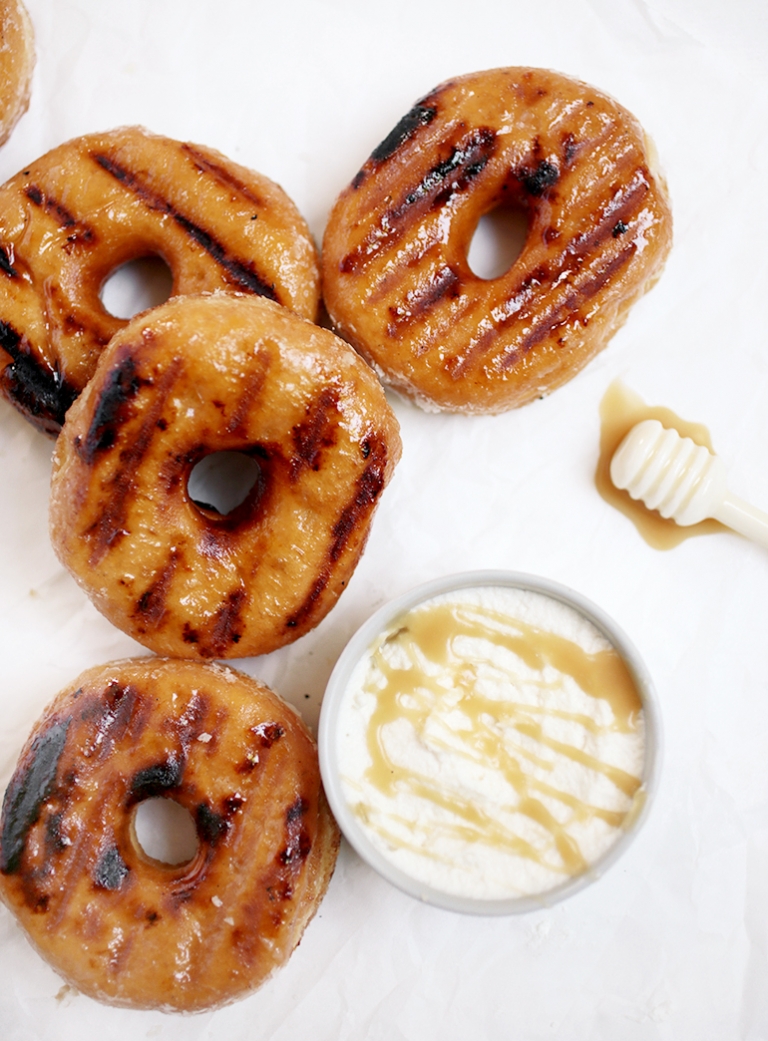 I used this salty honey sauce in my peanut butter ice cream a while back and it's been one of my favorite sauces ever. Whenever I make it, I just can't stop eating it – it's perfect on everything. The recipe for the sauce makes a jarful, so you'll have a lot to use, I highly recommend just making the whole amount and using it on ice cream, brownies, peanut butter toast, waffles, or just eating it by the spoonful!
Whipped Salty Honey Cream Dip
1/4 cup crème fraîche whipped cream (recipe above)
1-2 tablespoons salty honey sauce
Gently stir together. Cover and refrigerate until ready to serve; whisk a few times before serving.
Salty Honey Sauce
1/3 cup honey
1/2 cup brown sugar
1/2 cup heavy cream
1/2 cup butter
1 teaspoon sea salt flakes
Place all the ingredients in a medium saucepan and bring to a boil. Boil for 2 minutes, mixture will bubble quite a bit, stirring once or twice while boiling. Cool completely before adding to whipped cream. Store covered in the refrigerator.
Are you excited for National Donut Day?! Any favorite donut shops you'll be visiting tomorrow? Here's a few of our favorite donut recipes if you're looking for some yummy inspiration: 9 Decadent Donut Toppings | S'mores Donuts | Floral Donuts | Doughnut Ice Cream Sandwiches | Baked Doughnuts
-Manda