I love peanut butter! It's something that I enjoy eating straight out of the jar – and that ends up in a lot of my desserts, so it was only a matter of time before I made peanut butter ice cream! It's hard to find ice cream that has a peanut butter base, usually it's some other flavor, like chocolate or vanilla, with peanut butter swirls in it. I recently saw peanut butter ice cream at the store and bought it for the boys (yea, we'll say it was for the boys! 😉 ) and have been wanting to make my own ever since. I originally had a more spring-like ice cream flavor planned for this post, but couldn't get the idea of peanut butter ice cream out of my head (more like couldn't stop craving it!)!


When I'm not eating peanut butter in desserts, or straight from the jar, I love to have it on an english muffin with honey drizzled on top. A while back I had made this Pecan Praline Ice Cream with Salty Honey Sauce from The Sugar Hit (it's soo good!) and I remembered how much I loved that sauce, and since peanut butter and honey go so well together, I thought it'd make for a delicious ice cream combination!  And it does!  The creamy peanut butter ice cream, paired with the sweet but salty honey is wonderful! If you're a peanut butter lover, this ice cream is definitely worth making!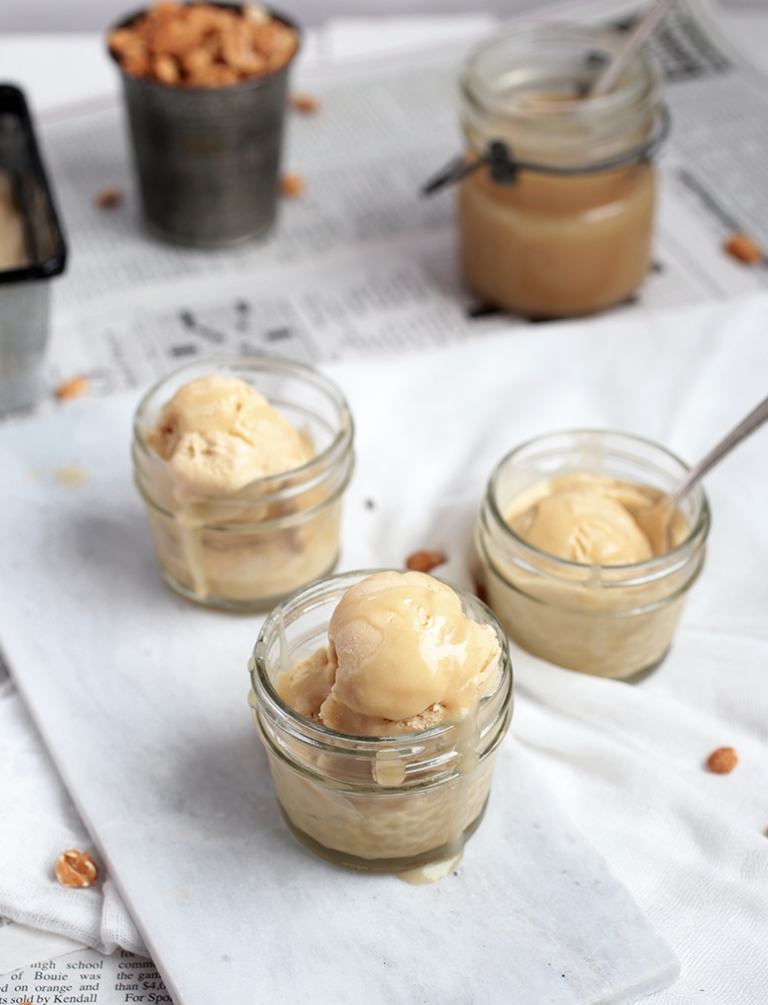 Peanut Butter Ice Cream with Salty Honey Swirl
1 cup whole milk
2 cups heavy cream, divided
3/4 cup granulated sugar
2/3 cup creamy peanut butter
6 egg yolks
2 teaspoons vanilla extract
In a large saucepan, whisk together the milk, one cup of the heavy cream, sugar and peanut butter. Heat over medium heat until very hot (but not boiling), stirring until the sugar is dissolved and the peanut butter has melted. In a separate bowl, whisk the egg yolks. Slowly add about 1/2 cup of the hot milk into the yolks, whisking constantly, this gently warms the egg yolks (so they don't become scrambled eggs!). Keep adding the milk slowly, constantly whisking, until you have about 1/2 of the hot milk mixture stirred into the eggs yolks.
Pour the egg mixture back into the pan with the remaining milk and heat over medium heat, stirring, until the mixture reaches 165-170ºF. Remove from heat.
Place the remaining 1 cup of heavy cream into a large bowl and place a sieve over the bowl. Strain the hot milk mixture through the sieve into the bowl and stir it into the cream. Stir in the vanilla. Let cool to room temperature (you can set the bowl in an ice bath to speed up the cool down process), cover and refrigerate until completely chilled, about 6-8 hours (I usually let mine sit overnight).  Churn the ice cream mixture in your ice cream maker. Once churned, pour a layer of ice cream in the bottom of a pan, generously drizzle the salty honey sauce on the layer of ice cream. Repeat layers. Gently swirl the mixture with a knife. Cover and freeze at least 4 hours or until firm.
Salty Honey Sauce
1/3 cup honey
1/2 cup brown sugar
1/2 cup heavy cream
1/2 cup butter
1 tsp sea salt flakes (or to taste)
Place all the ingredients in a medium saucepan and bring to the boil. Boil for about 2 minutes , or until syrupy and dark. Cool completely before swirling it into the ice cream.  Drizzle extra sauce on top of ice cream before serving!
Sauce from The Sugar Hit

What's your favorite flavor of ice cream? I just might need to try making it! 🙂
-Manda
PS – come back later today for a really great giveaway!!