When I found out that
Marx Foods
was doing a challenge with edible flowers, I couldn't pass up the opportunity for a chance to play with my food!  We've done a few recipes using edible flowers, 
some
mocktails
and there was my mom's amazing
Flower Power Herb Dog
for our hot dog topping post; so I was excited to try out a new recipe using edible flowers.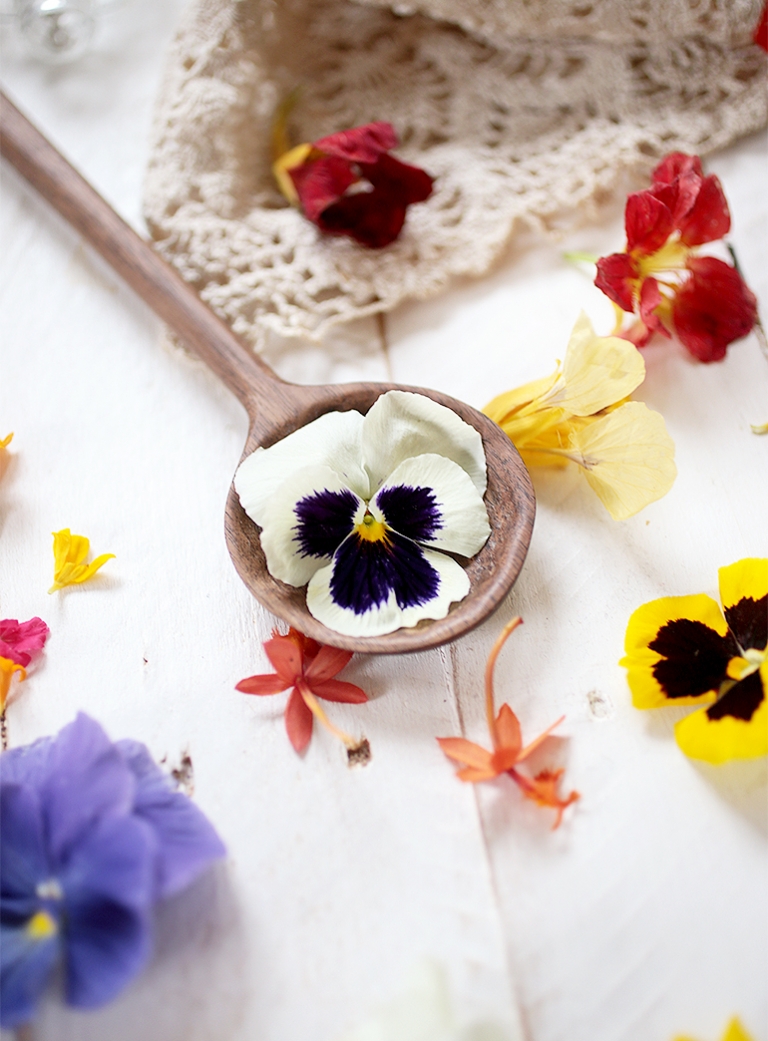 As I started thinking about what would be fun to try with edible flowers, donuts were one of the first things that came to mind.  (No surprise there with my love for donuts!) Caitlin had mentioned a while back that I should try making blood orange donuts sometime, so I thought this would be the perfect time to try out a blood orange glaze. And the lemon ginger combination sounded delicious so I thought I should give that a try too. I loved both glazes, probably the blood orange won as my favorite though!  And I decided to keep things really easy and just bought plain donuts to glaze.  (Soo easy, I don't know why I've never done that before!)  If you'd like to try making your own donuts though, we have a recipe for
Baked Doughnuts
that's pretty easy and delicious.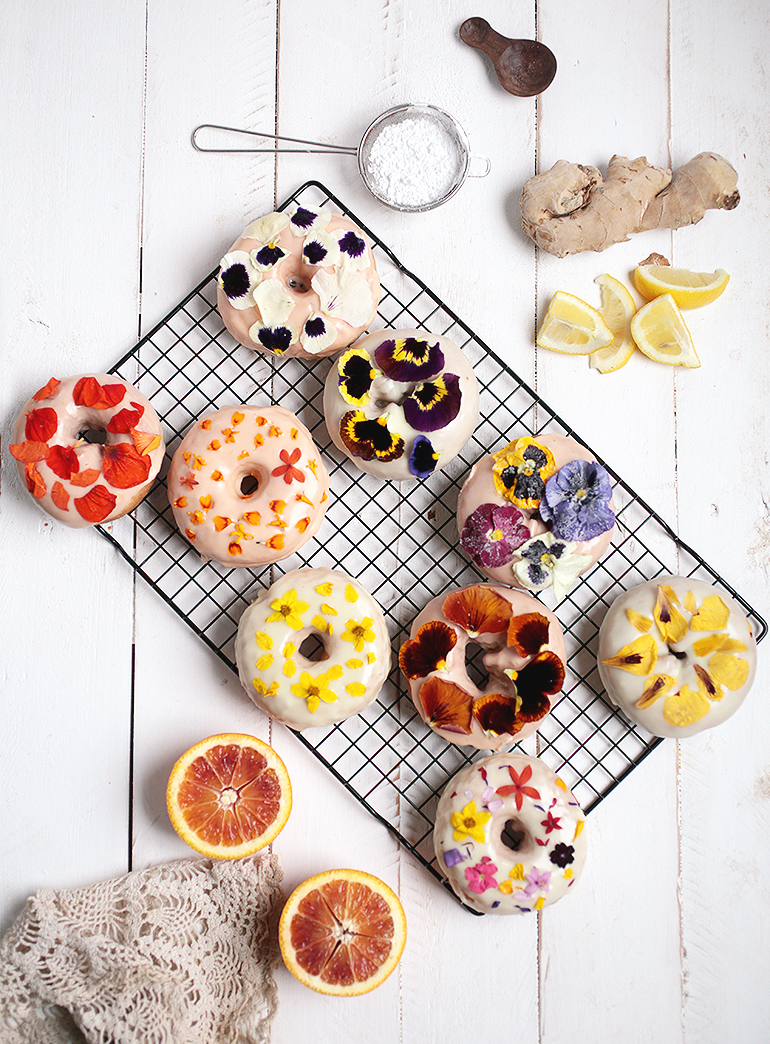 I think these donuts would be perfect for a spring bridal or baby shower – or even a spring
brunch
! Or maybe you could surprise mom with these on Mother's Day morning! Just be sure your flowers are edible and organic.  (I tried petals before using them to be sure I would like how the flavor tasted with what I was making, so you can do that if you're not sure how they would pair with your recipe).
Floral Donuts
Donuts (store bought or homemade)
Glaze (see recipes below)
Edible Flowers*
Dip the top half of the donuts into the glaze. While the glaze is still wet, place edible flowers on. Let the glaze set; enjoy!
*Our edible flowers were provided by Marx Foods as part of the Edible Flowers Food Photography Challenge they're hosting. Besides for online, you might also be able to find edible flowers in the produce section of some grocery stores or check at a local farmers' market. You can also grow your own, which is what my mom does and what we used for the Flower Power Herb Dog. Just be sure that the flowers you use are organic (meaning they have not been sprayed with any kind of pesticides)!


Blood Orange Glaze
1 1/2 cups powdered sugar
3-4 tablespoons freshly squeezed blood orange juice
Whisk together the sugar and juice until combined. You'll want the glaze to be on the thicker side (add more sugar if needed).


Lemon Ginger Glaze
1 1/2 cups powdered sugar
3 tablespoons fresh squeezed lemon juice
1/2-1 teaspoon freshly grated ginger*
Whisk together the sugar, lemon juice and grated ginger.  Make sure the glaze is thick, add more sugar if needed.
*Add to taste, I kept mine on the lighter side because I like just a hint of ginger flavor, add as much as you like.


So what do you think? Would you be willing to try out flowers in your food?
I had so much fun making these edible flower donuts that I couldn't resist trying one more recipe out with the flowers I had left – you can find the recipe for Floral Goat Cheese with Dill and Cracked Pepper here.
-Manda
Edible flowers provided by Marx Foods. All ideas, thoughts and opinions expressed are our own.