Let's talk doughnuts. First, doughnuts…or donuts? Doesn't matter to me, as long as they taste good. For the purpose of today's post, my fingers are in the mood for typing out doughnuts. In our family, we're a bit doughnut obsessed. My Gramma hosts a "Cider & Doughnut Party" every year in the fall. Growing up we lived a block away from a Dunkin' Donuts. I actually worked there for about a year. And the discount on doughnuts was nice. The job, not so much…once the manager found out how nicely I cleaned bathrooms, that pretty much became my sole job. Ughh…just goes to show you, doesn't always pay to do a job nice (how many of you grew up hearing, "do it nice or do it twice"? If only I hadn't heard that so many times…I could have been left to pour coffee and serve doughnuts!).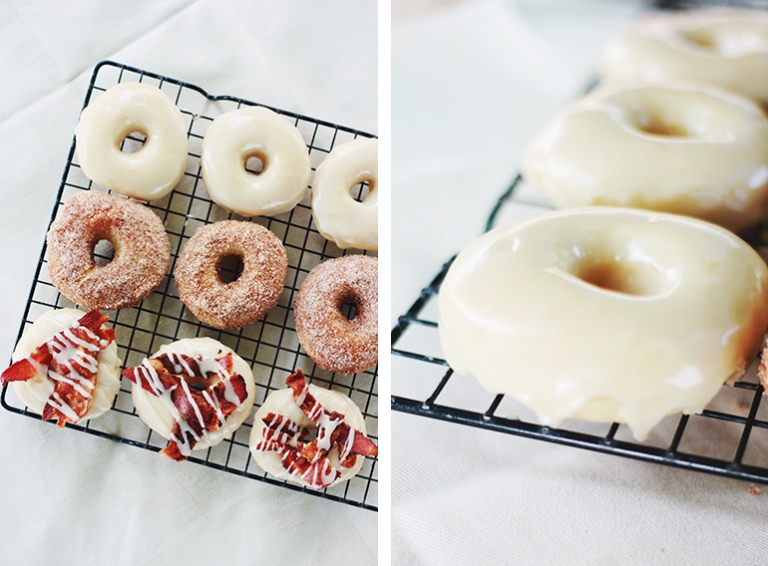 Anyhow…doughnuts. Dunkin' Donuts was about all we knew and we were happy eating them. And then one vacation our eyes were opened by a trip to a local bakery (Mary's White Pine Bakery in Inlet, NY). With the best.doughnuts.ever. Seriously, we plan vacations around these doughnuts. I think discovering those doughnuts was what turned our doughnut love affair into an obsession. We're always on the quest to find bakeries that sell amazing doughnuts. It's a tough job, but someone's gotta do it.


Even with such a strong love for doughnuts, I've never really been tempted to try making my own. Because of the frying. I hate frying foods. It's messy and so, so smelly. I can't stand how it smells up the house. So when I saw a recipe for baked doughnuts I was all kinds of excited. This I could try. And while I'll agree that baked doughnuts can never beat fried doughnuts, these are so very good and satisfy that doughnut craving that comes a little too often. And we can tell ourselves that they're not as bad for us because they're baked! Not fried! (We'll just pretend that part about dipping the doughnuts in a bowl of butter isn't in the recipe. 😉 )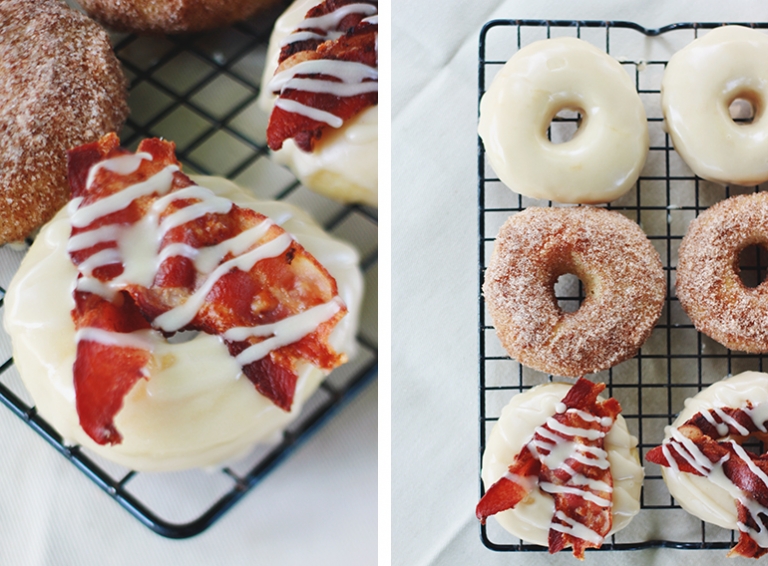 The maple frosted doughnuts from Mary's Bakery are my absolute favorite, so I had to try making a baked version of that. And you can never go wrong with the simple and classic cinnamon sugar. And because we're using maple, it never hurts to throw a little bacon on there too. So these doughnuts are: Cinnamon Sugar, Maple Frosted and Maple Bacon Doughnuts. You probably need to try all three. 🙂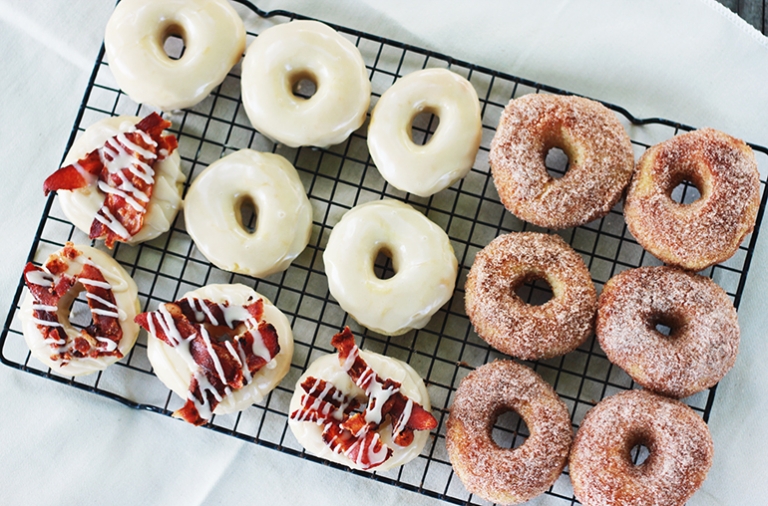 Baked Doughnuts
makes 12-15 doughnuts, plus doughnut holes
1 egg
1/4 cup granulated sugar
1 cup whole milk, heated to 115F
1 tablespoon active dry yeast
1 teaspoon salt
2 teaspoons vanilla extract
2 1/2 to 3 1/2 cups all purpose flour, divided, plus more for kneading
1/2 cup (1 stick) butter, room temperature, cut into 1 inch cubes
In the bowl of a stand mixer fitted with the paddle attachment, beat the egg and sugar on medium speed until blended, about 1 minute. Add the milk, yeast, salt and vanilla, and stir to blend. With the machine on low speed, add 2 cups of flour, about 1/2 cup at a time, and beat until the dough is thick and pulls away from the sides of the bowl.
Switch to the dough hook. With the machine on medium speed, add the butter one piece at a time, and beat until no large chunks of butter are left in the bottom of the bowl, 3-5 minutes. Reduce speed to low and add the additional flour until the dough gathers around the hook and cleans the sides of the bowl. It will be soft and moist, but not overly sticky.
Turn the dough out onto a floured surface and knead gently until the dough no longer sticks to your hands. Lightly grease a large mixing bowl.
Transfer the dough to the bowl and turn to coat. Cover with a damp tea towel and let rise in a warm spot until doubled in volume, about 1 hour.
Punch down the dough and roll out to 1/2 inch thick. With a doughnut or cookie cutter, (or something in your kitchen that's about the same size: I used a canning jar lid and an empty Danimals Yogurt Smoothie container…classy!) cut out 3-inch diameter rounds with 1-inch diameter holes.
Preheat the oven to 400º and line a baking sheet with parchment paper. Place the doughnuts and holes at least 1-inch apart on the baking sheet. Cover with plastic wrap and let sit in a warm spot until nearly doubled in size, about 30 minutes.
Bake until the doughnuts are light golden brown, 5 to 8 minutes, being careful not to over-bake them.
For cinnamon sugar: While doughnuts are still warm, dip into butter, then directly into cinnamon sugar mixture.
For maple frosted: While donuts are still warm, dip tops of doughnuts into maple icing and transfer to a wire rack (place wax paper under wire rack to collect any drippings for easy clean up) and let set for about 5 minutes. (Add cooked bacon to the top if desired and drizzle with additional icing).
Cinnamon Sugar:
1/2 stick (1/4 cup) butter, melted
1 cup granulated sugar
1 tablespoon cinnamon (or more, depending on your taste)
In a small bowl, melt butter, set aside. In another small bowl, mix together the sugar & cinnamon.
Maple Glaze:
1 1/2 tablespoons whole milk
2 tablespoons pure maple syrup
1/4 – 1/2 teaspoon maple extract (more or less, depending on how strong you want the maple flavor)
2 cups powdered sugar
In a small bowl whisk together milk, maple syrup and maple extract. Add powdered sugar, whisking until smooth. If icing is too stiff, add a teaspoon of milk at a time until desired consistency is reached.
Best eaten fresh and warm.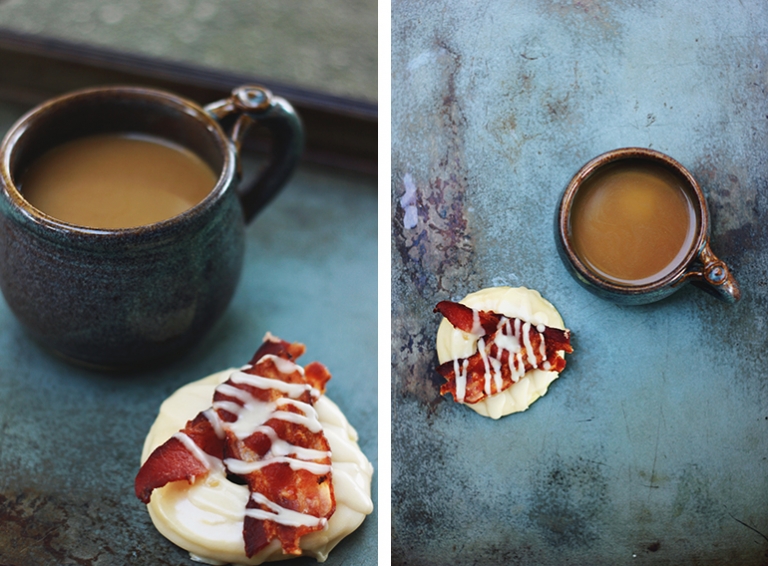 Do you know of any amazing doughnut places? Please do tell, we'll probably try to plan a vacation around them!
Happy weekend and happy doughnut eating! Manda
Recipe adapted from Honey & Jam and The Novice Chef