Happy National Doughnut Day…or Donut Day!  We're not particular about the spelling – as long as we get to eat doughnuts!!  National Donut Day is celebrated on the first Friday in June and we're more than happy to celebrate all day long.  Bring on the doughnuts!


Life has been extremely busy these last few weeks…this week I've been gone more than I've been home! So as much as I'd like to be trying out some homemade doughnut recipes to celebrate, I've barely had time to keep things going here around the house, let alone be baking! But oh, how I can't wait to get back at it! In the meantime, store bought doughnuts it is! So if you're schedule is anything like mine, and homemade doughnuts are not happening for you today, then this recipe using store bought doughnuts is just the thing! I pinned these doughnuts about a year ago and finally was inspired by this wonderful holiday to make them! These doughnut ice cream sandwiches are delicious and take your donuts over the top…turning those breakfast treats into a decadent dessert!


The recipe from the Tastespotting blog is pretty basic. I did change up the chocolate dip – I made a homemade magic shell to dip them in instead of regular chocolate. It provided a nice crunch without being too hard. And I decided to try a few other flavors to go along with the glazed doughnuts with coffee ice cream: chocolate glazed doughnuts with mint chip ice cream and peanut doughnuts with vanilla ice cream! There are so many different flavor combinations you can make with these!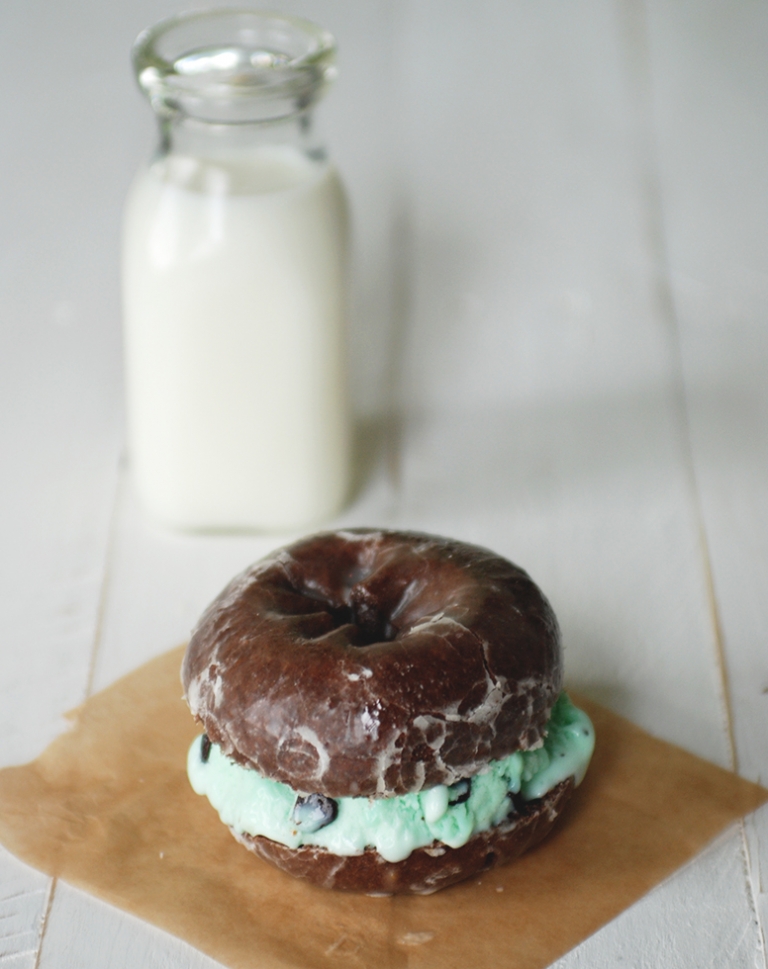 Doughnut Ice Cream Sandwiches
Doughnuts
Ice Cream, slightly softened
Magic Shell Coating – recipe below
Slice the doughnuts in half. Scoop the softened ice cream on the bottom half of the donut (I found it easier to use a large spoon, rather than an ice cream scoop – you want flatter scoops). Place the top half of the doughnut on top of the ice cream and place in the freezer while you make the magic shell.
Homemade Magic Shell
1 cup chopped chocolate
2 tablespoons coconut oil (or vegetable oil)
In a microwavable bowl, stir together the chocolate and coconut oil. Microwave in 30 second increments, stirring in between each cycle until smooth.
Dip doughnuts in chocolate – wait a minute for the shell to harden and enjoy!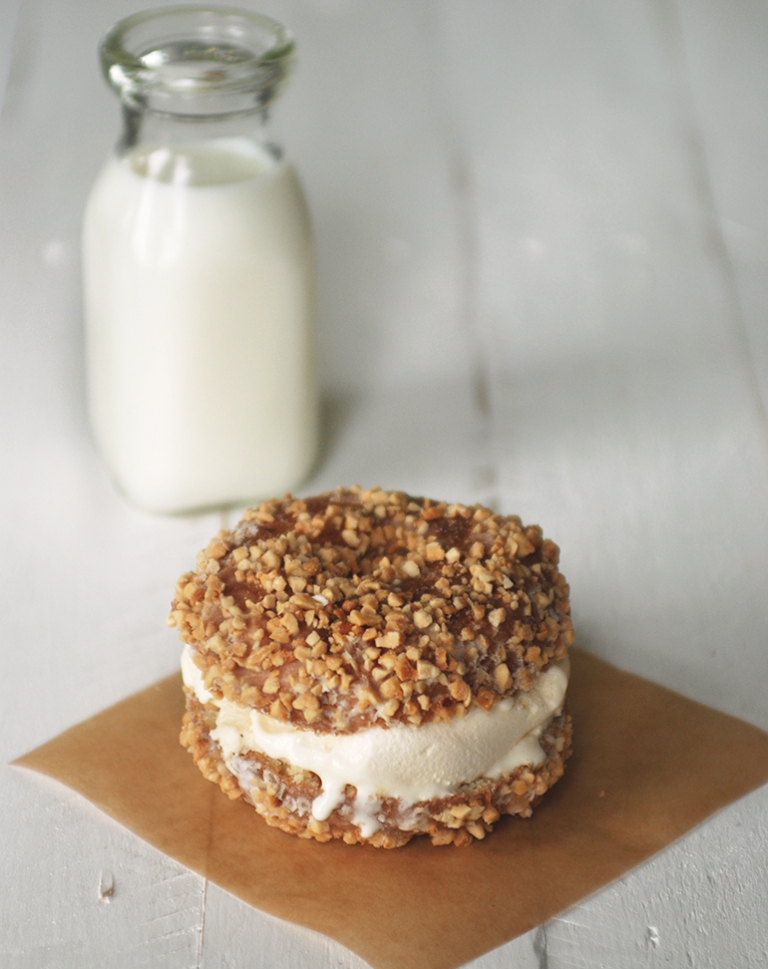 Where's your favorite place to get donuts?  A few doughnut shops are offering free doughnuts today…check out this article to see where you can snag a free one!
If you are feeling inspired to try making your own doughnuts, these Homemade Baked Doughnuts are so delicious!!
Happy Weekend!
-Manda