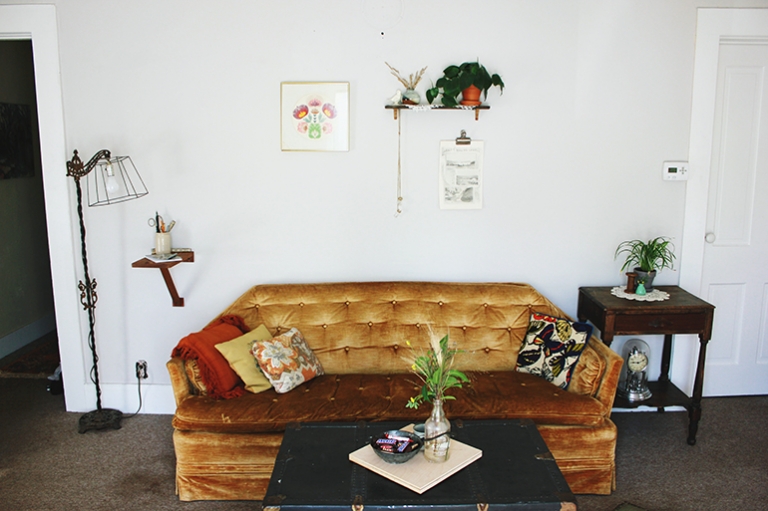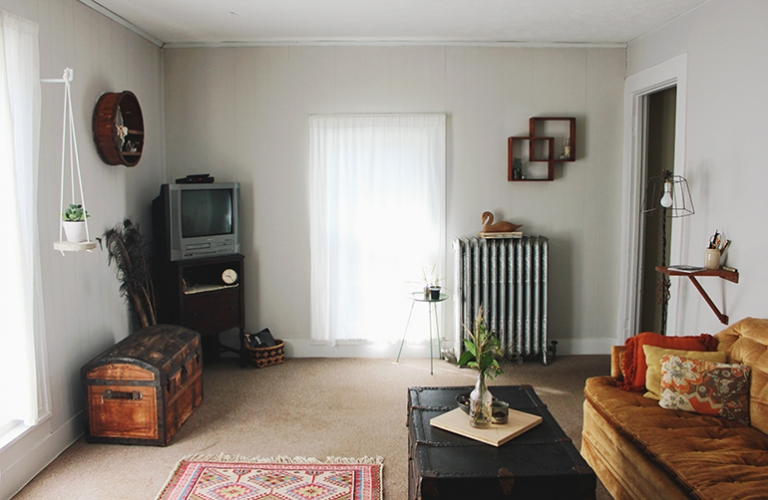 I finally got my living room to a point that I felt like I could share it although it doesn't really feel finished yet. Does it ever really? Probably not until I find a house with hardwood floors, big windows and vintage wallpaper.
My biggest problem with creating a space that makes sense is that I like wayyy too many things. I like vintage, modern, minimal, organized clutter, natural, industrial… so I throw everything together and that's just how I am. I've kind of come to terms with it. I love that this room incorporates everything I'm really into right now and that so many of the things you see are DIY projects.
Now I'll share some details of the room as well as some tips/tutorials:

DIY Wall-mounted Shelf. And a journal that I covered with a picture from an old magazine for blog ideas that spring into my head while I'm sitting on the couch working on editing late at night.

I take a piece of candy every time I walk through my living room. Every. Time. I replaced the doily that was on my old coffee table with a nice grainy piece of wood.

DIY Hanging Vases. DIY Circle Shelf displaying some little trinkets I've collected. I also made those beaded shapes based off of this necklace.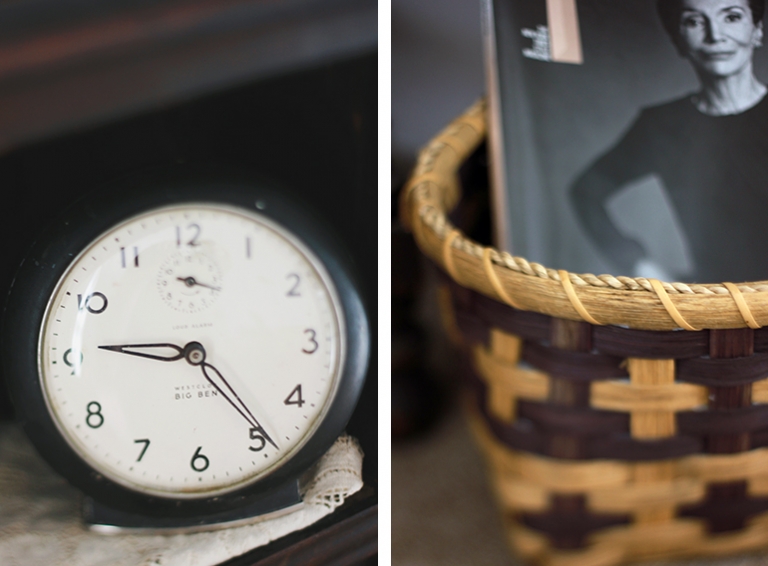 Great grandma's clock and a thrifted basket to hold magazines.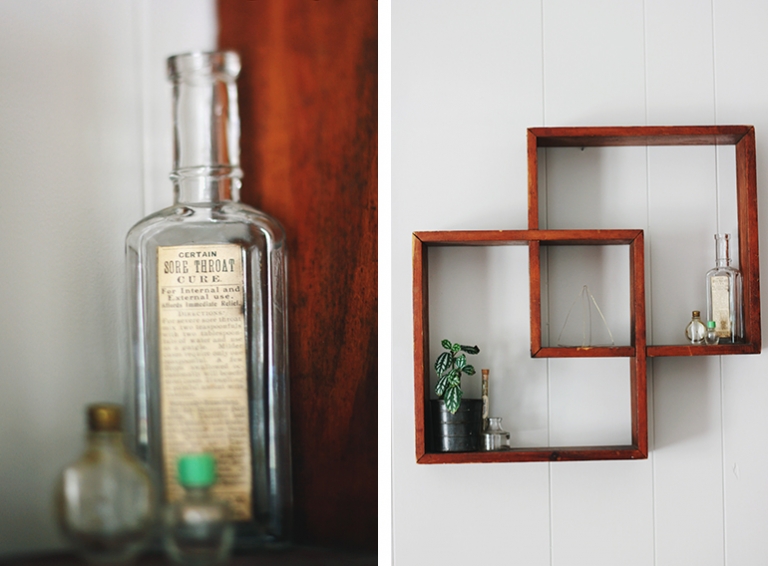 I think I fell in love with collecting old bottles when we used to go out in the woods in search of them when we were younger. I have tons of them and I still buy them whenever I find cheap ones at sales.
DIY Book Letter. I added a lot of plants when I started redoing my living room to add in some color… hopefully I can keep them alive!
I got this huge crate from an auction a few weeks ago and I thought it would be perfect to store blankets. I wrapped a plain blanket around all of the others that I had put inside and it doubles as a cozy seat when we have friends over.
Lately I have been stumbling across vintage player piano rolls quite often while out thrifting. I unrolled one a little bit and hung it on the wall and I kind of love it!
I found this rug at a little pop-up market in Brockport a couple of weeks ago and fell in love! I've been looking for months! I also was sick of only have the plain terracotta clay pots so I decided to mix some sand and dirt in with grey, brown, and white paints to make a batch of natural, textured pots for throughout the living room.
DIY Mini Succulent Garden (In wooden bowl). DIY Botanical Poster. DIY Hanging Wire Triangles. For the little lounge, I ripped off the top of my old coffee table and painted a cheap wooden box that I got at an auction for underneath. It's perfect because you can still lift up the top and store extra blankets and pillows inside. (I'm all about hidden storage… hoarder style.)
You may have also noticed the DIY Round Cement Table in one of the first pictures too.
9+ easy home decor tutorials and a lot of thrifting! Hopefully this inspired you to go make and thrift some fun stuff to update some of your rooms.
Thanks for stopping by!
xo. Caitlin