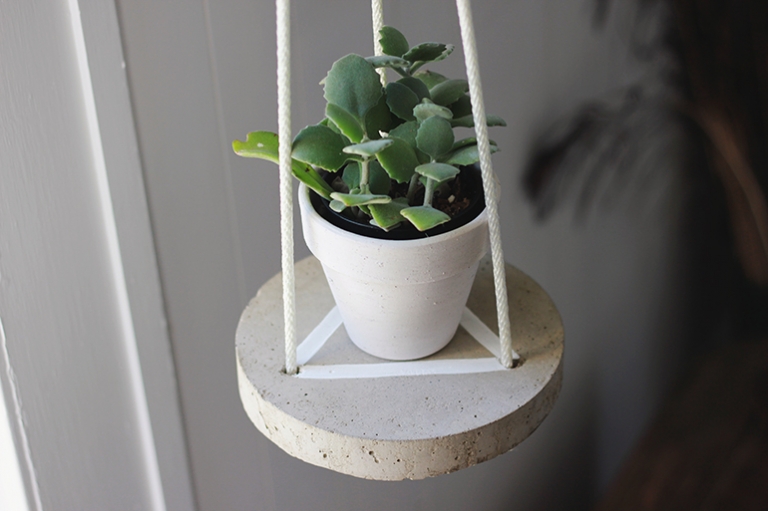 Putting the final touches on my living room with this sweet little hanging plant table. I was inspired by this gorgeous Floating Wooden Table made by Monsters Circus.  I know the cement craze has been going around for quite a while now but I never got around to trying it before and… well… I'm in love. Sorry in advance if I start posting too many cement projects, my brain is full of ideas to use up the rest of that 50 lb. bag of cement that I bought!

What you need:
–Cement
-A slightly flexible, round container (I found mine at Salvations Army.)
-Nylon Rope (I bought 11 ft of 3/8″)
–Ladder Hook (I painted mine white.)
-Dowel (3/8″ – choose based on what size rope you buy though)
-Cooking spray
-Super glue
-Drill
*Optional -Paint, paintbrush, lighter
How to make it:
-Cut dowel into three even pieces and superglue them to the bottom of your round container. You will want to measure to make sure there is an even distance between each dowel and the edge of your container and from dowel to dowel.
-Mix together your concrete according to the directions on the type that you purchase.
-Use cooking spray to coat the inside of the container – anything that the cement will touch – then pour in the cement.
-Tap the container on the ground – air bubbles should come out, continue until the top is smooth.
-Let the cement set for the time given in the instructions. I left mine out overnight.
-Gently pull the sides away from the cement, move your way around the container – try to bend it until the cement breaks loose from the sides. You can also try to use the dowels to help pull it out of the container or flip it upside down.
-If your cement didn't slide off of your dowels, try to pull the dowels apart from the bottom of the container (luckily, our superglue separated pretty easily) then you can snap the top half off and use the drill to drill through the cement where the remaining piece of wood is.
-Cut your rope in three even pieces and run it through each of the holes. Put a small knot at the bottom. (If you bought the same type of rope as I did, you will need to use the lighter to burn and pinch together the ends to prevent fraying.)
-Make sure all three strings are even, so that it will hang level, and tie them in a knot. Trim and burn edges.
-I painted a white line between the three holes to create a triangle. Paint whatever you would like!
-Drill a hole in the wall and then screw in the hook.
-Hang your table and add a pretty plant!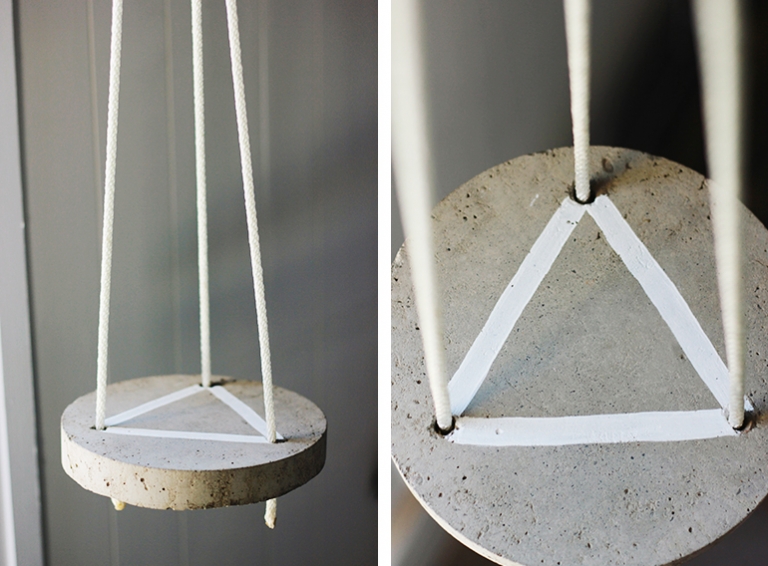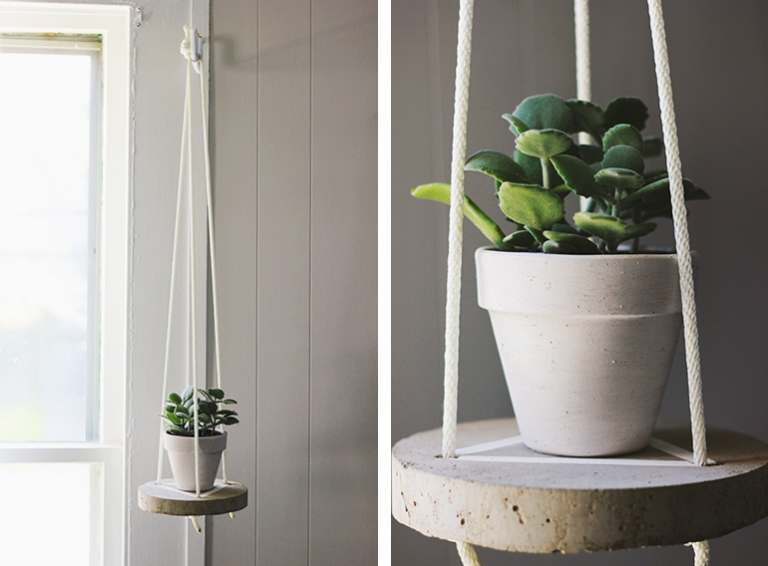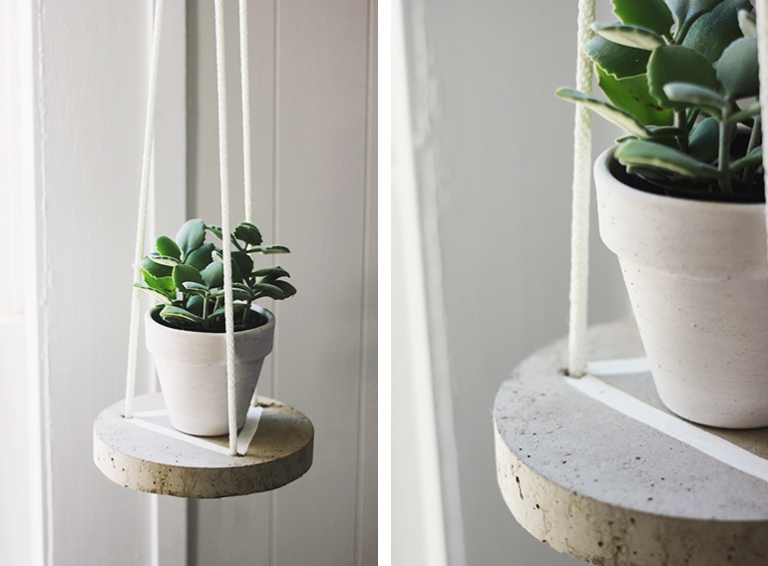 xo. Caitlin