I had every intention of sharing this DIY on National Coffee Day (September 29th); however that bathroom kind of took over our lives for a bit and now I'm playing catch up with some previously planned posts. I figure my fellow coffee lovers won't mind though – we'll take coffee and its DIYs anytime, all year! I'm a bit coffee obsessed (we've shared quite a few coffee recipes and coffee-related DIYs on here for the last 3 years) and am always looking to improve my coffee game, both in taste and in making. A while back we built this coffee bar for our kitchen and while it's still sitting in the kitchen, housing a bunch of coffee making things, we actually don't make coffee over there. Or I should say Mike doesn't, as he's really my barista. He makes my coffee for me every morning. It's just sitting in my mug, waiting for me when I come out. He's a keeper! Anyhow, it was annoying walking to the other side of the kitchen to the sink a few times throughout the coffee making process, so we make it on the counter by the sink now. We were still keeping our filters over in the drawer in the coffee bar though, so this DIY came about to solve that problem. That problem being walking I guess. 😏 We're sounding pretty lazy as I'm typing this up. But it's nice to have everything all in one spot and with the right tools, this simple stand comes together in no time! We left ours natural wood, of course, but these can be stained, painted or customized however you'd like! (Post Update: for those that have asked, these are now available in our shop for purchase! You can find them here!)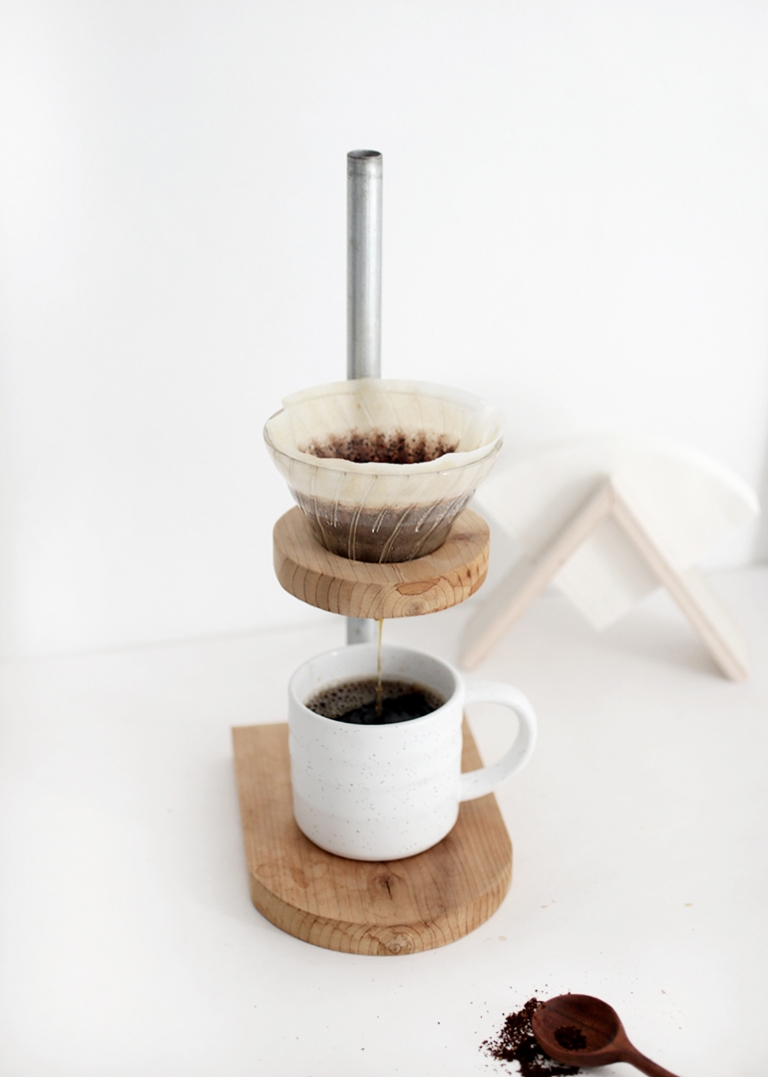 Supplies:
– plywood (we used 1/2″)
– table saw
– mitre box
– scroll saw
– sand paper
– this super glue or wood glue
– painters or masking tape
Directions: Cut a piece of plywood to 2-1/4" x 14". Cut a 50 degree mitre at each end of the piece. Mark out a 1" x 3-1/4" slot centered on each end of the piece, cut out the slot with a scroll saw (or jig saw). Cut the piece 6-1/4" in from each of the mitred ends. Sand each of the pieces but do not sand the mitre. Apply glue to the mitred ends and tape the tips together. Bring the mitres together until they are tight and put a piece of tape from the base of one side to the base of the other side (see photo above). Allow glue to dry. Remove tape and sand as needed.
*We made our stand to fit the filters we use, which are Hario V60 filters, but this should also fit the standard cone filters too with the measurements given. However, as always, you can customize the measurements to make one that works for you!
(Update: for those that have asked, these are now available in our shop for purchase! You can find them here!)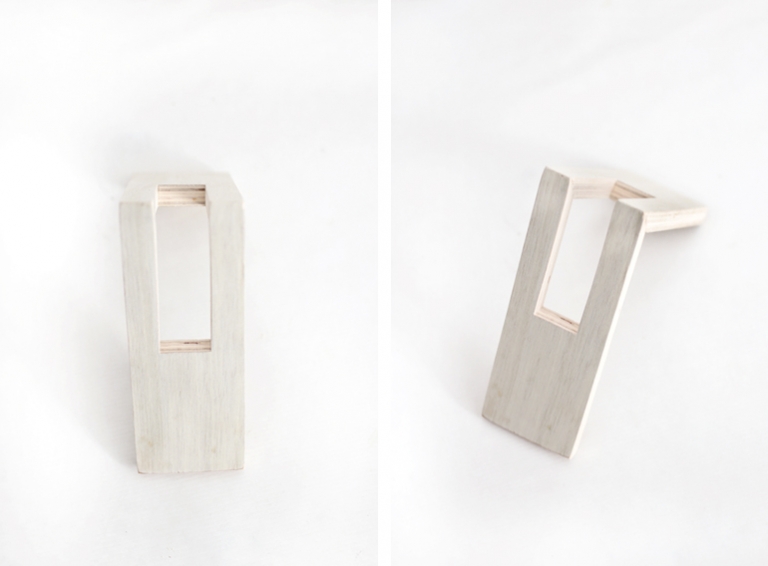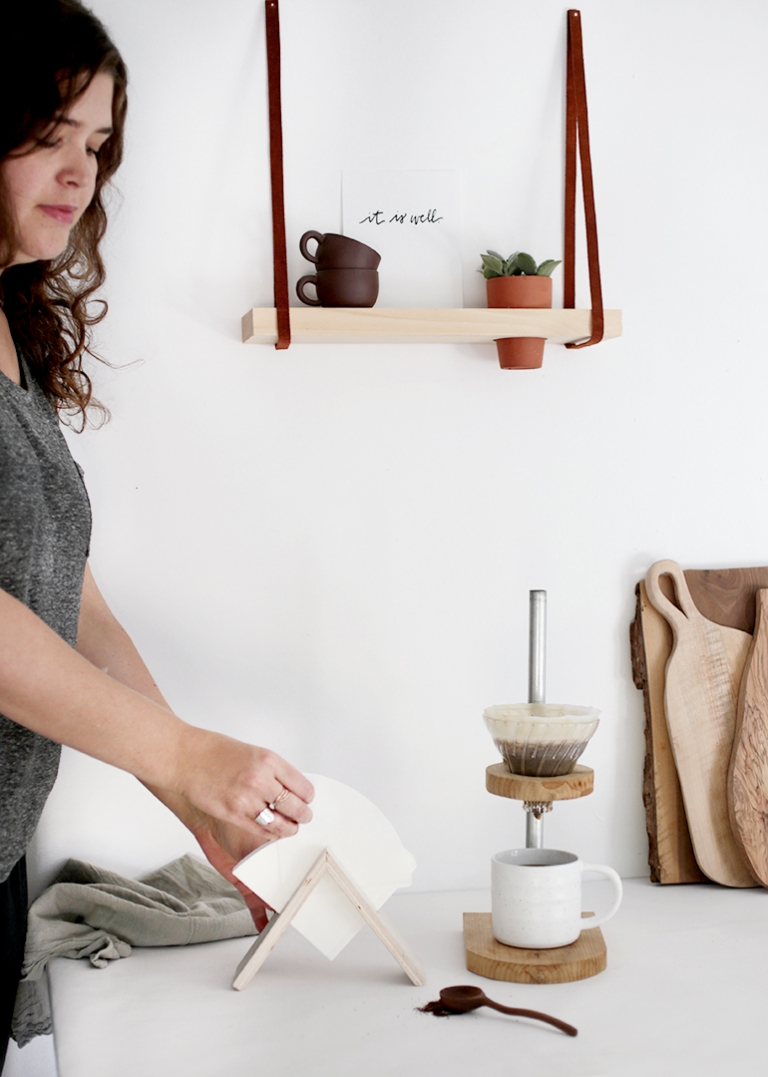 If you're looking to improve your coffee game, here's a few of my favorites: DIY Pour-Over Coffee Stand | Home Coffee Roasting | DIY Speckled Dip Mug | Coffee Cake | Aztec Mocha | Cappuccino Cheesecake.
Here's to my favorite drink! ☕️
-Manda
SOURCES: pour-over coffee stand | hanging photo shelf | it is well print | mugs | sugar bowl & spoon | tea kettle