This coffee cake is so, so good. Like you need a new projector at work so you make this for your boss and then you are promised whatever you need good. Not that I know from experience or anything, I'm just saying…it's pretty fantastic.
It's moist and buttery and melt-in-your-mouth good. It's been rated one of my top "Manda-Monday" treats. (Every Monday I take in a treat to work and so it's now called "Manda-Monday").
So make this now. And if you need to get on your boss's good side, it probably wouldn't hurt to take it into work. 😉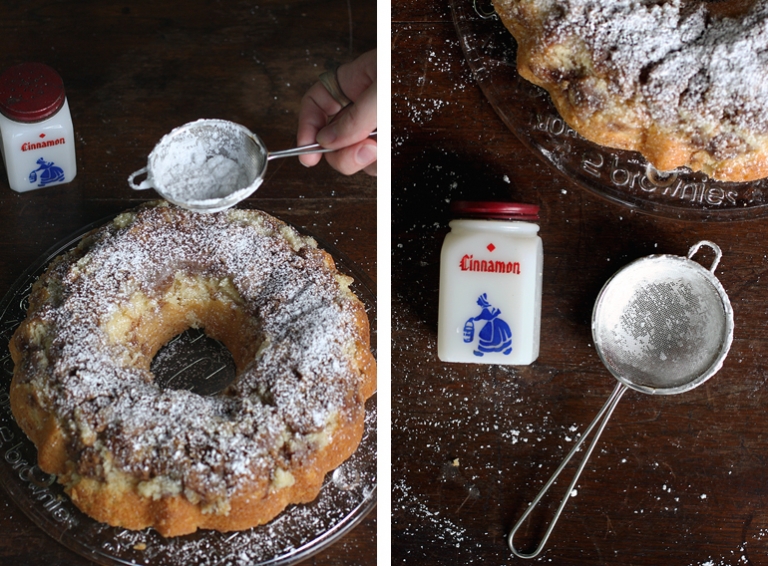 COFFEE CAKE
For the cake:
1 cup unsalted butter, softened
1 cup sour cream
1 1/2 cups sugar
2 eggs
1 tablespoon vanilla extract
2 cups all-purpose flour
1/4 teaspoon salt
1 tablespoon baking powder
For the topping:
¾ cup brown sugar
2 tablespoons flour
1 ½ teaspoons ground cinnamon
3 tablespoons butter, cold, cut into small pieces
1 cup toasted, chopped pecans (optional)
Powdered Sugar for dusting
Preheat oven to 325 degrees F. Grease and flour a bundt pan, set aside.
In a large bowl, cream the butter until light and fluffy. Gradually beat in sour cream, then beat in sugar. Beat in the eggs one at a time, then stir in the vanilla. By hand, fold in the flour, salt and baking powder, mixing just until incorporated.
To make the topping: In a medium bowl, mix together brown sugar, flour and cinnamon. Using your fingers, mix the cold butter into the dry topping ingredients, until thoroughly mixed, it will look like loose damp brown sugar. (If using pecans, stir them in now).
Pour half of the cake batter into the prepared bundt pan. Sprinkle the topping on top of the batter. Add remaining cake batter on top of that.
Bake in the preheated oven for 50 to 55 minutes, or until a toothpick inserted into the center of the cake comes out clean. Let cool in pan for 10 minutes, then turn out onto a wire rack, and cool completely. Dust with powered sugar. Enjoy.

(I must confess that I do have one issue with this, I can't seem to keep the topping from sinking to the bottom of the pan. It then gets stuck to the pan and does not look so pretty after I have to scape it out and try to smooth it on top. I've tried several different things to keep this from happening, adding flour, putting the topping on the top of the batter, nothing works! However, a good dusting of powdered sugar seems to cover it up fairly well.)
Happy Monday! Manda
Slightly adapted from All Recipes