I'm sooo excited to be sharing our bathroom reveal today! This was such a labor of love (mostly by my guy, who's simply amazing with all he can do!). It feels so good to finally have this done; the picture overload is due in part to the relief and excitement of having this space finished and just wanting to show it off…because.it's.done!! We teamed up with
The Home Depot
and
Anzzi
to turn a closet into this bathroom!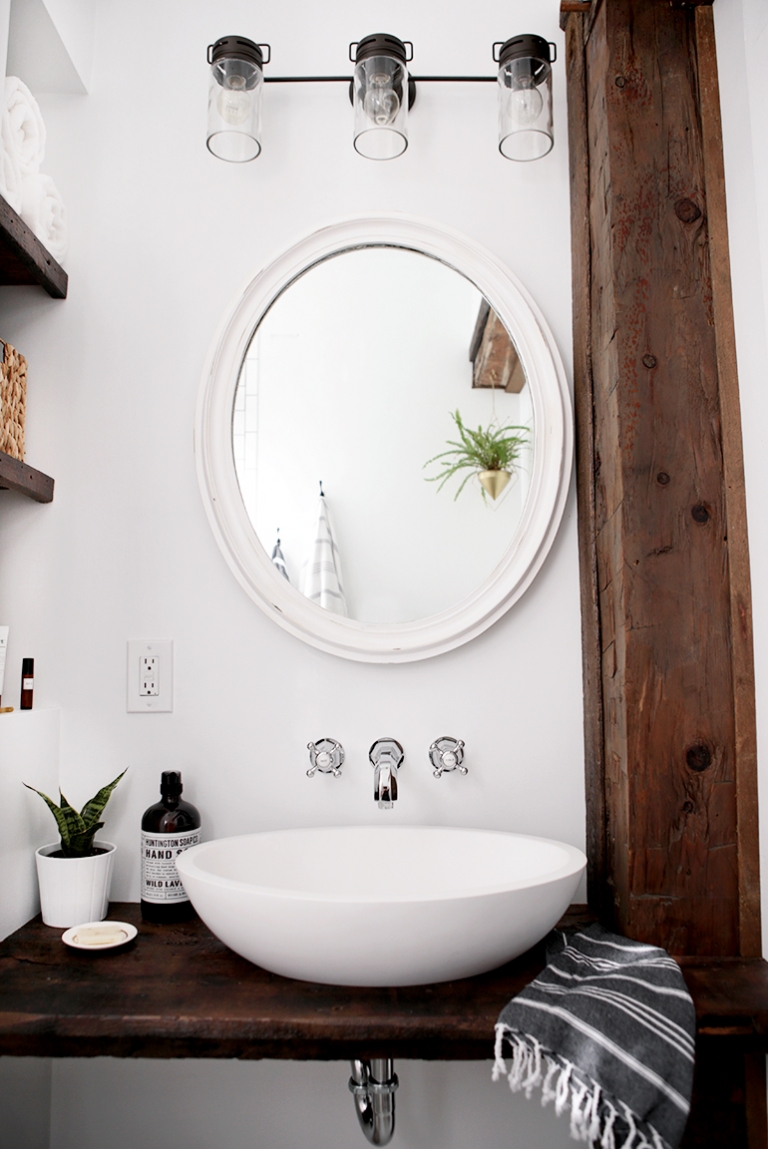 First, a little background; our house is an old 1830's farmhouse and had no bathroom upstairs. We have two downstairs, but none up. We've slowly been renovating and updating rooms in our home, and I've wanted to put a bathroom upstairs so that we can eventually move our bedroom up there. (I refuse to sleep too far away from a bathroom, small bladder = lots of getting up in the night, and there's no way I wanted to be walking up & down the stairs! 😜). So this is what the space looked originally:
It was a 6 foot by 6 foot closet, that opened up into the boys room. In the one photo you can see that it did originally have a door that opened into the hallway, where the current door is now, and so we thought this space would work best for putting in a bath. We have a sloped roof, so we also needed to put in a dormer so that we could have enough head space for the shower and add in a window. Here's a photo of that process: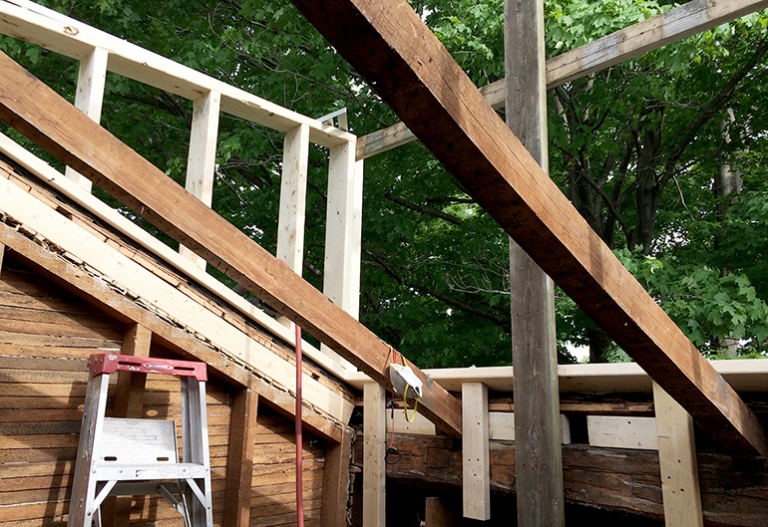 (It amazes me that Mike can just cut holes in our roof and have it turn out like this!) Adding the dormer gave the room a high ceiling and we also bumped out the space a few inches into the adjoining bedroom and hallway, so it's now 6.5 feet by 6.4 feet. It actually feels bigger than I thought it would, a definite plus. Our house is also post & beam style, which made some parts of the renovation a little tricky, but also allowed us to keep some exposed beams in the space, which I love the look of!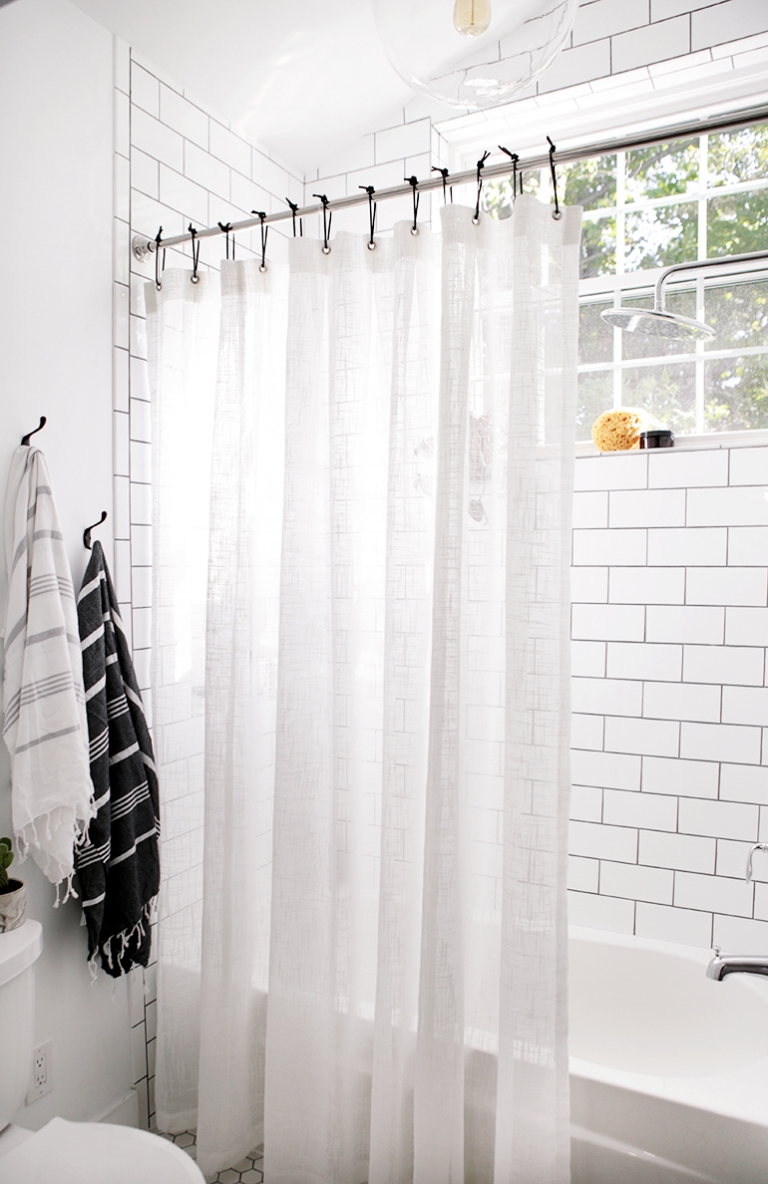 I'll be sharing my DIY shower curtain rings next week – an easy project – and I'm in love with this shower curtain made by
Emily Ellingwood
! She makes gorgeous shower curtains and I'm so happy to have collaborated with her and feature one of the beautiful curtains!
(Toilet's aren't too exciting to look at or share, but I adore the handle on this toilet and from now on will only get toilets with cute handles! It's the little details that make me happy!)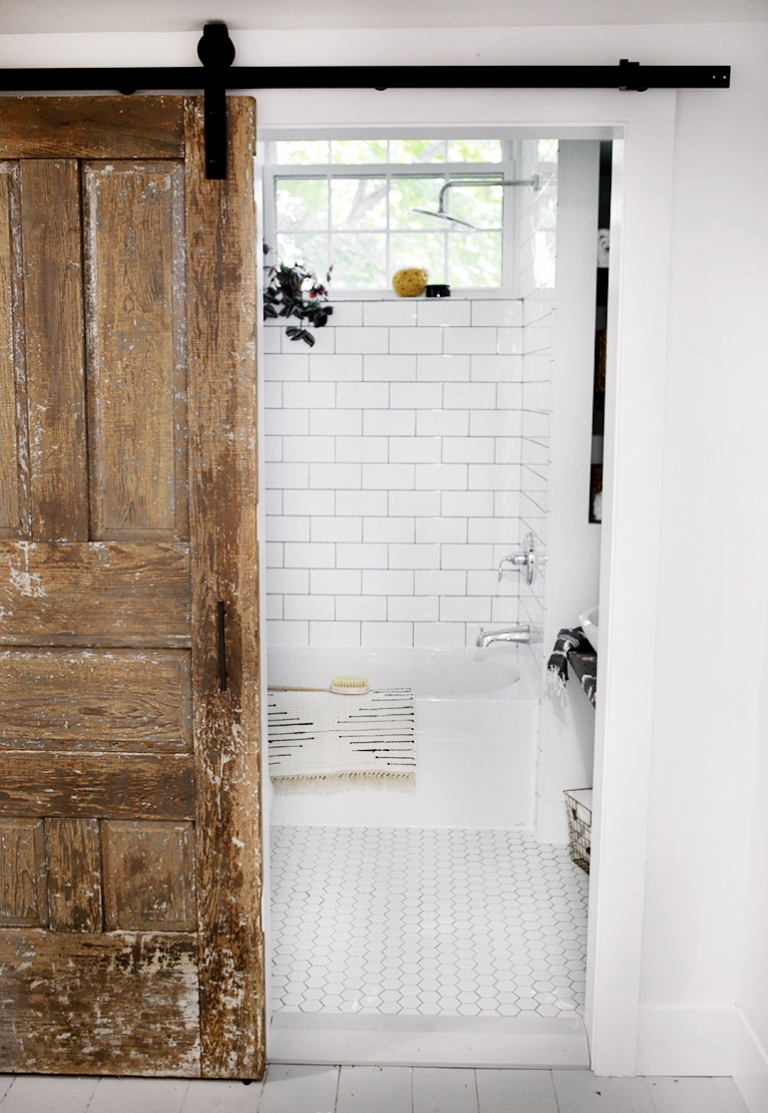 We wanted to maximize as much space as possible since we didn't have a lot of room to begin with, so we decided to do a sliding door for the bathroom. This old door was actually just sitting in my parents garage, so I went and did my door shopping there, can't beat that price! 😉 We also used the empty space next to the bathtub to add in shelves for storage, as well as building in a little niche in the shower for soap & shampoo. (Our mirror is a vintage, thrifted find that also has a built-in cabinet behind it, totally to forgot to take a picture of that opened, maybe I'll add that in soon!)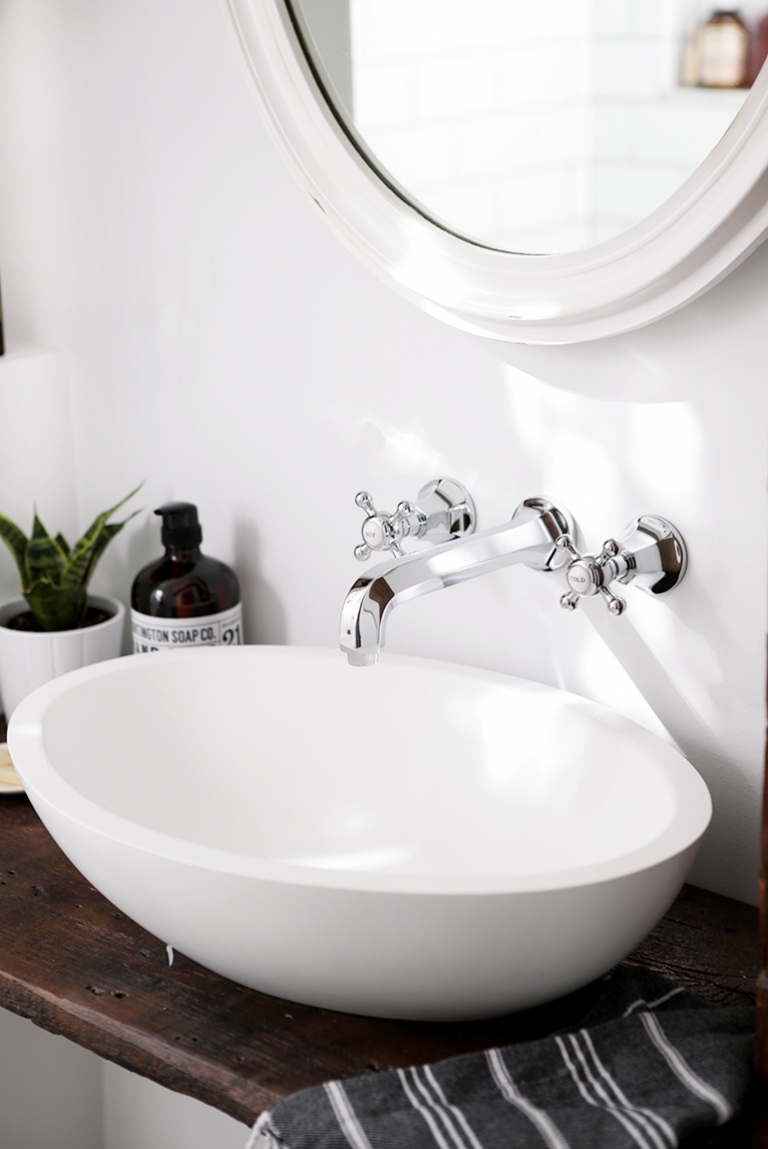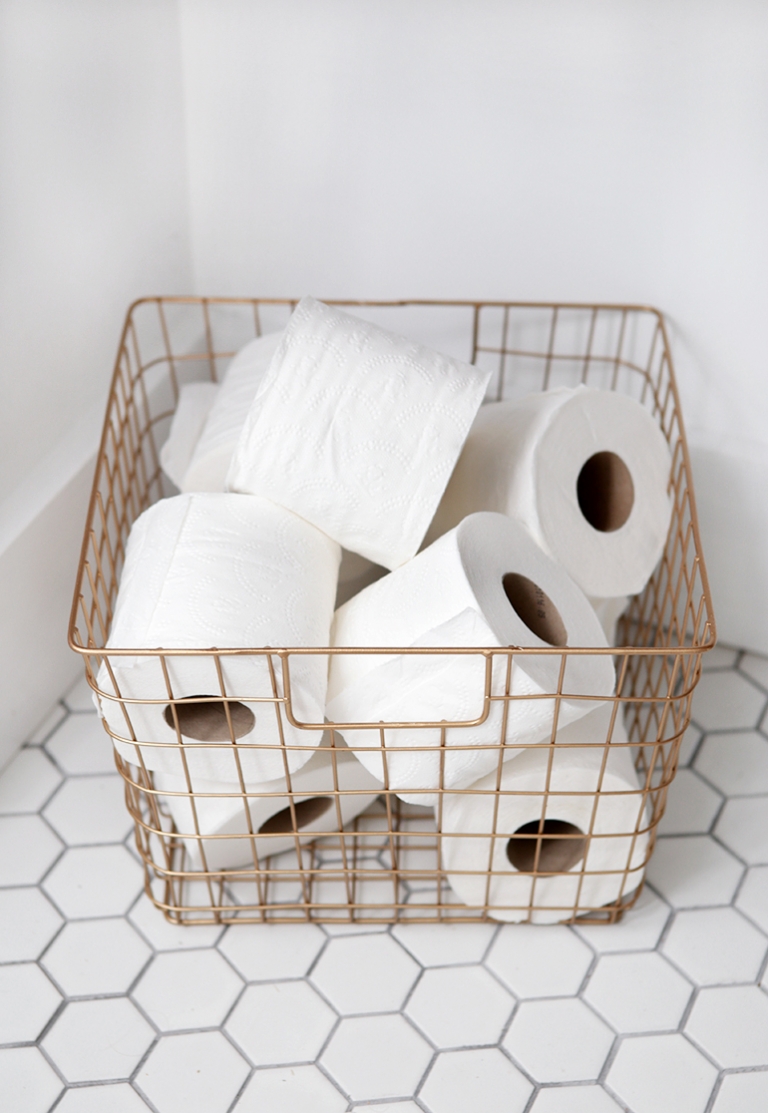 So there's our sweet little new bathroom! Hope you enjoyed the reveal!  And expect to be seeing some more of this space as I've got a few DIYs from this project that I'll be sharing over the next couple weeks!
-Manda
SOURCES
shower head & faucet
| vessel sink | sink faucet | shower curtain | bathtub | toilet | subway tile (we cut ours in half – they're now 4″x8″) | floor tile | grout | hanging pendant light | vanity light | rug | hanging planter | cactus planter | bath towels | hand towel (similar – they changed the design) | shelf baskets (similar – mine are from Michaels but aren't listed online) | toilet paper basket (similar – mine was from Michaels but isn't listed online) | sliding door hardware