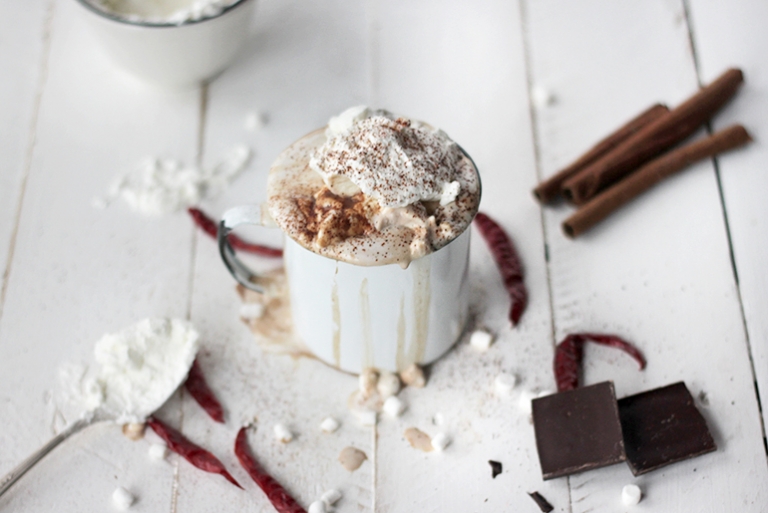 It really couldn't be a more fitting day to post this hot, spicy drink….we're getting our first snow of the season!  It's just the thing you need to warm up with.  And it's the weekend, so go ahead and indulge in this rich, chocolatey, spicy yumminess!


When the weather starts getting cooler, I love having a hot drink in the evening. Well, actually we have a hot drink almost every night, year round; it's just a little more comforting during these colder months.  Usually Mike makes me a mug of tea (yes, he's the best!), one of my top requests is this Easy Chai Latte,  but sometimes I like to indulge in something a little different.  And this drink is definitely a treat!  It's very rich – a small mug is enough, espeically if it's topped with homemade whipped cream, which is a must in my book!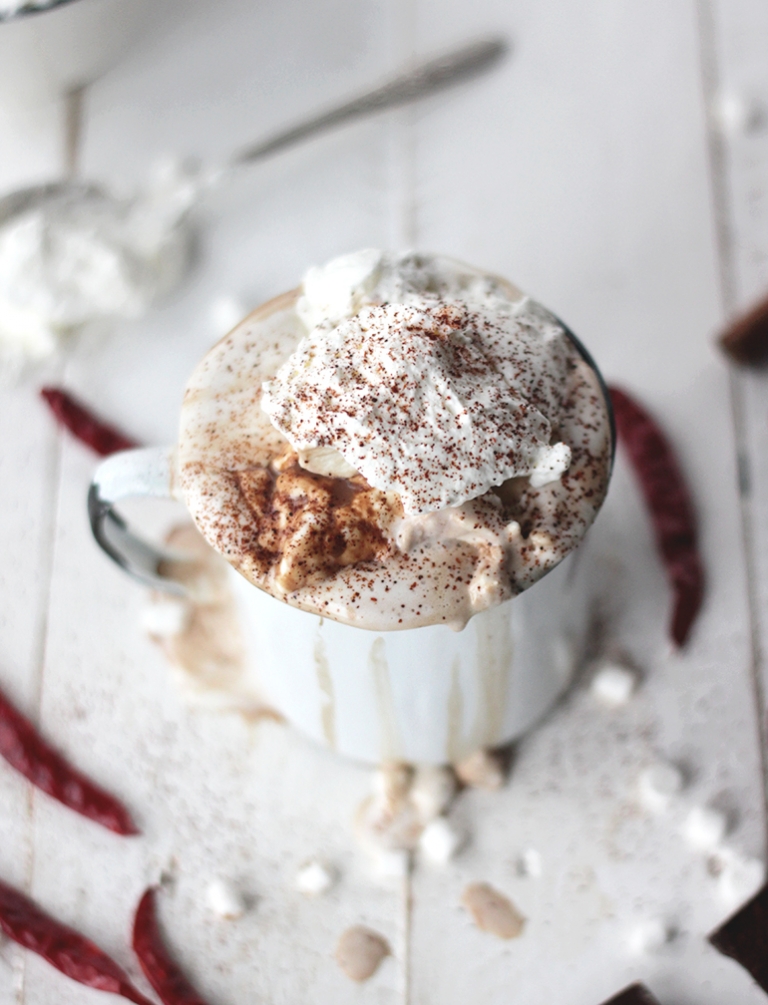 This drink can be adapted to suit your taste – I made mine with 2 dried red chiles, and they were pretty spicy, but I really liked the spicy kick paired with the rich chocolate. You can definitely tone down the spiciness if that's not your thing though.  And next time I make this, I think I'll up the espresso addition  a bit more, as the coffee flavor was really subtle.  But that's something you could leave out all together if you're not a coffee fan, and just enjoy an Atzec Hot Chocolate!  But definitely add this drink to your to-try list – it's a decadent treat that will really warm you up this winter!


Aztec Mocha
3/4 cup heavy cream
1 vanilla bean, split length-wise*
1-2 dried red chiles**, stemmed, seeded and cut into small pieces
1/3 cup sugar
1/2 teaspoon ground cinnamon
2 tablespoons instant espresso
pinch of salt
2.5 ounces bittersweet, good quality chocolate, chopped
2.5 cups whole milk
Heat heavy cream in a saucepan over medium heat. Add the vanilla bean and dried chiles to the heavy cream and let simmer for a couple minutes. Whisk in the sugar, cinnamon, espresso, and a pinch of salt. Add the bittersweet chocolate and whisk until it gets thick. Add milk and simmer for 5-10 minutes. Strain the hot chocolate, discard the vanilla bean and dried chiles. Serve immediately with a generous dollop or two of freshly whipped cream and a dusting of chili powder.
*These ingredients can be substituted, but for the best flavor, make as directed. Use about a teaspoon of vanilla extract in place of the vanilla bean. Use a pinch or two of cayenne red pepper for the dried chiles (start with a pinch and go from there).
**You may want to just start with one dried chile and see how hot it is – hotness will vary depending on the variety of chile used.  I thought 2 was a nice kick,  Mike thought it was a tad too much.
Adapted from Food Network
Happy Weekend!
-Manda