A while back I spotted a waffle cake in a wedding photoshoot, and ever since I've been wanting to make one. Because sometimes you need to make a pretty cake for the sake of making a pretty cake. And to try something new. With Mother's Day coming up, spring brunches happening, bridal and baby showers being planned…this definitely seems like the kind of cake you'd like to have at one of those events! My youngest asked if he could have it as his birthday cake after sampling a piece – so it even has the kid approval!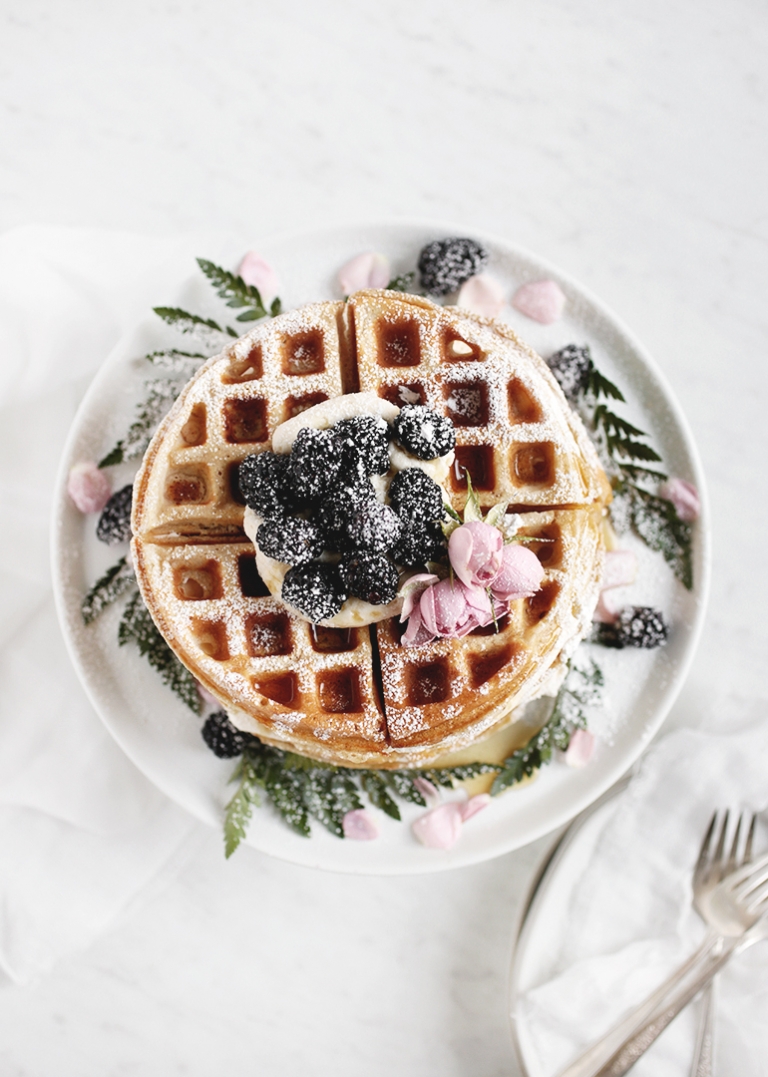 I debated whether I wanted to try this with some kind of flavored whipped cream or go with a buttercream frosting, and in the end, frosting won out. Because it's a cake, and it's supposed to be sweet (go easy on the frosting in between layers though!). I love maple and this being a waffle cake, it just seemed like the right thing to do to use my whipped maple buttercream for this. But if you're looking for something a little lighter, I think whipped cream would be delicious too. I didn't include a waffle recipe – you can use one you love or even just buy some at the store to make it easy on yourself. Larger size Belgian waffles will look best though for a cake.
Waffle Cake with Whipped Maple Buttercream
Ingredients
- Waffles (homemade or store bought, do what's easiest, larger size Belgian waffles will look best though!)
- Pure Maple Syrup, Powdered Sugar, Berries, Flowers
- Whipped Maple Buttercream
8

tablespoons

(1 stick) unsalted butter,

room temperature

1-1/2

cups

powdered sugar

3

tablespoons

pure maple syrup

1

tablespoon

milk

1-2

drops

maple extract,

optional
Instructions
In the bowl of an electric mixer, whip butter on medium high speed until smooth, creamy and it becomes very pale, about 6-8 minutes (scrape down bowl occasionally as needed). 

Add in powdered sugar, maple syrup and milk, mix until combined

Add in maple extract if desired (I like to use it to add extra maple flavor without adding too much sweetness or liquid from the pure maple syrup, but a little goes a long way, so just one or two tiny drops!). If needed, add in additional powdered sugar until it's light and fluffy. (Or if it's too thick, add in a little more of the milk). 

Whip frosting on medium speed for another 5 minutes until it's smooth, light and fluffy.
Recipe Notes
To assemble the cake: layer waffles on a cake plate, spreading maple frosting in between each layer. Top cake with a dollop of frosting, berries and flowers. Drizzle with maple syrup and then dust with powdered sugar.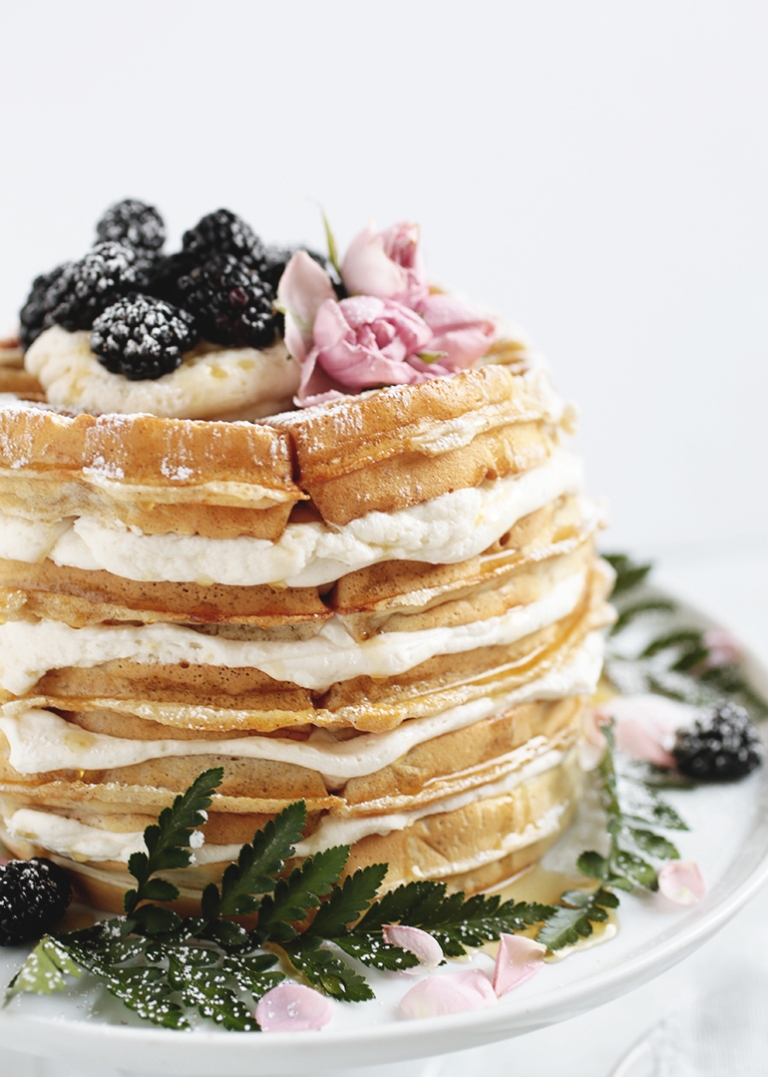 And be sure to check out these posts for more waffle goodness:
Mini Waffle Bites
|
Waffle and Bacon Milkshake
|
10 Waffle Toppings
!
-Manda