With the holidays around the corner, there's possibly a brunch or two in your near future. (And if not, there should be – plan one now!) We thought we'd share some fun ideas of what to do with your waffles, which definitely should be on your brunch menu if they're not already. Don't get us wrong, a homemade waffle topped with butter and maple syrup is delicious (we used pure Vermont Maple syrup on ours – yum!), but sometimes it's fun to go a little crazy and pile on some different and delicious toppings. So here are 10 ways to top your waffles that are worth trying out!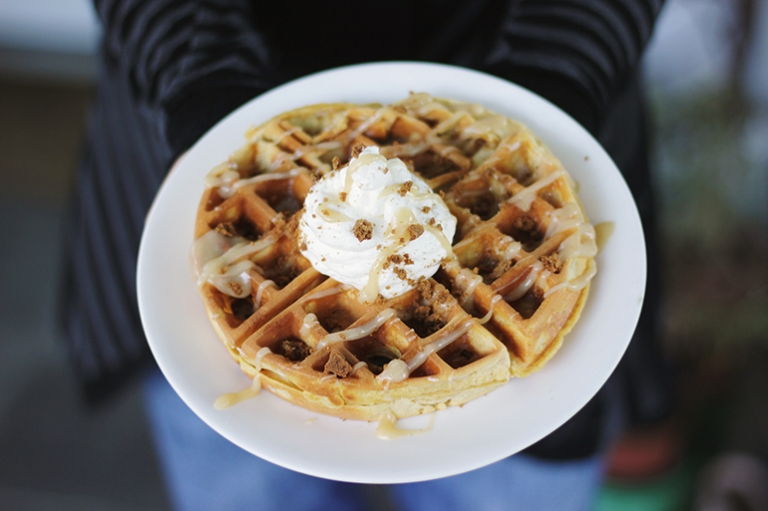 Pumpkin Snap
A delicious pumpkin spice waffle topped with crushed ginger snaps, maple cream sauce (recipe below), maple syrup and fresh whipped cream.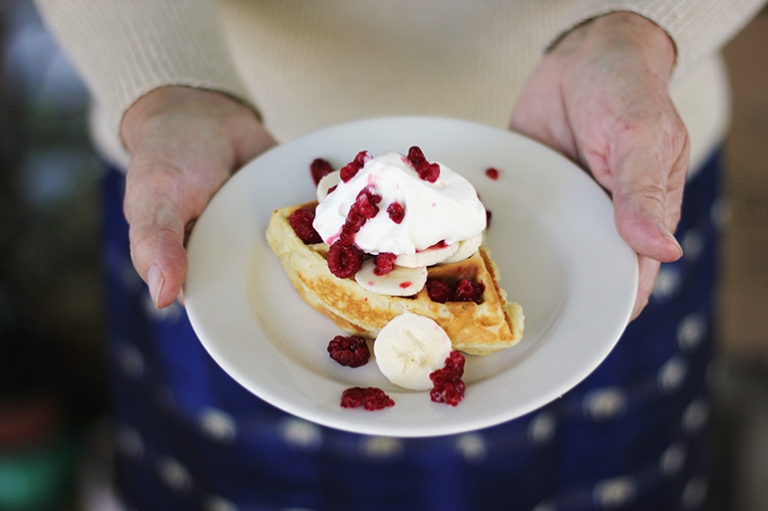 Tutti Frutti
Top waffles with raspberries, bananas, fresh whipped cream and maple syrup for this fun creation.

Baked Potato
Gather all the fixings for a delicious baked potato and top your waffle with some hashbrowns, cheddar, crispy bacon, sour cream and some scallions.

Banana Split
Keep it classic with an old school banana split. Cut up some bananas, scoop a few generous scoops of vanilla ice cream and add chocolate syrup, a few peanuts and mini chocolate chips, and whipped cream. And don't forget the cherry on top!

Apple Crisp
Top your waffle with homemade apple crisp (we've got a yummy recipe for that here), fresh whipped cream and some salted caramel sauce drizzled on top.

'Merica
Proudly top your waffle with some red, white and blue – strawberries, fresh whipped cream and blueberries!  (And don't forgot that maple syrup too!)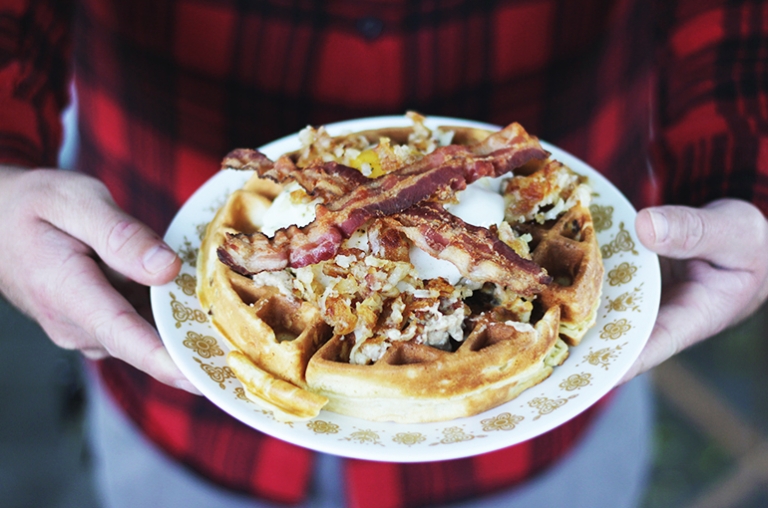 The Lumberjack
This loaded waffle is sure to satisfy the hungry lumberjack in your life. Mix some cooked sausage into your waffle batter and cook it. Add generous helpings of sausage gravy, hashbrowns, a couple fried eggs and some crispy bacon.

Kiddie Sundae
A waffle that the kids are sure to love! Drizzle some chocolate syrup over your waffle and let the kids throw on some of their favorite snacks – whipped cream, chocolate chips, gummy bears, sprinkles…whatever their little heart desires!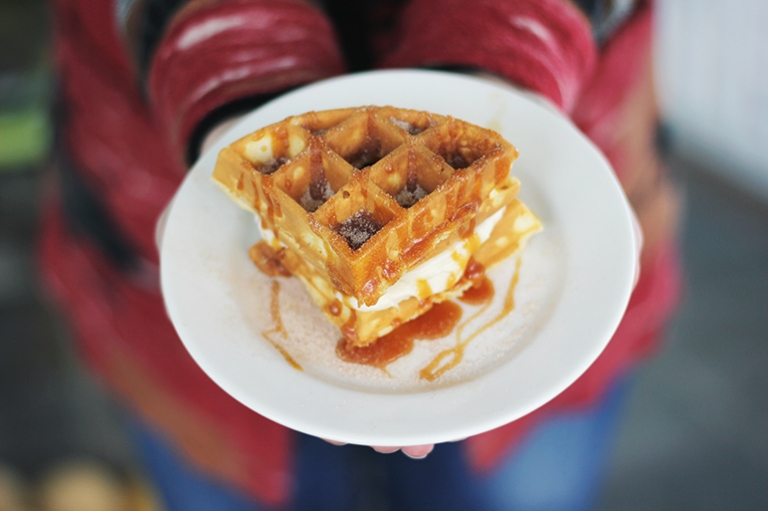 Maple Cream Cheese Waffle Sandwich
Spread maple cream cheese frosting between two waffles, top with sugarmon (cinnamon and sugar mixed together), and salted caramel sauce.

Southwestern
For those that enjoy huevos rancheros, top your waffle with seasoned black beans, eggs, avocado, salsa, sour cream and some shredded cheddar cheese.
Maple Cream Sauce*:
1/2 cup maple syrup
1/4 cup butter
1/2 cup brown sugar
8 ounces cream cheese
1-2 drops maple extract
In a medium saucepan, combine the syrup and butter and cook over low heat until butter is melted. Stir in brown sugar until dissolved and remove from heat. In a medium microwave-safe bowl, soften the cream cheese until it can be stirred smooth by hand. Gradually pour the maple butter mixture into the softened, stirred cream cheese, mixing well as you add the maple mixture. Add a drop or two of maple extract (or as much as you would like to taste) and stir until combined.
Leftover sauce should be stored, covered, in the refrigerator. To use, heat in the microwave until it reaches desired consistency.
*This recipe makes a good amount.  Feel free to cut in half.  Or make the whole batch and use it on maple blondies, ice cream, pancakes, or just eat it straight from the jar because it's that good!
If you enjoy topping your food – be sure to check out our Hot Dog topping post!
Go enjoy some waffles…who needs to wait for a brunch – breakfast for dinner is always a hit! Caitlin, Manda and Marla