Sharing another favorite
beauty product DIY
– glow face serum! One of my friends made me a little sample last summer and I fell in love with this. It was the first time I had used a face serum…I'm not getting any younger and my skin can use all the extra help with staying fresh & healthy, which is what the oils in this serum help do.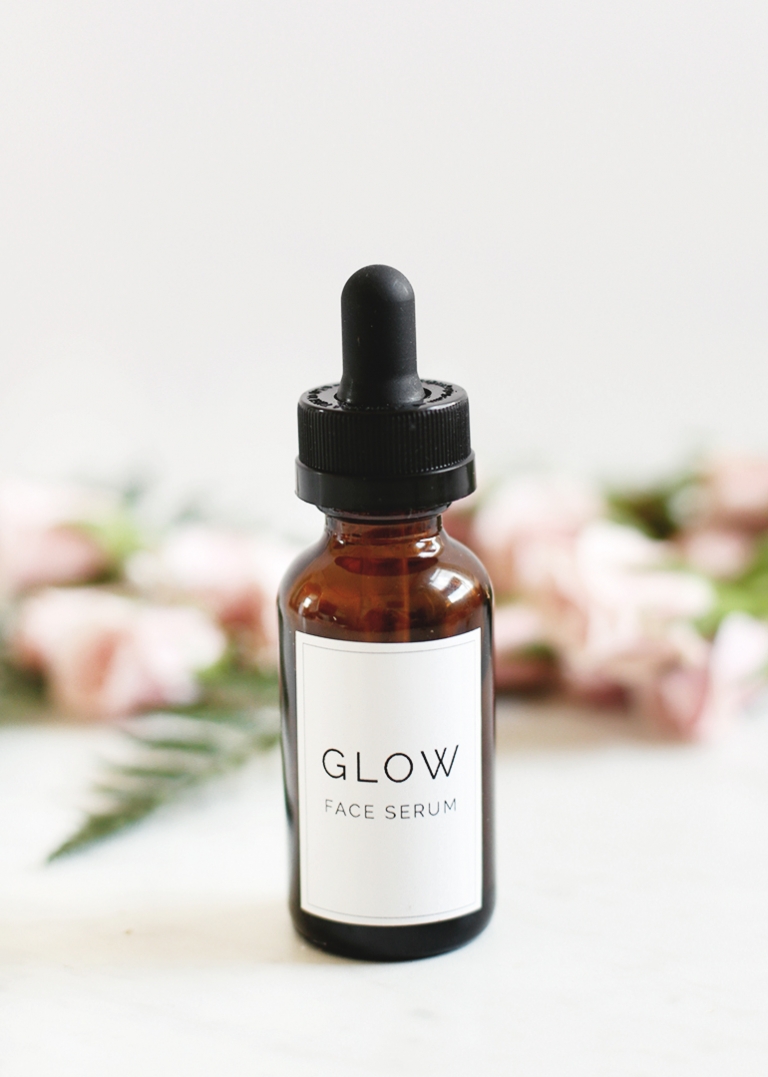 I apply my face serum before my moisturizer. This can be used in the morning or at night or both, but I would start out with just once a day at first to see how your skin reacts. You may need to adjust the carrier oils you're using based on your skin type. Carrier oils are used to dilute the essential oils and "carry" them into your skin. There are a few different carrier oils you can use with this. I like to do a mix with mine, always using rosehip oil as one of the carrier oils. No matter what kind you use, you'll want to make sure it's high quality, cold-pressed, unrefined oil with no additives. And a little goes a long way, you don't need to use a lot.
Good carrier oils for skin are:
– rosehip oil (moisturizes, repairs and regenerates skin)
– jojoba oil (moisturizing and anti-bacterial)
– argan oil (moisturizing, gently tones and promotes healing)
– grapeseed oil (moisturizes and balances skin)
For the essential oils, I use Young Living brand oils – it's super important to make sure you're using high quality oils! You can read more about that here. I have two different recipes below, both are great for glowing skin, the one uses all oils from the starter kit. These are the oils used and their benefits for skin:
– frankincense essential oil: considered one of the best for skin: promotes healthy looking skin and even skin tones (and as I like to say, if it's good enough for Jesus, it's good enough for me! 😉)
– myrrh essential oil: moisturizing and cleansing
– rose or geranium essential oil: both moisturize and support the appearance of healthy, youthful-looking skin. I use geranium, it's often considered the "poor man's" rose oil. 😉
– lavender essential oil: cleanses and soothes minor skin irritations, reduces the appearance of blemishes, supports aging skin
– copaiba essential oil: reduces the appearance of blemishes, promotes the appearance of a youthful, radiant glow

DIY GLOW FACE SERUM
– 6 drops Frankincense Essential Oil
– 4 drops Myrrh Essential Oil
– 2 drops Rose or Geranium Essential Oil
– Rosehip Oil
– Jojoba (or any of the other carrier oils listed above)
– 1 ounce glass dropper bottle
– label
Directions: Add the essential oils to your glass dropper bottle. Fill the rest of the way with half rosehip oil and half jojoba oil. Place cap on and gently shake to combine oils.
To apply: Put a few drops of serum in palm of hand, rub hands together and then lightly press hands to face to soak in. Apply after cleansing your face; before your moisturizer.
For those that have the basic oils from the starter kit, you can still make a great glow serum using just the oils from your starter kit. Just use the essential oils listed below in place of the ones above, and then follow the rest of the recipe above.
Starter Kit Blend
– 6 drops Frankincense Essential Oil
– 5 drops Lavender Essential Oil
– 4 drops Copaiba Essential Oil

If you want to learn more tips and tricks using essential oils (and other healthy living related things), follow along on IG @essentiallylivingwell; and you can read more about essential oils here.
-Manda