This cake has quickly become a favorite around here. If you know me at all, you know I'm not a huge chocolate cake fan. I'm a boring vanilla kind of girl. But I do get asked to make chocolate cakes, and try to keep my chocolate cake making skills on par. So here's how this cake came to be: my niece Parker's first solid food was a bite of a bacon chocolate cake. My sister works at a college and was attending an event celebrating some of their students being on a cake show & winning. There was a bacon chocolate cake everyone was enjoying, and someone there, not realizing that Parker was too little to be eating any solids yet, gave her a tiny bite of cake! And so her first food was cake! (My kind of girl! 😉). For Parker's first birthday last fall, my sister asked if I could make some kind of cake that incorporated chocolate and bacon, as a nod to her first food. She also shares a birthday with her dad, so we were celebrating his birthday as well, and he asked if we could add some kind of maple element to the cake. And that's how the idea of this cake came to be. It was a hit at the party and has been requested quite a few times since then. So I thought maybe this was good enough to share here!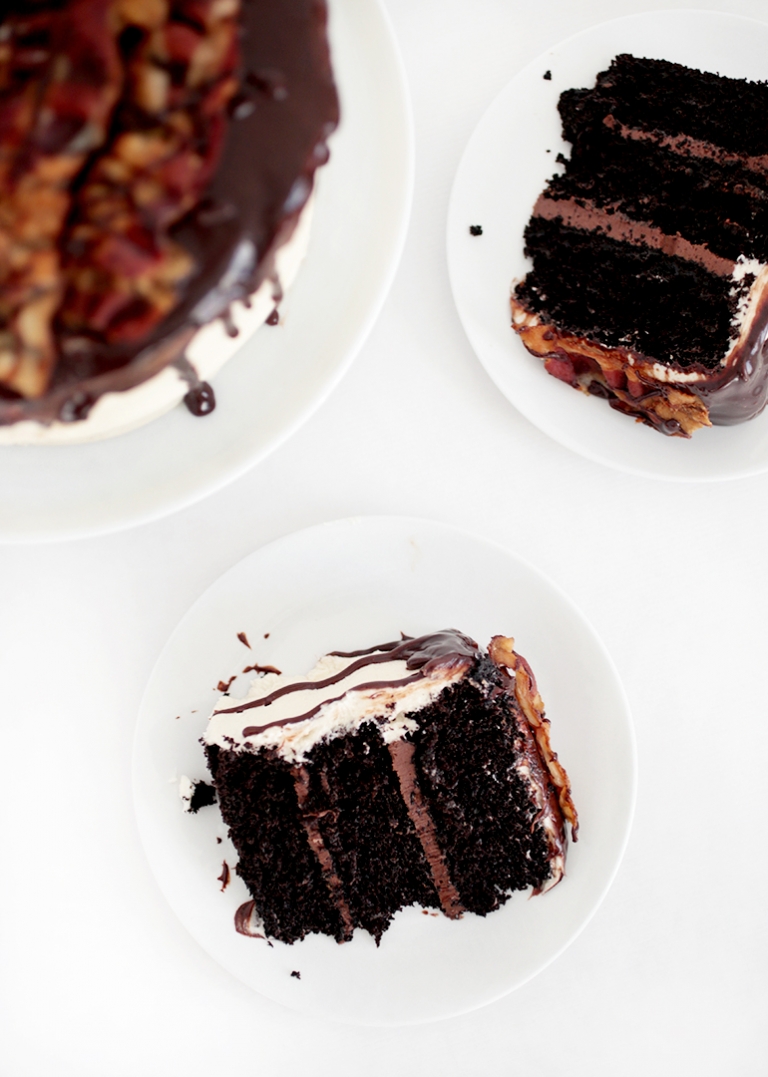 The chocolate cake recipe is one I adapted from Hershey's and is moist and chocolatey! My dad, who is a chocolate cake lover, said it's one of his favorites so far! (For those not familiar with making chocolate cakes, yes there's coffee in the recipe, and no, you can't taste it at all, it just brings out the best in the chocolate, promise!). And for anyone not a fan of bacon, you can leave it out and just enjoy a maple chocolate cake, and that will be very delicious. I made one version of this cake without bacon for my vegetarian sister, and I actually preferred that one. I do love bacon,
a lot
, but seem to not prefer it in desserts. And it's definitely easy to control the amount of bacon in this cake, add a little or a lot, depending on your bacon-loving preference!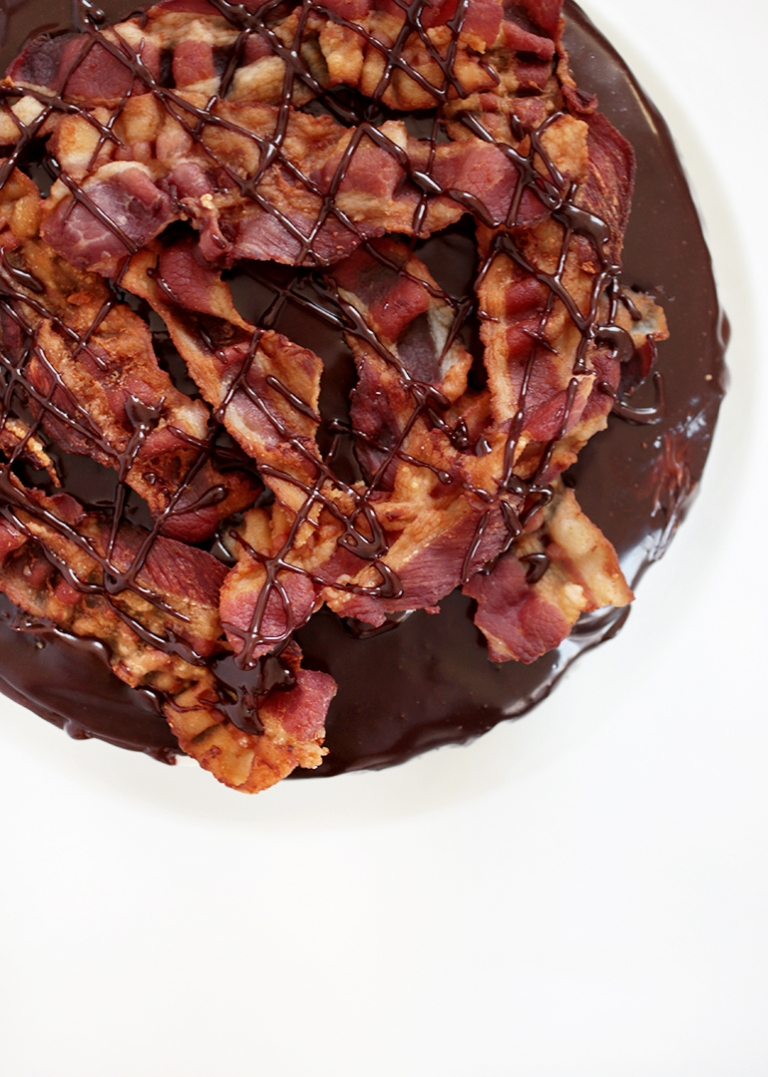 Maple Bacon Chocolate Cake
Chocolate Cake:
2 cups sugar
2 cups all-purpose flour
¾ cup unsweetened dark cocoa powder, sifted (I use Hershey's Special Dark)
2 teaspoons baking powder
1½ teaspoons baking soda
3/4 teaspoon salt
2 eggs
1 cup milk
½ cup vegetable oil
2 teaspoons vanilla extract
1 cup very hot coffee
Preheat oven to 350º F. Grease and flour three 8-inch round cake pans.
In the bowl of a stand mixer, add sugar, flour, cocoa, baking powder, baking soda, and salt. Stir on low speed until combined.
Add eggs, milk, vegetable oil, and vanilla to mixture and mix together on medium speed until well combined. Carefully add hot coffee to the cake batter and mix on low speed until just combined. Beat on medium high speed for about 1 minute, batter will be very thin.
Distribute cake batter evenly between prepared cake pans. Bake for about 22-25 minutes, or until a toothpick inserted in the center comes out clean.
Remove from the oven and allow to cool for about 10 minutes, remove from pans and cool completely.
Ganache Filling:
8oz milk/semi mix of good quality chocolate, chopped
1/2-2/3 cup heavy cream (use less cream – closer to 1/2 – if you are using a higher milk chocolate ratio, use closer to 2/3 if using more semi chocolate than milk chocolate)
2 tablespoons salted butter
Place chocolate in a small bowl. Heat cream in a small saucepan over medium heat until simmering. Pour cream over chocolate and let sit for 2 minutes. Whisk together chocolate and cream until smooth and creamy. Add butter, one tablespoon at a time, and whisk until smooth. Set aside 1/2 cup of ganache (for top of cake). Allow to cool until thick. (Can do this night before).
Whipped Maple Buttercream:
2 1/2 sticks unsalted butter
1 teaspoon vanilla
1/4 cup pure maple syrup
1/8-1/4 teaspoon maple extract
2-4 tablespoons milk
5-6 cups powdered sugar
In the bowl of an electric mixer, whip butter on medium high speed until smooth, creamy and it becomes very pale, about 6-8 minutes (scrap down bowl occasionally as needed). Add in vanilla, maple syrup, 1/8 teaspoon maple extract, 2 tablespoons milk and 1 cup of the powdered sugar, mix until combined. Gradually add in 4 more cups of the powdered sugar, mixing well. If needed, add in additional powdered sugar until it's light and fluffy. (Or if it's too thick, add in a little more of the milk). You can taste the frosting and see if it's maple-y enough, add more extract if needed (I always add a little more, I like a good maple flavor!). Whip frosting on medium speed for another 5 minutes until it's smooth, light and fluffy.
You will also need cooked bacon.
To Assemble Cake:
Place one cake layer on cake plate. Spread half of ganache filling over layer. Top with 1-2 slices of crumbled bacon. Place another cake layer on top and spread with remaining ganache and 1-2 more slices of crumbled bacon. Top with third cake layer. Frost top and sides of cake with maple buttercream. Heat 1/2 cup of reserved ganache in microwave about 10 seconds or until pourable. Slowly pour over top of cake. Garnish cake with additional bacon slices, drizzled with melted chocolate if desired.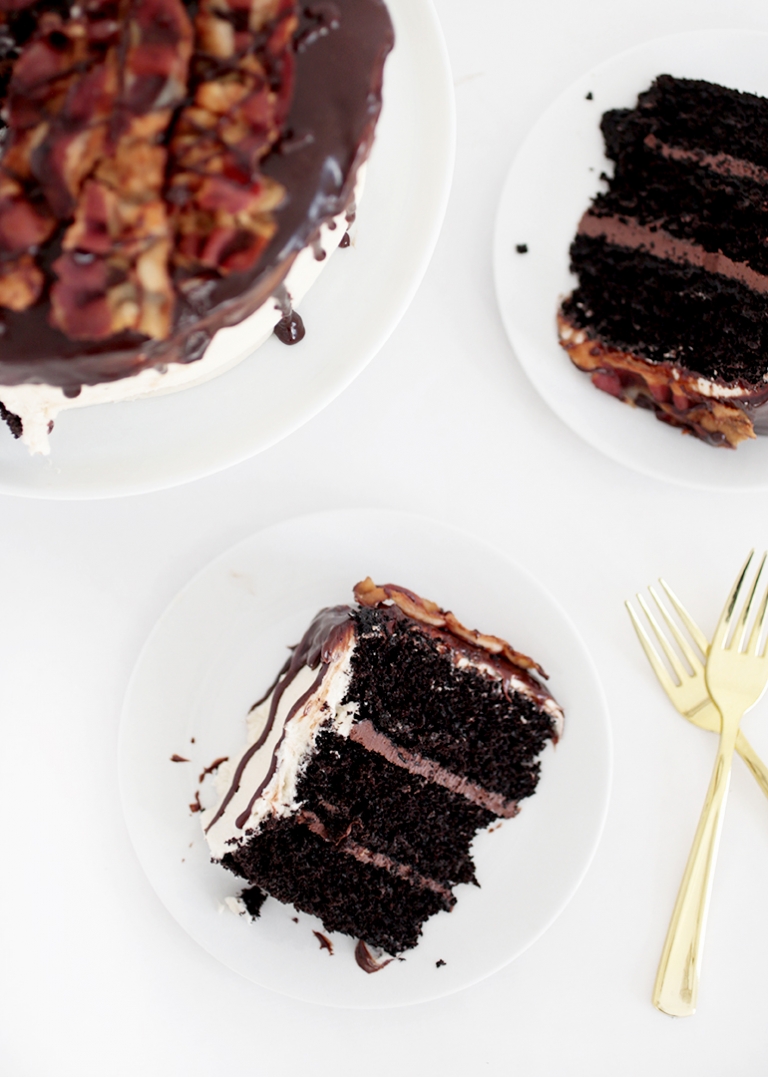 -Manda