These maple cinnamon rolls with maple cream cheese frosting are light and fluffy and the perfect morning treat! Make sure to serve it warm for the best taste!
Homemade cinnamon rolls are one of my favorite breakfast treats! Yes, they require time, letting the dough rise, but overall they're not too complicated and they are so much better than store bought that it's worth every bit of that time & effort. I often make cinnamon rolls for myself for Mother's Day and my birthday, because they're my fav and I know having Mike pick some up from the store just won't be the same! And we always have cinnamon rolls on Christmas morning!
With a recent visit to a local maple farm to stock up on syrup, maple has been on my mind and I really wanted to try making maple cinnamon rolls. Plus maple just feels like a cozy fall food, even though maple season is early spring. This recipe doesn't vary too much from my original, but is perfect for maple lovers! There's both a little maple in the filling and in the frosting – and maple cream cheese frosting is just sooo good, you're going to want it on everything!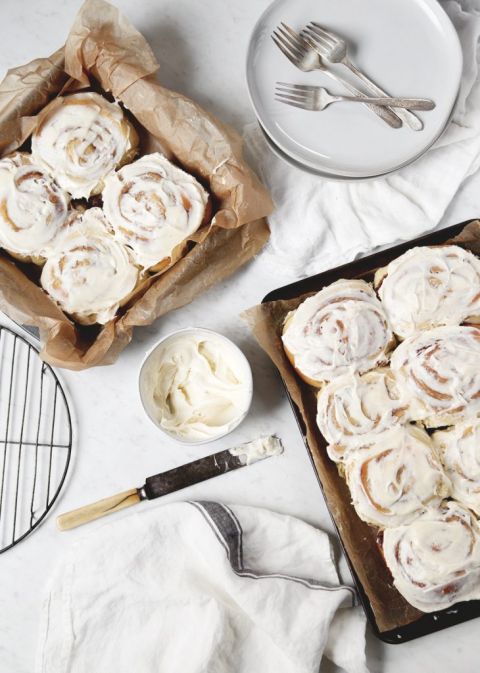 Maple Cinnamon Rolls with Maple Cream Cheese Frosting
Ingredients
Dough
1

package (7g)

rapid rise instant yeast

1

cup

milk, warmed (approximately 110 degrees)

1/2

cup

sugar

1/3

cup

unsalted butter, softened

1

teaspoon

salt

2

eggs

3-1/4

cup

all purpose flour

3/4

cup

bread flour
Filling:
1

cup

packed brown sugar

3

tablespoons

ground cinnamon*

1/4

teaspoon

maple extract

6

tablespoons

unsalted butter, very soft
Maple Cream Cheese Frosting:
8

tablespoons

unsalted butter, room temperature

4

ounces

softened cream cheese

1-3/4

cup

powdered sugar

1/4

cup

pure maple syrup

3-6

drops

maple extract,

(start with 3 drops, taste, add more as desired)
Instructions
For the Dough:
In a stand mixer fitted with dough hook, stir together all ingredients on medium speed, just until combined.

Mix on low speed for about 4 minutes (to knead the dough) until the dough is smooth and elastic. Dough should feel slightly sticky to touch, but able to form into a ball. You can add a little more flour if needed, but make sure not to add too much, or it will dry out the dough.

Lightly grease and flour a large bowl.

Put dough ball in bowl, cover loosely with light weight towel and let rise in a warm place for one hour or until dough has almost doubled in size.

Remove from bowl and roll out on a floured surface, until dough is about 1/4" thick and forms a rectangle about 22"x18" in size.
For the Filling:
In a small bowl, mix together brown sugar, cinnamon and maple extract until combined. It should look like wet sand.

Spread softened butter over rolled out dough, leaving about 1/2" border around edges.

Sprinkle cinnamon sugar mixture evenly over butter.

Roll up dough, starting from the 22" side, making sure to keep the roll tight (try not to lose any filling out the edges!).

Slice roll into 12 pieces using sharp knife.

Line a baking sheet with parchment paper and place cut rolls on baking sheet, about two inches apart with the seam side facing in.

Cover with a light weight towel and let rolls rise for an hour in a warm place. They should double in size.

Preheat oven to 375ºF. While it's preheating, make frosting.
For the Frosting:
Beat together butter and cream cheese until smooth & creamy, about 4 minutes.

Add powdered sugar, mix on low speed until combined.

Add maple syrup and maple extract, mix on low speed until combined, then on medium high speed for about 3 minutes or until light & fluffy.

Bake rolls (at 375º) for about 10 minutes or until golden brown. Remove and let cool on pan for about 10 minutes.

Frost rolls & enjoy! If there's any left, store at room temp in an airtight container.
Recipe Notes
*for a more pronounced maple flavor, in the filling use 2 tablespoons of ground cinnamon instead of 3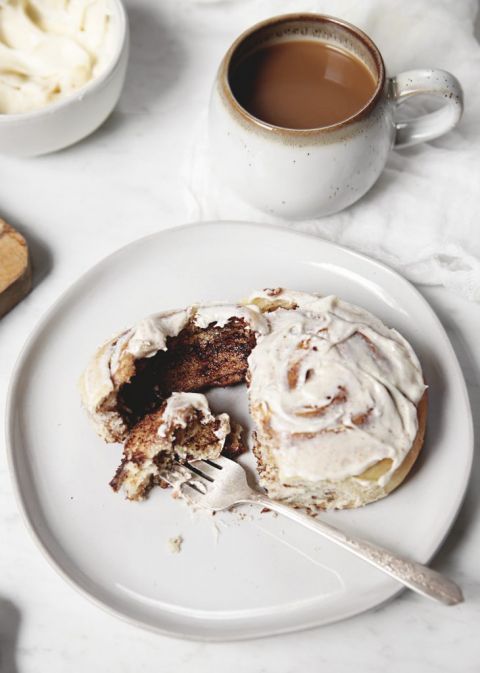 For more delicious breakfast or brunch treats, try these French Breakfast Puffs, Easy Everything Bagels and this Cinnamon Swirl Bread.
For more maple goodness, try this Maple Cream Cake, White Chocolate Blondies with Maple Cream Sauce and Maple Bacon Chocolate Cake.
-Manda