Maple syrup season is in full swing around here! On Sunday, we visited a local maple farm with my Aunt & Uncle and cousins (our 2nd annual trip) and got to indulge in lots of maple goodness – like maple cotton candy and maple ice cream, a favorite of mine!  We then went back to my Aunt's house and after dinner, had more maple desserts! We take maple syrup season seriously in our family. 😉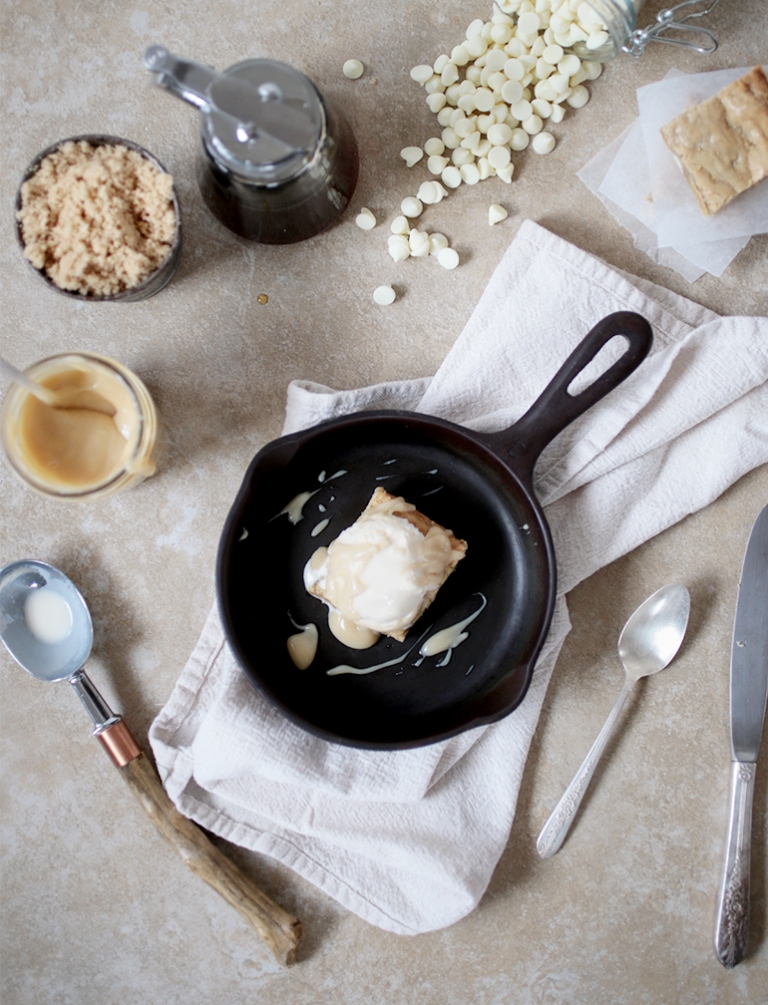 This is one of my favorite maple desserts.  It's a knock-off recipe of Applebee's Maple Walnut Blondie –  a dessert my family loved to get there when it was on the menu (maybe it still is, I haven't been there in so long!). I've been making this for a few years and it always gets lots of rave reviews from everyone.  It's that maple cream sauce – that stuff is sooo good, you can just it eat by the spoonful!  (Or on waffles or to pour over ice cream – it makes a great homemade gift too!)  This dessert is also pretty quick & easy to make too – always a plus!  I opt to leave the walnuts out as I'm not big on nuts mixed in foods, but add them in if you like!


White Chocolate Blondies with Maple Cream Sauce
Blondies:
1/3 cup butter
1 cup packed brown sugar
1 egg, beaten
1 tablespoon vanilla extract
1 cup flour
1/2 teaspoon baking powder
1/8 teaspoon baking soda
1/8 teaspoon salt
1/2 cup white chocolate chips
1/2 cup chopped walnuts – optional
Maple Cream Sauce:
1/4 cup real maple syrup
2 tablespoons butter
1/4 cup brown sugar
4 ounces cream cheese
1-2 drops maple extract
Vanilla Ice Cream
Preheat oven to 350º. Grease a 9-inch square pan. In a medium microwave-safe bowl, melt the butter. Add the brown sugar to the melted butter and mix well. Add the beaten egg and vanilla and mix well. Stir in the flour, baking powder, baking soda and salt and mix well. Stir in white chocolate chips and walnuts if using. Pour into the prepared pan and bake for 20-25 minutes.
While blondies are baking, make the sauce. In a medium saucepan, combine the syrup and butter and cook over low heat until butter is melted. Stir in brown sugar until dissolved and remove from heat. In a medium microwave-safe bowl, soften the cream cheese until it can be stirred smooth by hand.  Slowly add the maple butter mixture into the softened, stirred cream cheese, mixing well as you add the maple mixture (if you mix it in too fast, it will be lumpy!). Add a drop or two of maple extract – or as much as you would like to taste – and stir until combined.
To serve: Place a heaping scoop of vanilla ice cream on the warm blondie and drizzle with sauce and additional walnuts if desired. If you want to be fancy, warm a small cast iron skillet on the stove or in the oven and serve your blondie sizzling-skillet style.
Leftover sauce should be stored, covered, in the refrigerator. To use, heat in the microwave until it reaches desired consistency.
Adapted from createatoriumcrafts

If you're a fellow maple syrup lover you should probably try this Maple Ice Cream with Maple Glazed Pecans and these Baked Doughnuts with Maple Glaze!
-Manda