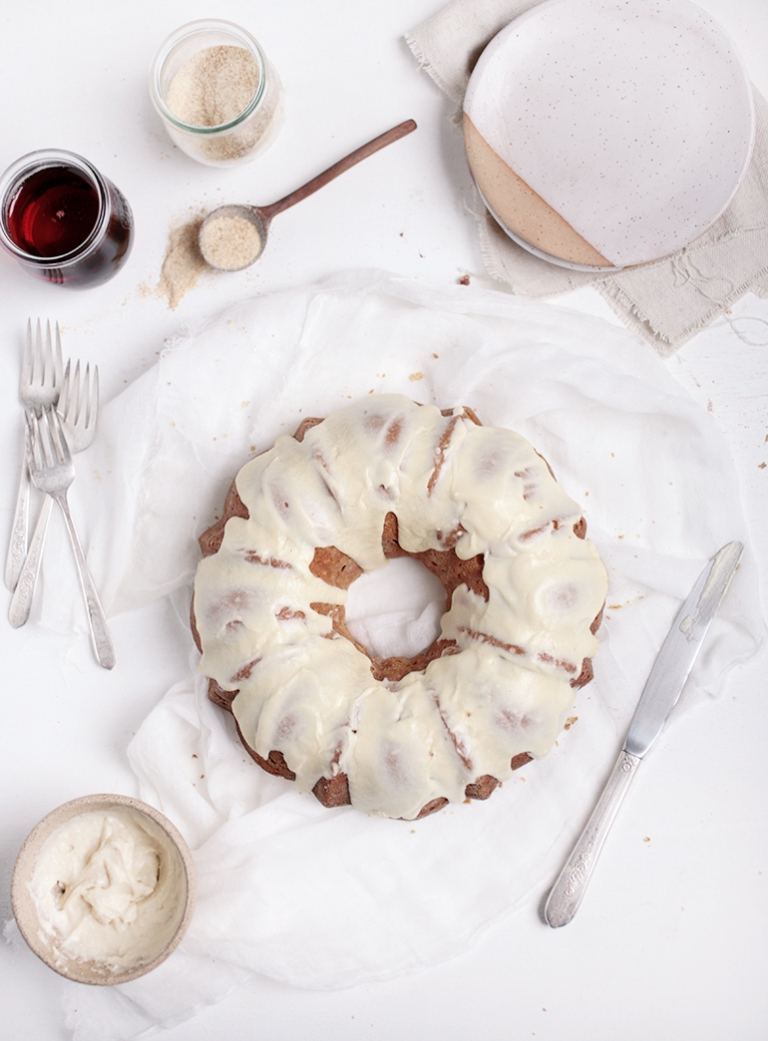 Every year, my aunt hosts a little St. Patrick's Day/Maple Fest gathering. We visit the neighbor's maple farm, enjoy delicious treats like maple ice cream and maple cotton candy, the kids enjoy a tractor ride down to see the sap being boiled, and then we head back to my aunt's house for a corned beef & cabbage dinner. For the last few years, my aunt has made this maple cream cake for one of the desserts and it's quickly become a favorite!
I recently shared how to make maple sugar, which is needed for this recipe. It's pretty easy to make your own maple sugar, especially if you're doing a small batch, which is all you'll need for this recipe. In a pinch though, I'm sure you could sub brown sugar for the maple sugar and all will be well. 😉 This cake is light & moist with a wonderful maple flavor. I did think my cake didn't quite taste as good as when my aunt makes it though – I'm still looking forward to having her's again this year at the party!
Maple Cream Cake
Cake:
1 cup (2 sticks) unsalted butter, softened
2 cups granulated sugar
1 cup sour cream
2 large eggs
1/2 teaspoon vanilla extract
1/2 teaspoon maple extract
2 cups all-purpose flour
1 teaspoon baking powder
Filling:
3 tablespoons maple sugar
1/2 cup finely chopped pecans or walnuts, toasted (I used pecans)
Frosting:
2 tablespoons unsalted butter, softened
1 cup powdered sugar
1/4 cup pure maple syrup
maple extract, optional
Preheat oven to 350 degrees F. Grease and flour a bundt pan, set aside.
In a large mixing bowl, beat together butter and sugar until light and fluffy. Add sour cream and eggs and mix until combined. Add vanilla and maple extract. Add flour and baking powder and beat just until mixed together.
For the filling, combine maple sugar and nuts in small bowl, set aside.
Spread half of batter in pan and sprinkle with half of sugar-nut mixture. Add remaining batter on top of that and sprinkle with remaining sugar-nut mixture. Bake 45-50 minutes, or until a toothpick inserted into the center of the cake comes out clean. Let cool in pan for 10 minutes, then turn out onto a wire rack, and cool completely.
In a small bowl, mix frosting ingredients until smooth, add more syrup if frosting is stiff.  (It should be soft enough to spread smoothly and drip down sides of cake). Add a drop or two of maple extract to the frosting if desired. Frost cake while is still slightly warm. Allow to set before slicing cake.
– Manda