Confession: I'm intimidated by bread dough recipes. I feel like I never know if I've kneaded the dough long enough and then recipes always say to let the dough rise until double in size and mine never quite seems to do that. So the whole time I'm making recipes with a homemade dough, I'm constantly second guessing myself. But I'm determined to get this down! My mom and my aunt both make 
amazing
bread, and I really want to be able to, so I'm declaring this is my year to tackle more dough recipes! Thankfully, this cinnamon roll recipe seems to be very forgiving, because I've been making it for years, and even with my inexperience, they always turn out. So for anyone else thinking they don't want to try recipes like this because of "dough intimidation", this recipe might be the one to try out. (I also have really good luck with the
soft pretzel recipe
, so that might be another one to add to your list). My knead time has varied, my dough doesn't always quite double in size, but they still always turn out! And yes, waiting for dough to rise does take a while, and this recipe even has two rises, but it's so worth the wait (just be sure you're planning that into your timing).
These rolls are simply the best; and not just because they turn out well even when I mess up the knead or rise time. They're huge, soft, with a gooey cinnamon-y filling, and topped with lots of delicious icing! They're supposed to be similar to a Cinnabon, and I think they are, although it's been ages since I've had one of those. I decided a few years back that our Christmas morning breakfast would be cinnamon rolls and bacon. Just those two things. It's an idea I stole from my midwife, she told me that it's their Christmas morning tradition and I loved it and have been doing it ever since in our house. I'm pretty sure I'm the most excited about this, so it's kind of like a Christmas present to myself! But these are also the kind of rolls you'd like served to you in bed, say on Mother's Day (hint, hint…I don't know who I'm hinting to, my husband nor my boys read this. Nor do they bake. My best bet for getting this is to make them myself on Saturday and wait to be served – ha!). But these rolls are for sure a must try!
Homemade Cinnamon Rolls
Dough
1 package (7g) rapid rise instant yeast
1 cup milk, warmed (at approximately 110 degrees for those that need it exact)
1/2 cup sugar
1/3 cup unsalted butter, softened
1 teaspoon salt
2 eggs
3-1/4 cup all-purpose flour
3/4 cup bread flour
In a stand mixer fitted with dough hook, stir together all ingredients on medium speed, just until combined. Mix on low speed for 4-6 minutes (to knead the dough) until the dough is smooth and elastic.
Lightly grease and flour a large bowl. Put dough ball in bowl, cover and let rise in a warm place for one hour or until dough has almost doubled in size.
Remove from bowl and roll out on a floured surface, until dough is about 1/4" thick and forms a rectangle about 22"x18" in size.
Filling:
1 cup packed brown sugar
3 tablespoons cinnamon
6 tablespoons unsalted butter, very soft
In a small bowl, mix together brown sugar and cinnamon until combined. Spread softened butter over rolled out dough, leaving about 1/2" border around edges. Sprinkle cinnamon sugar mixture evenly over butter.
Roll up dough, starting from the 22" side, making sure to keep the roll tight (try not to lose any filling out the edges!). Slice roll into 12 pieces using sharp knife.
Line a baking sheet with parchment paper and place cut rolls on baking sheet, about two inches apart with the seam side facing in.
Cover with a light weight towel and let rolls rise for an hour in a warm place. They should double in size.
Preheat oven to 375ºF. While it's preheating, make frosting.
Frosting:
1 stick (8 tablespoons) unsalted butter, room temperature
4 ounces softened cream cheese
1 teaspoon vanilla extract
1-3/4 cup powdered sugar
Beat together butter and cream cheese until smooth & creamy, about 4 minutes. Add vanilla and powdered sugar, mix on low speed until combined, then on medium high speed for about 3 minutes or until light & fluffy.
Bake rolls (at 375º) for about 10 minutes or until golden brown. Remove and let cool on pan for about 10 minutes.
Frost rolls & enjoy! If there's any left, store at room temp in an airtight container.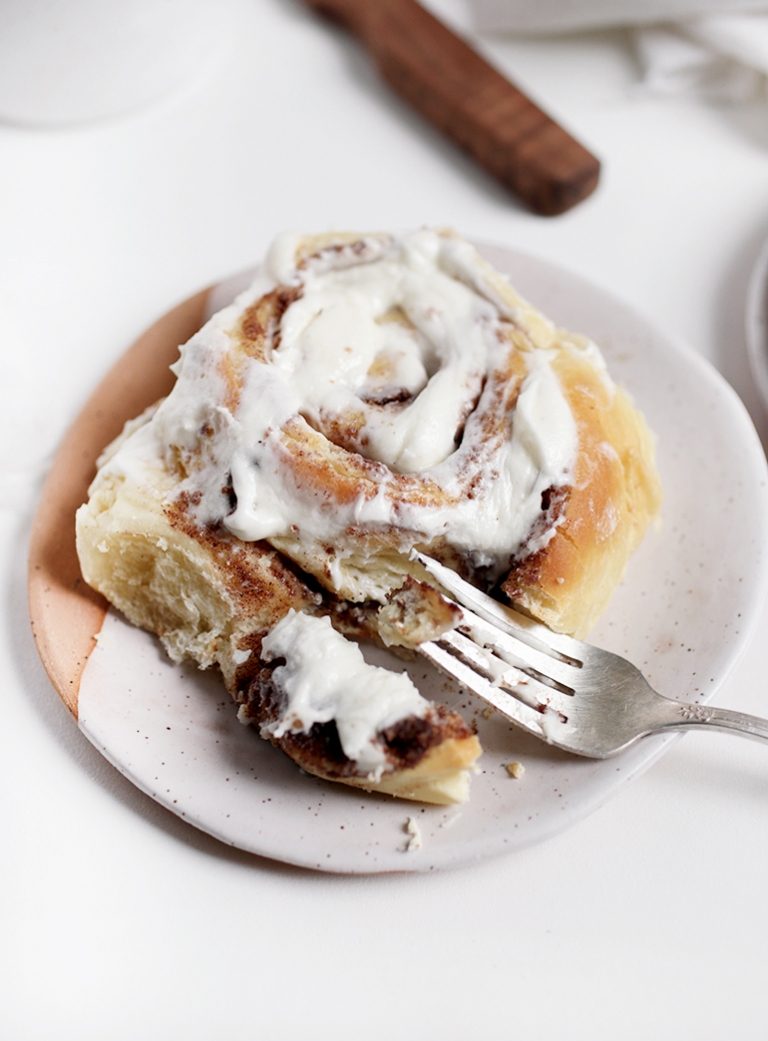 -Manda