Back in high school, a friend & I would occasionally meet before school at a little diner for breakfast.
Very
occasionally since I'm not a morning person and hate getting up early. But this diner served the most delicious breakfast treat – warm cinnamon bread topped with a glaze, called L.A. Cinnamon Bread (no idea why it was called that), that was definitely worth getting up for! The diner closed and I forever mourned the loss of L.A. cinnamon bread in my life. Until a couple years ago when my parents told me they found another local diner serving it!! And come to find out, I guess a bakery in the small town that I was born in (what are the chances?!) makes it and sells it online. So you can actually order it and have it delivered to you, but by that point I had already decided that it was something that I wanted to try making my own version of. I've actually had this on my to-make list for
years
, but kept putting it off because it involved making homemade bread. And just when I decided to finally go for it, my mom mentioned she found it at yet another local diner – haa!
I wouldn't call this a copycat recipe, more of an inspired by since I was just winging it based on what I could remember from high school, and it is a little different (my mom brought some from the diner so I could compare it to mine). The glaze is different, I wanted it to be more like cinnamon roll icing, and my bread also has more cinnamon sugar goodness inside it (a must!). This is like cinnamon rolls in bread form, and is sooo good – a perfect weekend morning treat! You can also just eat it without the glaze if you're looking to have less sugar, it makes delicious cinnamon toast. For my bread, I like to lightly toast it and then top with the glaze. (And I definitely don't use as much glaze as these photos show – I just needed it to be nice and thick and visible for shooting!).
Cinnamon Swirl Bread with Cream Cheese Glaze
Rich cinnamon bread topped with a cream cheese glaze.
Course:
Breakfast, Brunch, Dessert
Ingredients
Dough
1

cup

warm milk

1/3

cup

warm water

2

teaspoons

active dry yeast

3

tablespoons

sugar

1-1/2

teaspoons

salt

3

tablespoons

butter, softened

3-1/4

cup

bread flour
FIling
1/2

cup

brown sugar

1

tablespoon

ground cinnamon

2

tablespoons

butter, soft
Cream Cheese Glaze
3

tablespoons

unsalted butter,

room temperature

1

ounce

cream cheese,

room temperature

3/4

cup

powdered sugar

1/4

teaspoon

vanilla extract

2

tablespoons

milk
Instructions
For the Dough:
Add the warm milk & water to mixing bowl. Add yeast and let sit about 5 minutes to activate.


Mix in sugar, salt and butter. Add flour and mix until combined and the dough comes together.


Knead dough for 6-8 minutes until smooth and elastic, either by hand on a lightly floured surface or in a stand mixer with a dough hook on low speed. 


Place dough in a large bowl lightly greased with oil, cover loosely with a towel and let rise in a warm place for about an hour or until doubled in size. 
For the filling:
Remove dough from bowl and roll out into a 9"x 18" rectangle on a floured surface.

Spread butter over rectangle, leaving about 1" border around the edges.

In a small bowl, mix together brown sugar & cinnamon. Sprinkle cinnamon sugar mixture over butter.

Roll up dough tightly into a 9-inch log. Pinch seam and ends to seal.

Place into a greased 9"x5" loaf pan seam side down. Cover loosely and let rise in a warm place for about an hour, until the dough rises to the top of the pan. 

Preheat oven to 350ºF. If desired, brush top of loaf with about 1 tablespoon melted butter. Bake about 40-45 minutes, until golden brown, and the loaf sounds hollow when tapped. Cool for about 10 minutes in the pan, then cool completely on wire rack. 
For the Glaze:
Beat together butter and cream cheese until smooth. Add in remaining ingredients and mix until well blended. 

Top warm slices of cinnamon bread with glaze. Enjoy!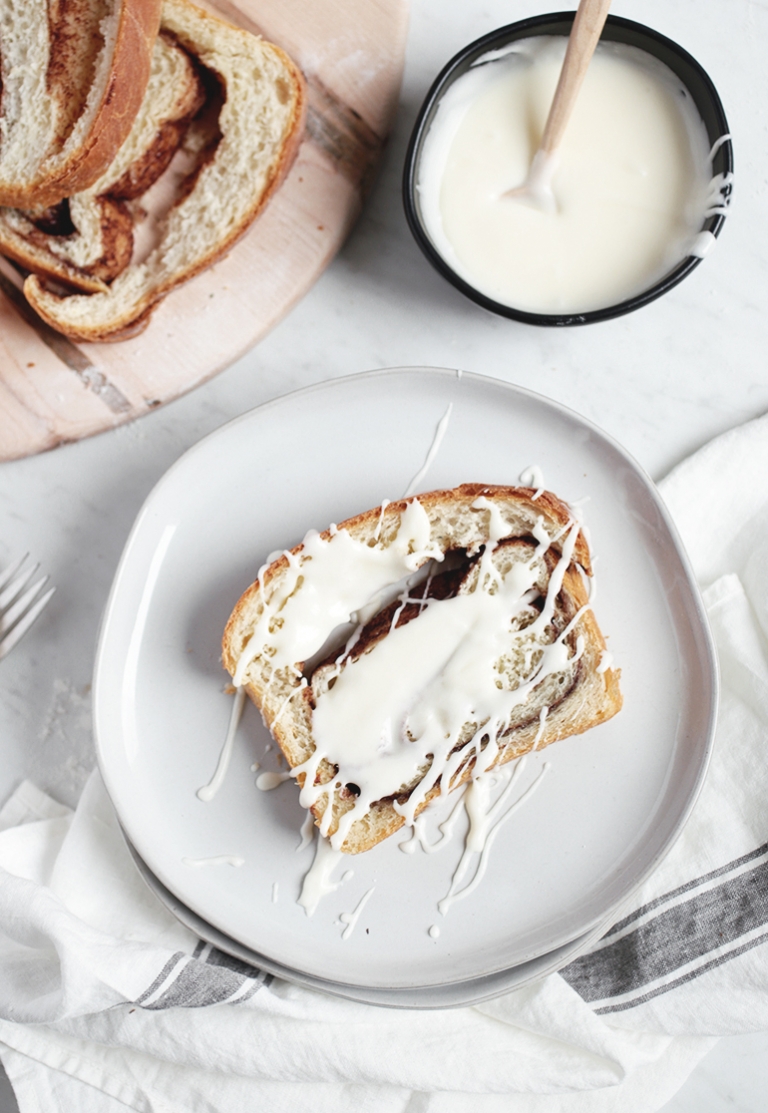 If you're hungry for a few more delicious breakfast treats, a couple of my favorites you should try are these Homemade Cinnamon Rolls or these French Breakfast Puffs!
-Manda