Back
again
with more from the
bathroom
; hopefully you're not too sick of seeing this space. 😬 A whole room reno (or I guess room addition) is such a big project and brings along so many little projects to share! This might be my last one, for a bit, I actually felt like I needed a break from this room, so I told Mike that we're putting a hold on the other few projects I had on the list and getting out of the bathroom for a while! It's still my favorite place in the house to be, so bright and fresh and new. I might need to set up a work desk in there. 😏 So on to this super
exciting
project – haa…it feels a little silly sharing a diy for toilet paper! I actually was talking to my mom on the phone while I was taking these pictures (which I really don't recommend doing, super painful on the neck, trying to hold a phone while taking pictures…), and when she asked what I was up to, my reply was, "
oh, just sitting in my empty bathtub, taking pictures of my toilet paper…what everyone does on Friday afternoons
!". But, ya gotta have a place for the t.p., and why not have it be a cute one?! I was crushing hard on
this
toilet paper holder, but it's a little more than I wanted to pay and never seems to be in stock, so I did what we always do – made our own!
**Update – for those that have asked, we now sell this in our shop. Find it here!**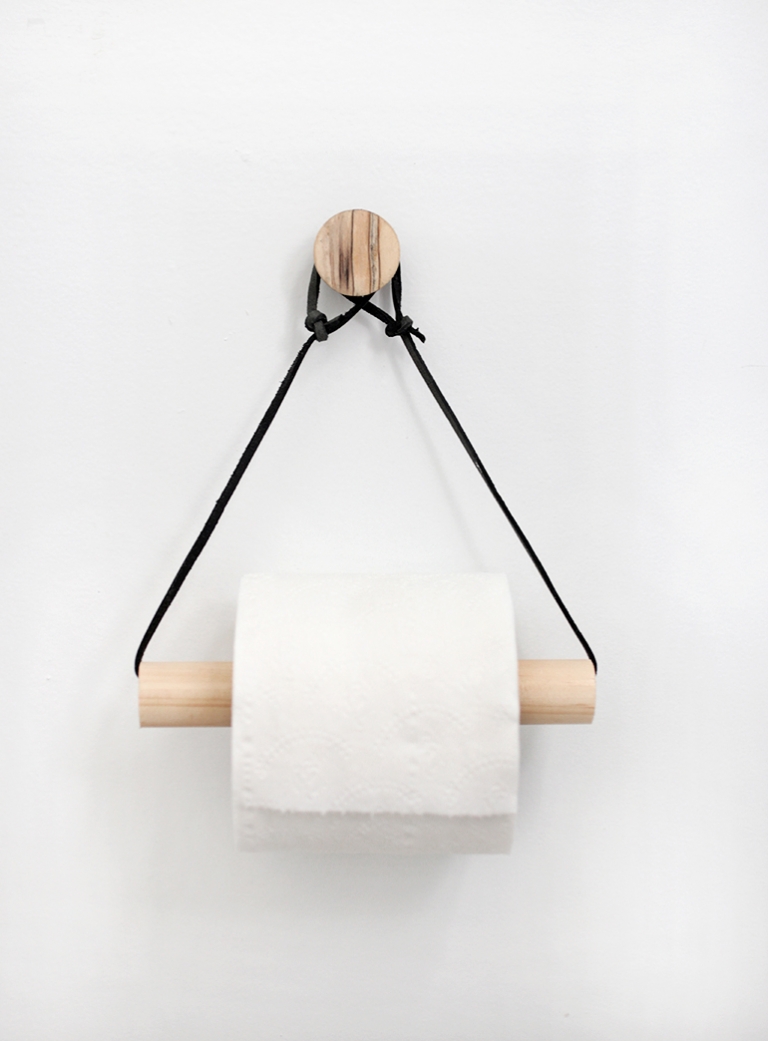 I wanted a similar look to that one I love, but also wanted to tie in the leather I used for the
shower curtain rings
, and this basic design gave me it all: triangular design, used some of our favorite materials – leather & wood; and only cost us the price of the screw because we already had everything else! The knob was one that Mike made for me from spalted maple, currently one of my favorite wood varieties, I love the veining in it (it's the same wood our
coffee table
and
picture ledge
are made from); you can use any knob though. And then with just a few materials and a couple tools, you can pretty up your bathroom with this DIY!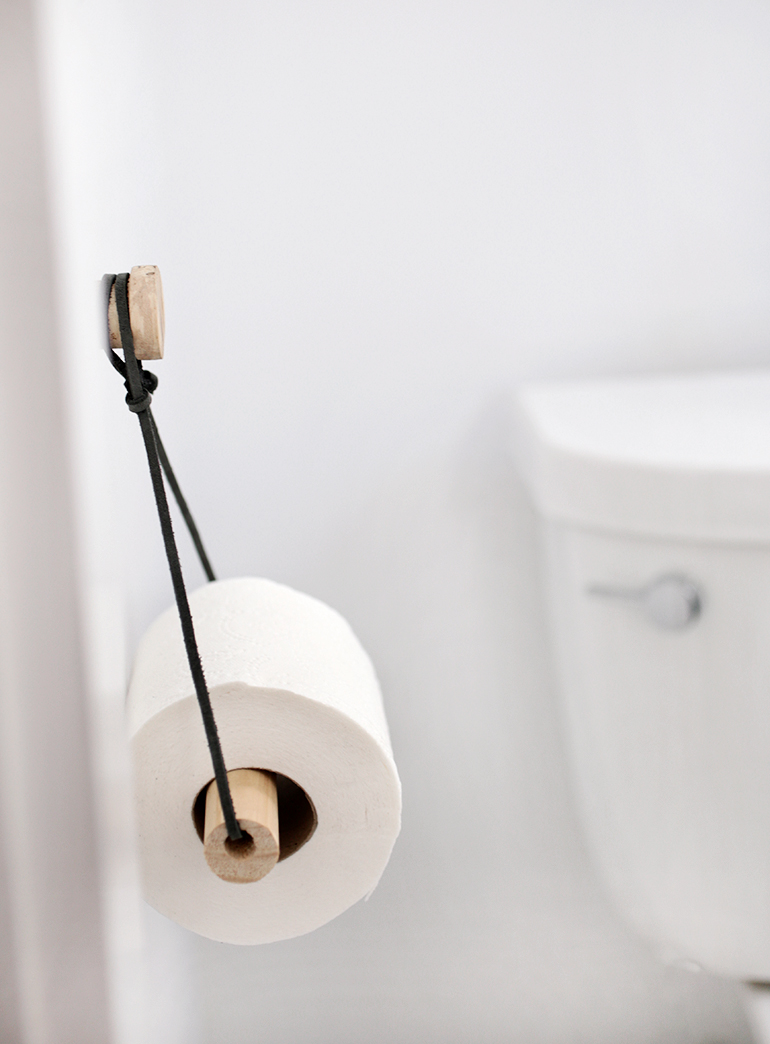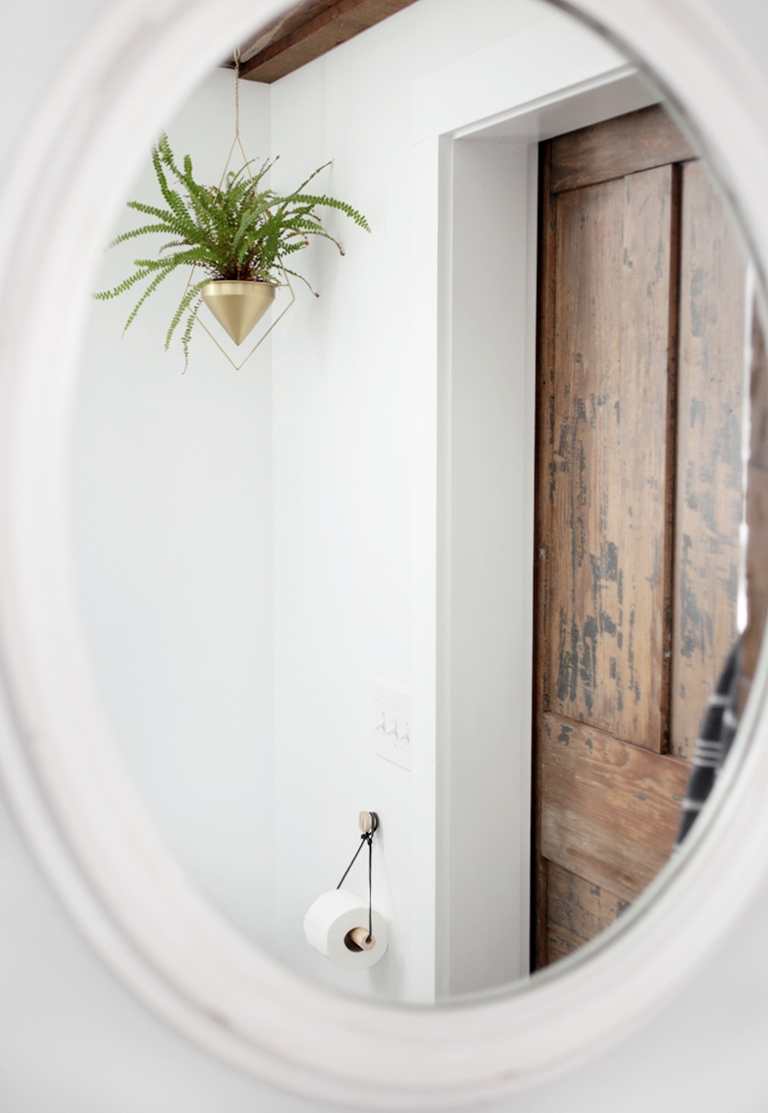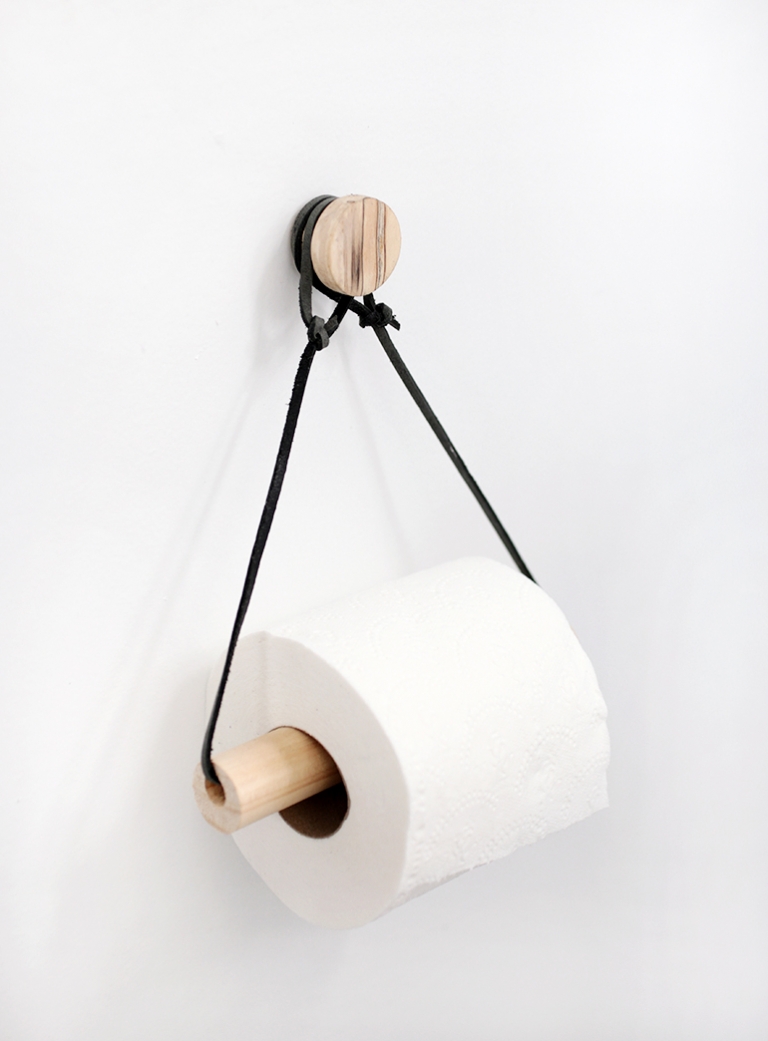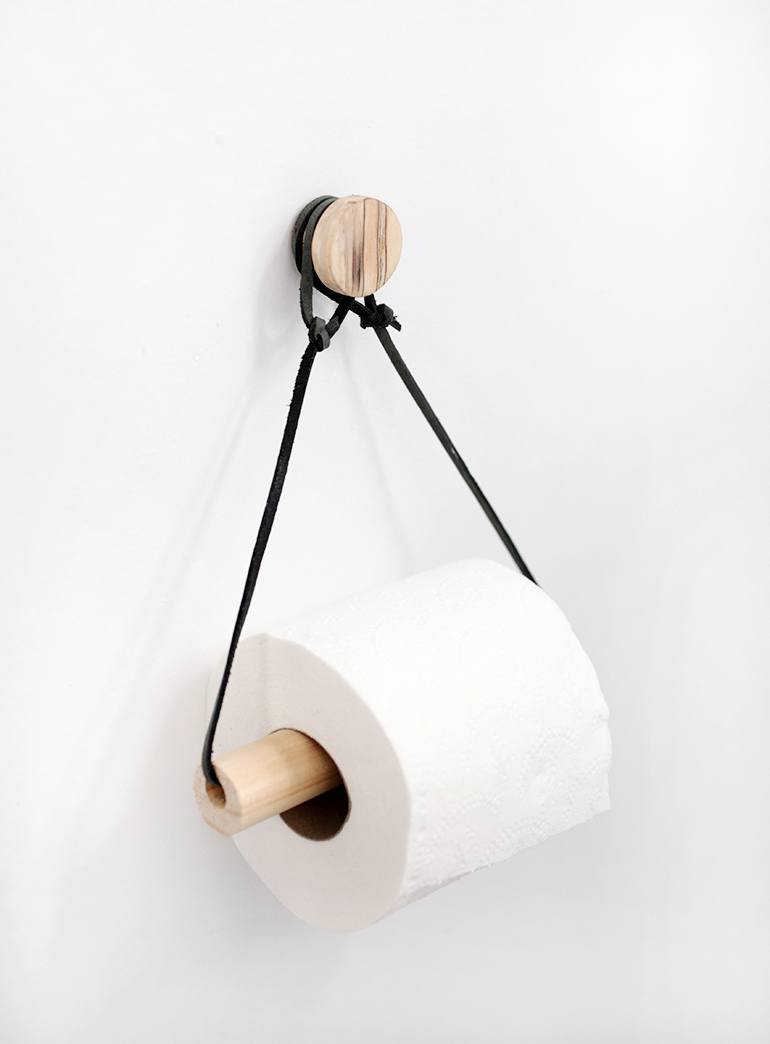 Materials:
– knob
– leather lace
– dowel (any size a roll of toilet paper will fit over is fine, our's is 1-inch)
– dowel joining screw
– drill with 1/4″ spade bit
– pliers
– drywall anchor*
Directions: (Make sure the hole in the back of the knob is the right size for the screw, it should be a little bit smaller than the outside of the threads, if it is too small it might split the knob when you tighten it. You may need to drill the hole in the back of the knob bigger to fit the size of the screw.) Find the location on the wall where you would like the knob to be. Pre-drill a small hole to start the screw into the wall; use pliers to tighten the screw into the wall, making sure it sticks out less than the knob. Screw on the knob. Cut your dowel to length; make sure it is long enough so that the toilet paper roll will not rub against the leather. Drill a hole the length of the dowel, starting from each end and meeting in the middle. Slide the leather lace through the hole and tie a loop that will slip over the knob at one end. Slide a toilet paper roll onto the dowel and hook the loop over the knob, adjust the length of the leather until the roll hangs at the right level then tie another loop and slip it over the knob. To change the rolls, just slip off the loop and slide the rolls off/on.
*If not going into stud, drill a 5/16" hole in the wall where the knob will go. Push the drywall anchor into the hole in the wall and then with a hammer tap it in until it is tight against the wall. Tighten the screw into the knob, then screw the knob into the anchor.
**Update – for those that have asked, we now sell this in our shop. Find it here!**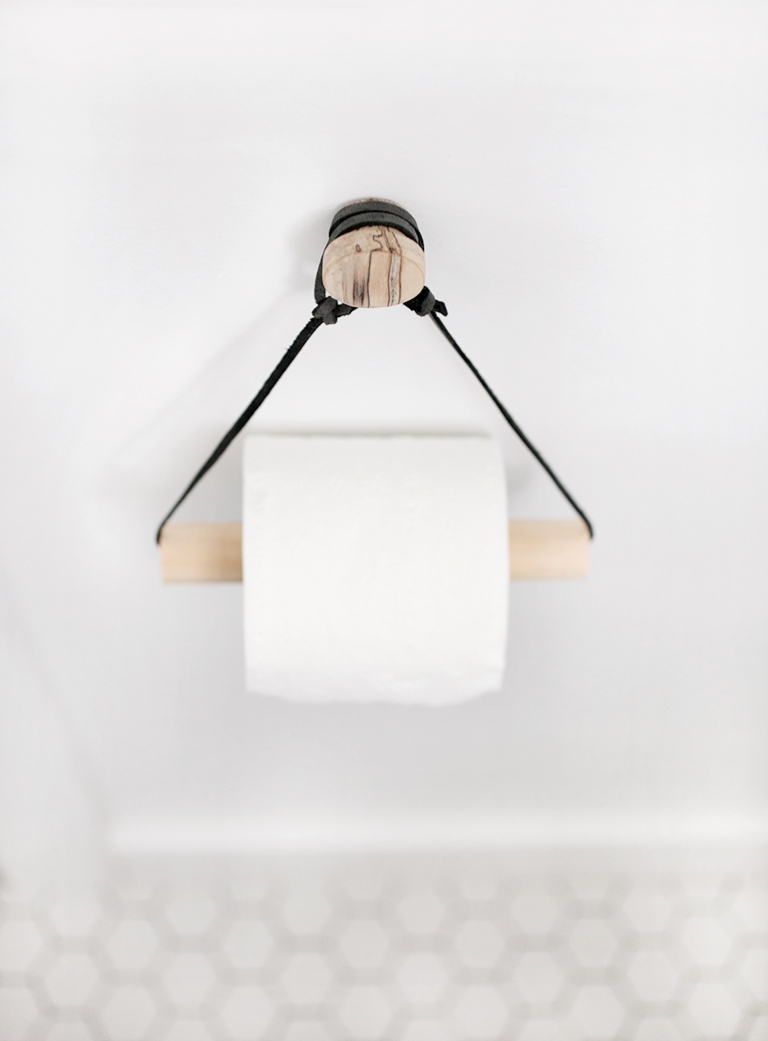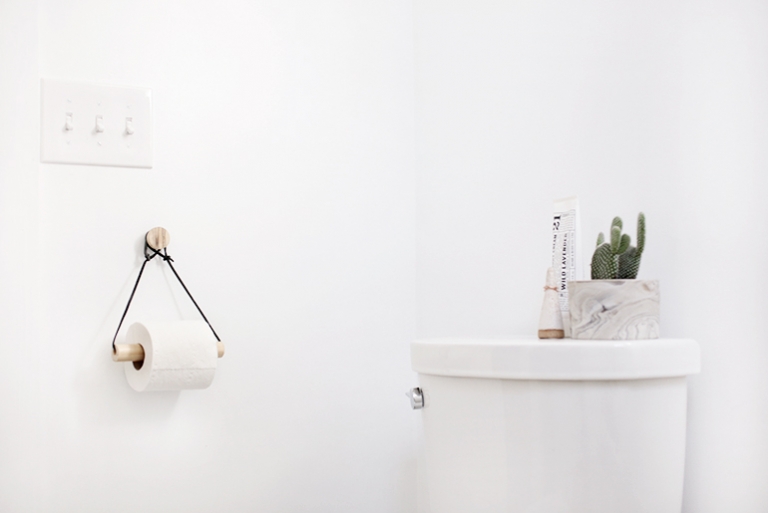 Also, I just need to add that Levi is home sick from school (allll week, croup 😫, we're running on very little sleep here right now!) and he's sitting next to me asking what I'm writing about. I told him I was telling people how to make the toilet paper holder and he told me I should tell people how to make a whole bathroom. "Like first they need a toilet and a tub, cause that's what we got". Future DIY blogger here! 😂
-Manda