Fun fact (or maybe sad fact?): I have never had a pumpkin spice latte. I only just realized this after sampling the ice cream while putting together these delicious little treats. I thought,
man this ice cream is really good, I love the coffee flavor
(I was thinking it would be a lot more pumpkin-y). Then I thought,
wait, have I ever drank a PSL? How can I never have tried one all these years
?? But I haven't. And I'm thinking maybe that's something that could be cool in a weird way, like the people that still use flip phones, and maybe I should hold out forever; or that I need to stop by Starbucks asap and fix this. I'm thinking it will probably be the latter because this ice cream was so good and I want to see how the actual drink compares.
I love baking and don't mind spending hours in the kitchen doing just that (as long as it's for appetizers/desserts – I still hate making dinners…unless it's tacos!). But sometimes, you just need an easy, simple dessert to throw together. Like when you have a houseful of guests coming over. Or when you haven't slept for the last 4 nights because of sick kids (me, currently 😑). It's also no secret that I have a deep love for ice cream. And this
perfect-for-all-your-fall-gatherings
treat gives me both – simple + ice cream! When I saw Pumpkin Spice Latte ice cream at the grocery store, I just couldn't resist throwing it in my cart and then I began thinking of the different ways to enjoy it – and you can never go wrong with cookies & ice cream! This dessert can be as simple as picking up some ice cream and cookies at the store and then putting together your sandwiches. Or you can bake your own cookies if that suits your fancy. I tried both ways. Just for your sake of course. I'm always going to be partial to homemade cookies, but store bought is still tasty and can save you time if that's what you're looking for! I think the best cookies to pair with this would be oatmeal, molasses, gingersnaps or even sugar cookies. I tried it with oatmeal (store bought) and gingersnaps (homemade). The gingersnap was probably my favorite (maybe because that was the homemade version), but the oatmeal lets the ice cream shine a little more. Pick your favorite and then whip up some of these dessert sandwiches to serve your guests at your next big dinner – they could easily become the new Thanksgiving fav!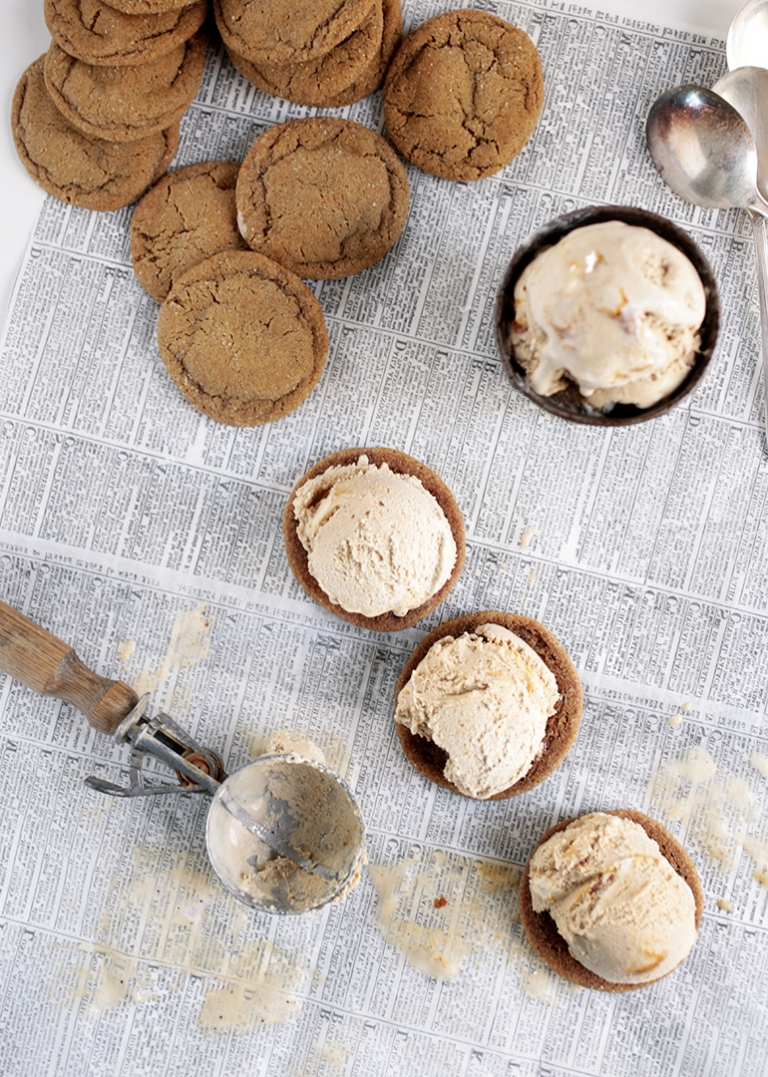 Pumpkin Spice Latte Ice Cream Sandwiches
• pumpkin spice latte ice cream
• soft cookies (try oatmeal, molasses, gingersnap, or sugar)
Assemble the sandwiches: Let the ice cream soften slightly. Place a scoop or two of  ice cream on the bottom side of one of the cookies. Top with another cookie.Wrap tightly with plastic wrap or place in airtight container and freeze until set — about 30 minutes.
So, are you a PSL lover? Anyone else out there that hasn't tried this drink yet?
-Manda