Happy to finallyyy be sharing my living room with you today! This took, oh I don't know, only the last 13 years to come about. 😉 My living room is one of the last rooms in my house that I've really done anything with. (Not that all the other rooms are "done", they've just been worked on a bit more than this room had). I mean, I've tweaked & rearranged, and changed up a few things here & there over the years, but I think it's the only room that I hadn't had Mike repaint & really work on at all since getting married and moving in. Since I didn't mind the color, I had been content to let things be and work on other rooms. (Or no rooms…cause work and babies and life get in the way!) And a few bigger things needed to happen in here, like the stairwell wall being replaced and the ceiling patched & painted, so it kept getting bumped down the to-do list. But the boys are old enough now that we're finally feeling like more projects can get tackled in a somewhat timely fashion and my old couches had really seen better days and I was more than ready to kick them to the curb! (Well, not really…they got torn apart to reuse for new projects!) And there's nothing like a scheduled blog post to make ya get at it and finish those projects! Here's a couple photos to remind you what it looked like before (you can also see photos of it in this post & this post):
My style is eclectic, I like a little of this and a little of that, and I tend to throw them all together hoping it works. (Sometimes Caitlin has to step in and say, wait, are you sure about that?! 😉 It's good to have someone with better style helping you out with things like this! I'm also so indecisive, so I like help figuring these things out!) I like rustic, vintage, industrial, modern, farmhouse…and my favorites of those vary from day to day, depending on my mood. Our house was built in 1836 and I love the old charm it has. My husband has spent a lot of time working on the house over the years – and I'm a lucky gal for getting such a talented, handy, hunky husband who can pretty much build anything I dream up! And this room, oh the work he put into this room – he's a champ!
The daybed sofa is one of Mike's creations. We wanted to reuse the couch cushions from our old couch for the seat and I told Mike that I wanted something that looked like an old pew or bench, so he built this to fit our cushions (which we recovered with linen fabric) and I love how it turned out! I put my home-ec skills to use and sewed pillow covers for the large pillows on the back (yay for finally getting around to covering those old pillows!). All of the smaller throw pillows in the room are from West Elm. And we'll be sharing the tutorial for the picture ledge soon!
I still love our old coffee table, however I was a bit overwhelmed by that shade of brown taking over our living room. I love raw wood (you probably couldn't tell 😉 ) and we had an extra piece of this wood slab from a project we're working on, so I asked Mike if he could pretty please make a new coffee table. (It now has a shelf underneath for magazines & remotes, it wasn't quite finished for the shoot!)
The light is yet another Mike project – I wanted an industrial light, so we created this one! Our previous light had been an old school light/fan unit with a pull cord, followed by a few months of just a bulb hanging from the ceiling 😳. I'm so excited to now have a light switch in the living room – with a dimmer!  The abstract painting was also done by Mike – yup, he paints too! 
Caitlin made this amazing succulent terrarium (the terrarium is from West Elm). And this does reside in her apartment – I can't keep glass on my coffee table with three little boys wrestling around!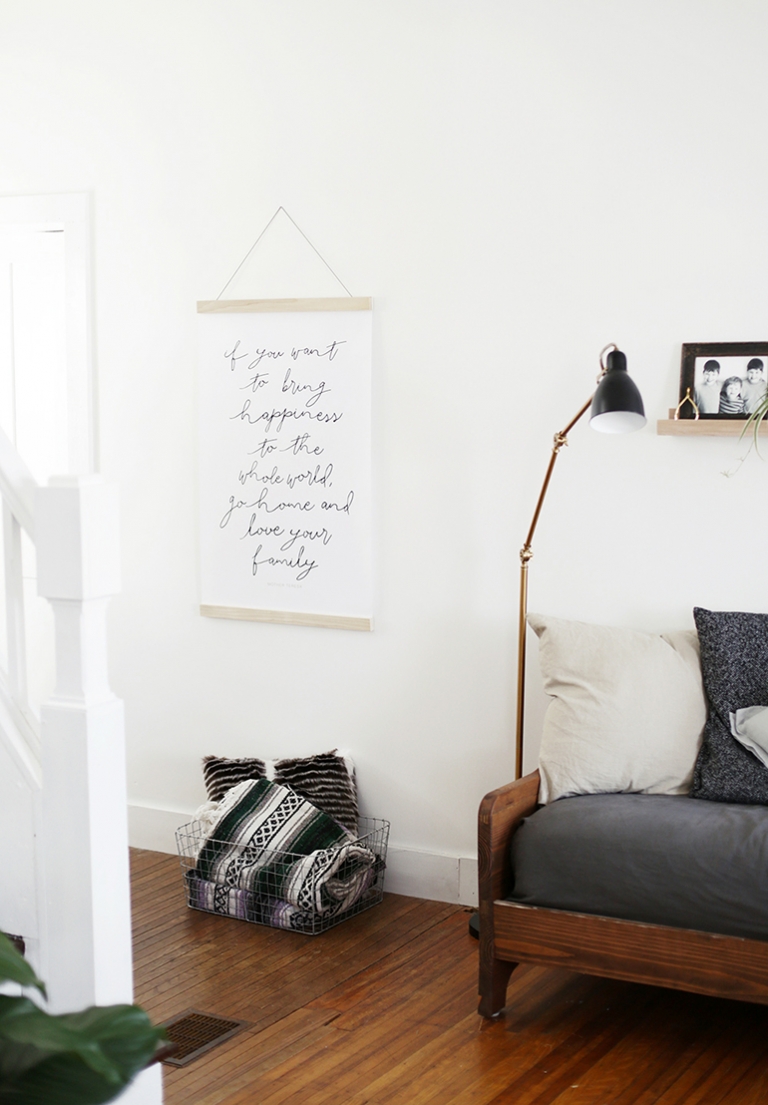 This lovely print is from local artist & designer, Sarah Knight. We recently connected with her and love her work! For those local, she'll be at the Rochester West Elm this Saturday, March 12th, from 11-4, selling her prints! Or you can visit her online shop here.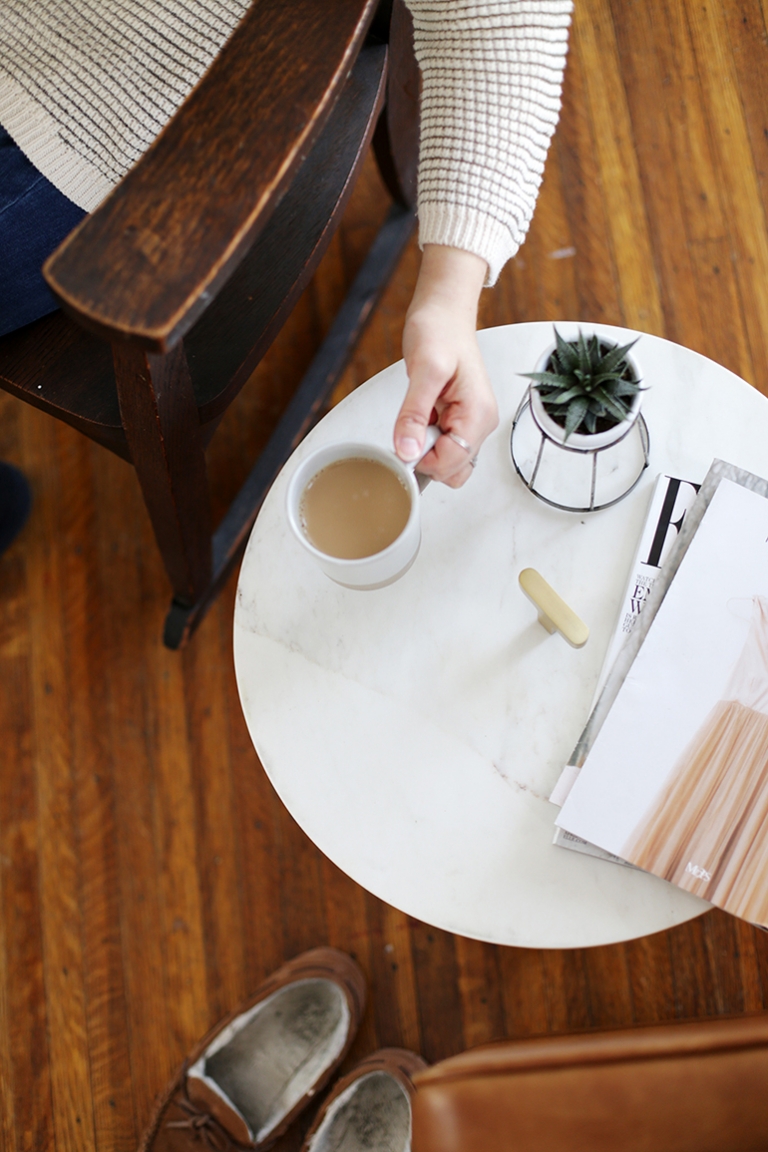 The cute little side table is from West Elm. You can find the tutorial for DIY Wire Plant Stand here.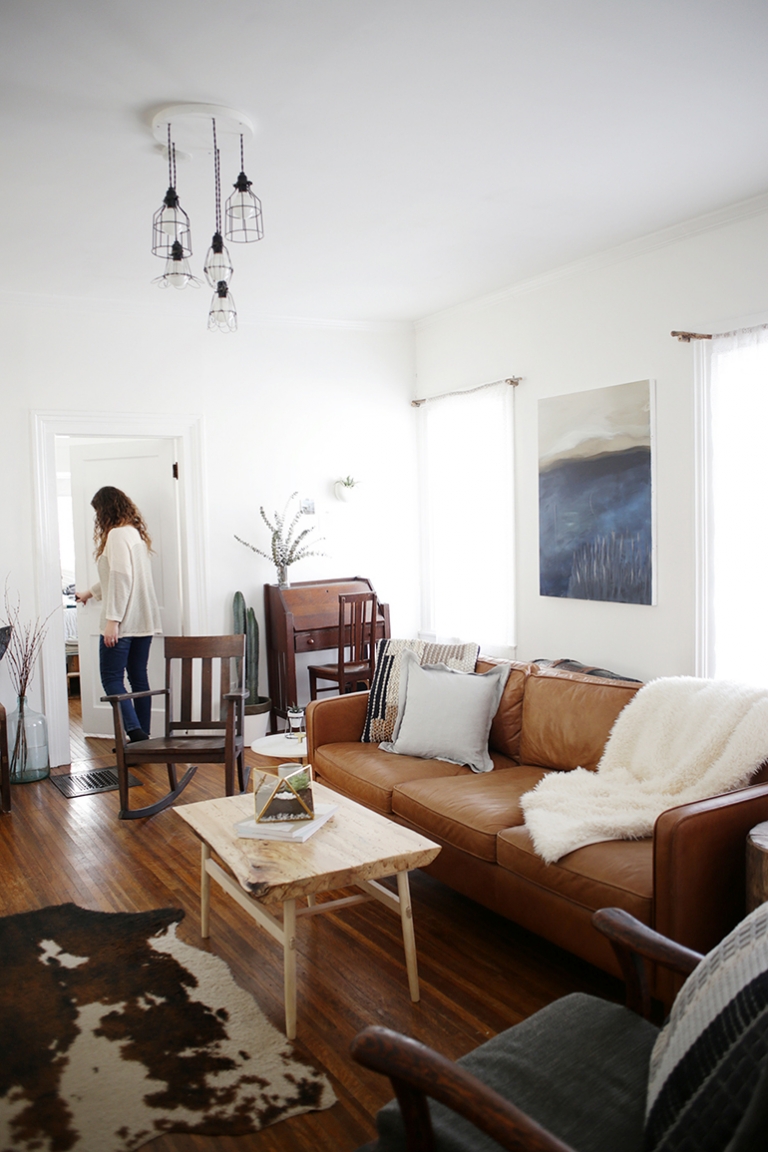 Additional sources: leather sofa, floor lamp, large planter, book shelf brackets, cowhide rug, faux fur throw, blanket ladder, brass wishbone, ceramic wall planter, ceramic rustic floor planter, origami bud vase, pillow.
Hope you enjoyed the tour! I'm so glad we finally have this room done and I love how it turned out! And just to note & remember – this is a photoshoot and we essentially just invited a few thousand people to take a peak inside our home, so of course it was cleaned up & made to look nice! Caitlin helped me to get it looking just so and takes amazing photos that make everything look wonderful! Take away the glass terrarium & vase of flowers, add some kid books and a whole lot of legos, well everywhere, some boys wrestling around while laughing & yelling, a floor that needs to be swept and that's my real life! But I will say, having the living room "done" has certainly made it look & feel so much better, even with the real life chaos! (I know this post was super long – thanks for reading it!)
-Manda
Items c/o West Elm – a company we love! Thanks for supporting the brands that keep us bringing new, fun content to you!