Finally ready to share Lincoln's bedroom makeover! It's taken quite a while to find the time to get all of the projects finished up in here (way too long according to Lincoln 😉). And just writing out the title of this post, teen boy bedroom, made me want to cry! How do I already have a teenager?!! (Technically he won't be a teenager for a couple more weeks..savoring these last few weeks of little boyhood!). We've worked hard to give him a simple, modern, slightly rustic, bedroom makeover!
If you follow along on
Instagram
, I've shared a few sneak peeks of the room while we were updating the space. His bedroom before was pretty simple, and yay, I actually remembered to take before photos; you can see some of those below. (And if you want to see some really old befores, this was Levi's room at one point, and there's some photos of what it looked then
here
– our first year of blogging!). We've had it on our list to update his space for quite a while; we hadn't done a whole lot with it after the room switch with the all boys, because we knew we wanted to wait until we had the time to make bigger changes. The big changes in here were adding the color accent wall 😯, building a bed, a new shelf, new desk, new rug, new light and stripping his old dresser and updating the hardware. And then of course adding the fun personal touches!
Lincoln is really into the outdoors, hiking, biking, hunting…and we wanted his room to reflect all the things he loves. I also wanted it to not feel overly "theme-y", so I tried to keep things simple and modern, while adding in some of the rustic touches he loves, so that it's a space he'll like for a long time, even if his taste changes. We made quite a few of the things in here, so we'll be sharing those DIYs in the weeks to come!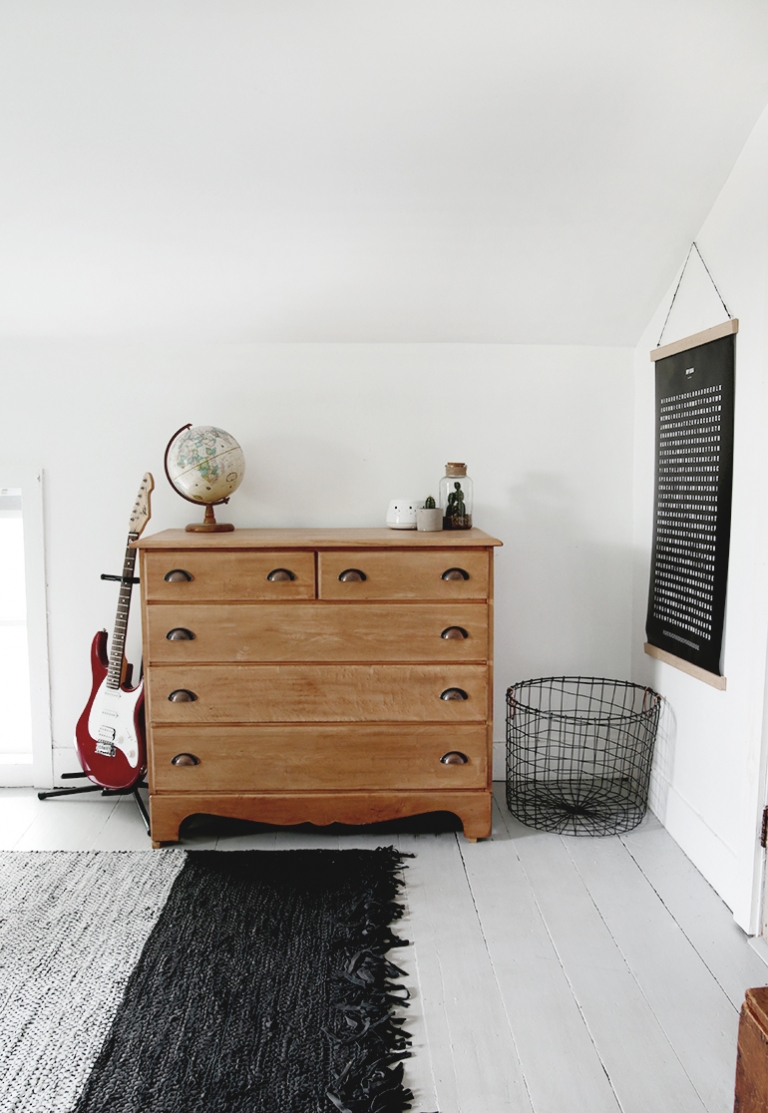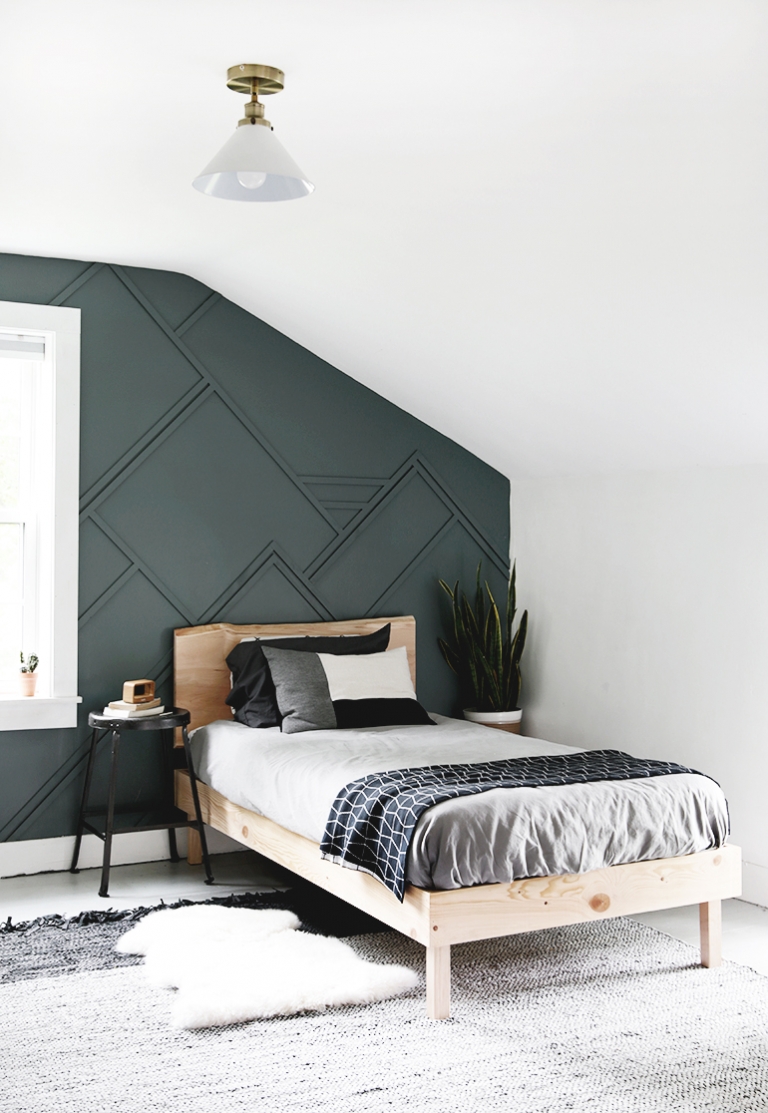 (I have another picture of Lincoln,
reading on a bed
, actually in this same room! Can't believe how fast time goes! 😭)
And here's a few before and after photos of the space: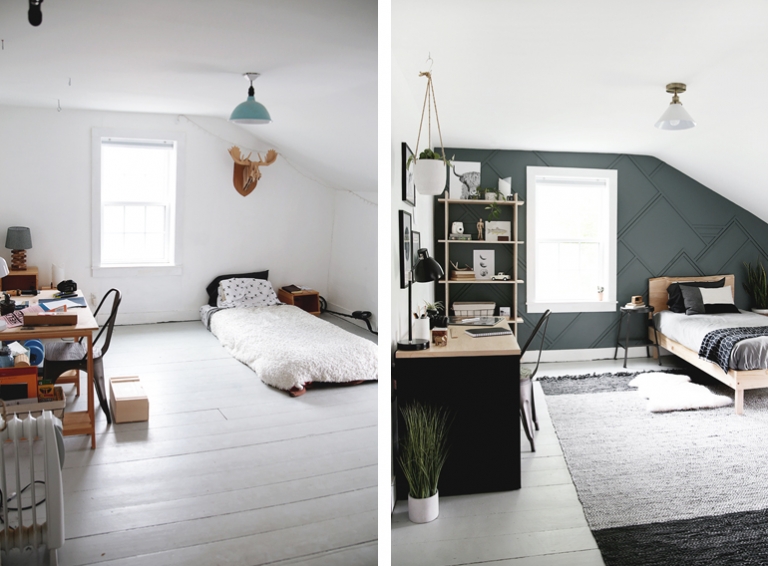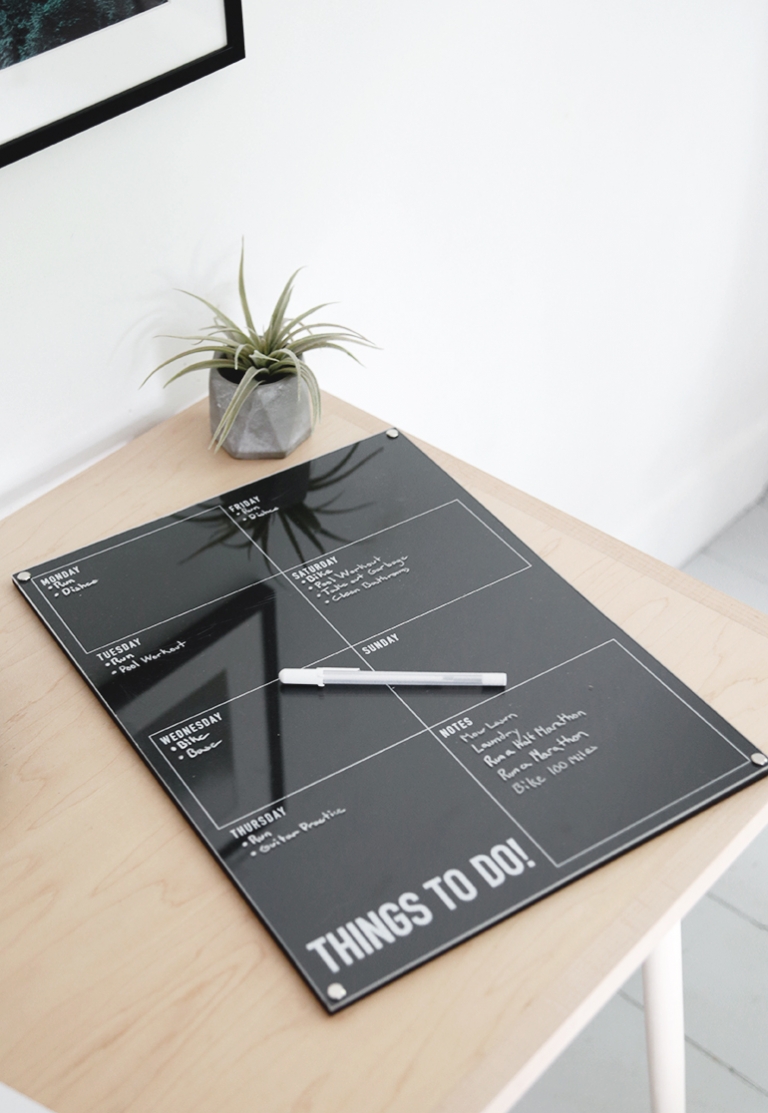 I couldn't help but include this picture of his to-do list…the kid has some serious goals! Run a marathon!! 😳 He has done extremely well in cross country and track this year, but geez kid. And my mama heart was so glad to see that he has some chores included on this list as well! 😉
Be sure to keep an eye out on upcoming posts to see all DIY projects we'll be sharing from this space! And if you look through some of these
posts
, you can see projects we've done from the other boys shared room!
-Manda
Sources:
Desk – DIY | Bed – DIY | Prints above desk – Desenio (more on that coming soon)| Shelf – DIY  | Small Wire Basket – Michaels | Woven basket – Michaels a few years ago, no longer sold | Find It USA Poster – Bold Tuesday | Peg Board Wall Organizer – DIY | Wall Paint Color – Behr Mountain Pine | Dry Erase Calendar – DIY
And more below: