Last year we redid Lincoln's bedroom and since then, we've had quite a few questions about the dry erase calendar he has in his room. I wasn't planning on sharing the DIY for how we turned a chalkboard calendar into this dry erase calendar because part of it was from the Target dollar spot bins, and by the time we finished his room, they weren't available anymore. But I was recently at Target and saw that they were once again carrying these calendars in the dollar spot, so I thought I'd put up this post for those that had been asking where to find it. You can make this with any kind of wall calendar though, as long as you're able to drill through it.
Lincoln had been wanting a weekly calendar for his room, and when I spotted this chalkboard calendar for just a few dollars, I quickly snatched it up. The simple design, and the black & white color was perfect for his room, however I didn't love that it was a chalkboard. While pretty, chalkboards can be annoying if you will be regularly changing it up, they don't always fully erase and writing with chalk is messy. So we decided to turn it into a dry erase wall calendar! With just an acrylic sheet and a few tools, we were able to quickly turn this chalkboard calendar into a dry erase calendar. (And no, this is not Lincoln's to do list, I just put random things that are typically on my calendar…let's not have date nights yet for my boy!! 😜)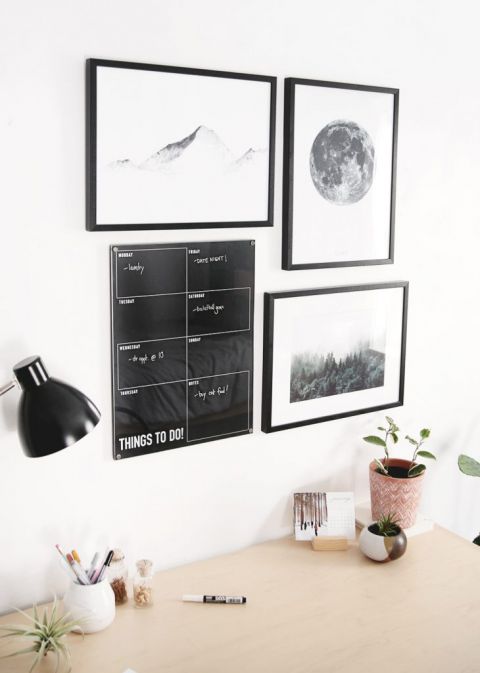 What you need:
chalkboard calendar (we found ours in the Target dollar bins, you can use any type of wall calendar, as long as you can drill through it)
table saw
sand paper
drill
binding screw posts (make sure it's the correct length to be able to tighten down (width of your board and acrylic sheet), the variety packs are nice so that you have a few different lengths to choose from. We used the 1/4″ screw posts for ours.)
screw driver
Directions:
Use table saw to cut acrylic sheet to the size of your calendar board. (Some home improvement stores will do cuttings for you, so you can always ask if yours does if you don't have a table saw)
Sand edges of acrylic.
Use drill (with drill bit the diameter of your screw posts) to drill holes in the corner of the acrylic sheet and the chalkboard, making sure to line up the holes with each other.
Insert screw posts and tighten with screw driver.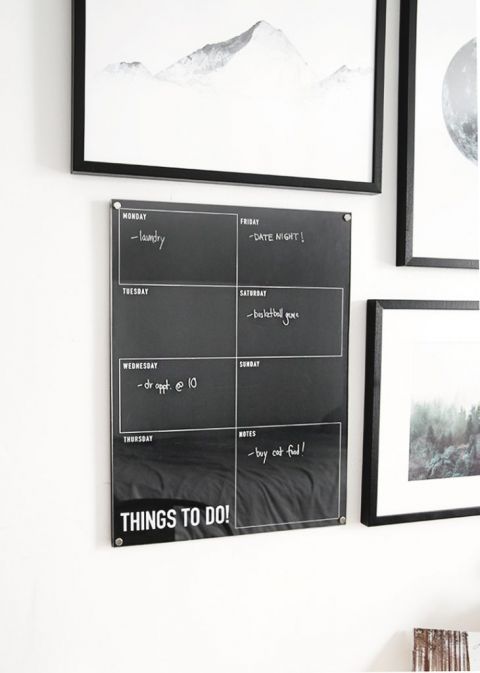 -Manda