Things have been a little crazy in our world lately. It's been hard to stay focused on projects and work with everything going on, not to mention now having the boys home from school. It all feels a bit overwhelming and uncertain, but as we mentioned over the weekend on Instagram, we're doing our best to not give in to fear and keep our focus on God and that He is still good and in control. We hope you all are healthy, safe and finding peace.
I'm so excited to finallyyy be sharing our simple, modern bedroom with you guys! I'm even more excited to finally have a real bed again and not be sleeping on a mattress on the floor after spending the last couple years doing that! 💃🏻 After years of basically never doing anything to our bedroom, it feels so good to finally have this cozy space to retreat to. Even though I had every intention of working on our room when we moved into this space a couple years ago, other projects just kept bumping that down on the list. I also felt like my priority for re-doing spaces should be the shared family spaces and the kids rooms, rather than working on something for myself. Something I think a lot of other moms struggle with! But after feeling stuck while working on the boys room, I felt like I needed to move on to a new project for a bit and I had lots of ideas for this space. I wanted our bedroom to be simple, a little bit modern, a little bit old farmhouse (as that's what our house is), and of course full of lots of DIYs!
A couple years ago, Mike and I moved our bedroom from downstairs to upstairs. It came with a couple downsides, a smaller room and no master bath anymore (I do have a pretty nice one to use though!). But I have loved being up there sooo much, even with those trade-offs. Our bedroom before felt more like a catch-all when it was downstairs – it was also my office, used for photoshoots all the time, and felt like everyone was in & out constantly since it was right off the living room. Being upstairs feels like I have a real, private bedroom again. And now that we've finally taken the time to work on it, this simple modern bedroom is my favorite room to be in!!
There's still a few things I need to do to finish up the space – I really want a large rug in here, but I'm always so hesitant to order one, as I know colors can often look very different on screens than they do in real life. Plus they're expensive, and I really have to convince myself when I'm buying something like that. I also need to find a new ceiling light, I kind of got distracted with everything that's been going on in our world and haven't looked for one yet. And then there's always the little things, paint touch ups, replacing a door knob, the one corner is still unfinished with just a couple things in it that I didn't know where else to put – haa! (A room is never quite finished, is it?! 😉). But I'm loving this space so much, even if it's not completely done!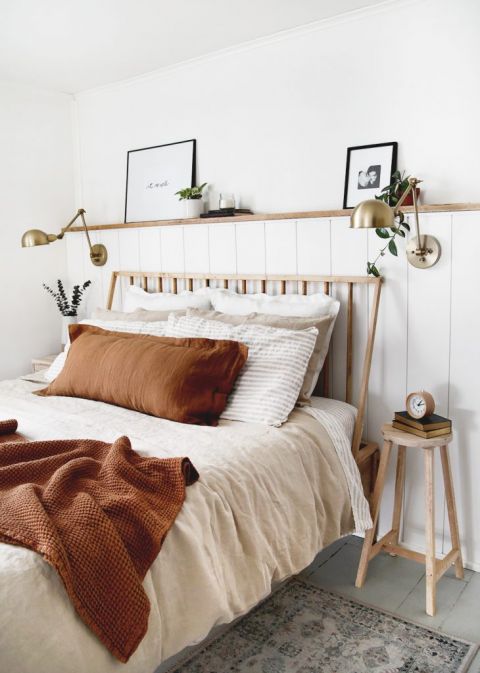 This room has four DIYs in it! The wall feature, the bed and the two nightstands. I'll be sharing more details about all those in some upcoming posts.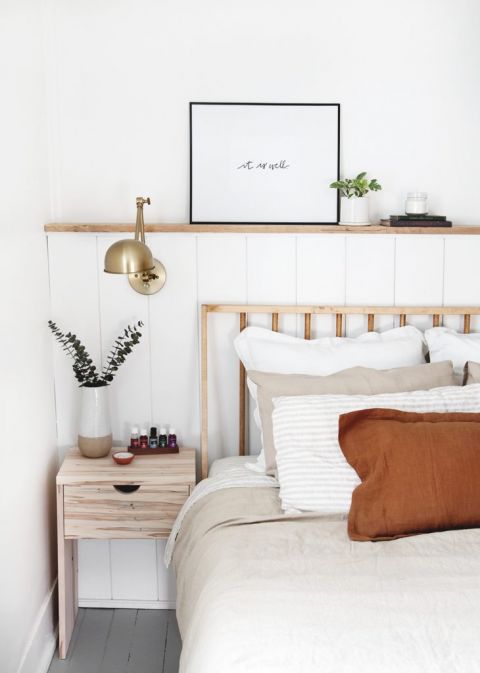 Magic Linen sent us some linens to try out and and I think linen blankets are the best way to add coziness to a bed! A slightly wrinkled, imperfect look always wins for that oh so comfy, just can't wait to jump in kind of bed! I love their duvet cover with the wood buttons! And how great is that cinnamon color on the throw and pillow?!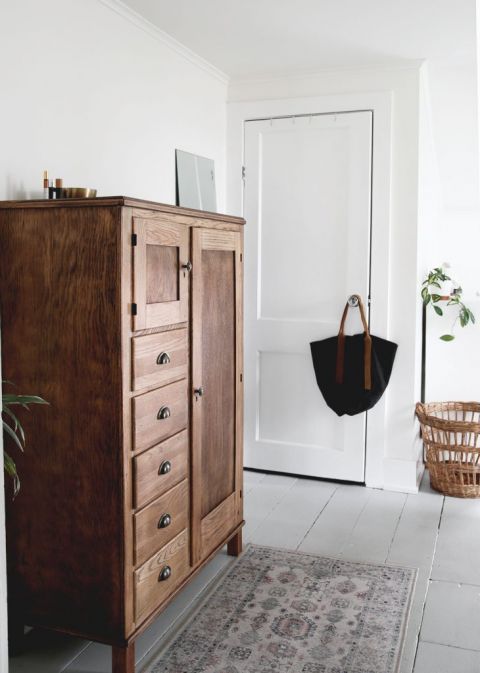 This wood dresser is a newer addition to our room and is exactly what we needed in here – you can read more about the details on that here.
I had quite the time trying to figure out lighting for our room. Lights are soo expensive! 😳 I found some that I absolutely loved and felt like they would be the perfect fit for in here and quickly ordered them…without even looking at the measurements!!! I am usually a pretty detailed person, so I have no idea how that even happened, I guess I was just so enamored with them every rational thought left my brain – ha! Once they arrived I realized they were way too big for the space and had to return them. So far, I've been happy with these second choice (ha!) wall lamps, but we haven't had them up for very long yet.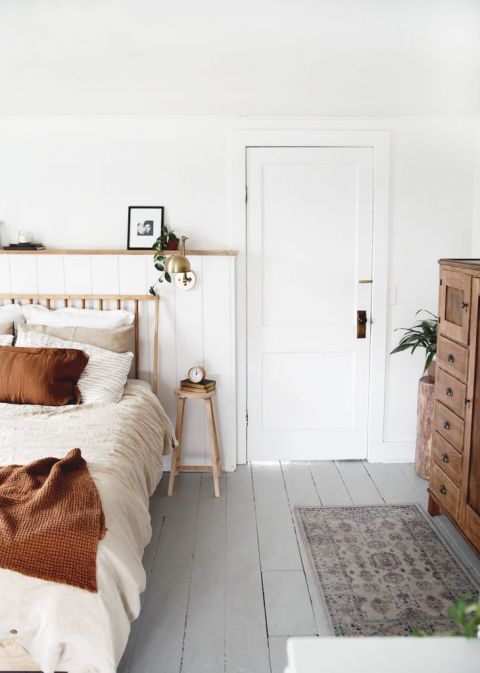 I recently found this rug at Marshalls and couldn't resist it. I love the pattern and colors (nice & neutral) and am just mad they don't sell it in a large size – if you have any good suggestions for neutral rugs, let me know! If you were looking closely at these photos you may have noticed I moved the rug a bit in one, I was trying to see how it would look if it was a larger rug under the bed – ha!
This little white dresser is one I used growing up and was my mom's when she was little. The painting is one Mike's mom did of Mike when he was little! And that's the original photo that she painted it from. (and if you're looking at this photo thinking it looks a little off, yea, that's how badly the floor slopes in here! 😳).
This corner of the room isn't really "done", but I thought I should show the whole room and not just the more styled, finished parts. The chair and light are ones we've had in various rooms in the house, and currently didn't have a spot for, but I love them and know I'll want to use them at some point, so I just stuck them here for now.
Sources are listed below and we'll be sharing the DIYs from this space in the upcoming weeks, so keep a lookout for those!
Sources: Bed – DIY | Duvet Cover – c/o Magic Linen | Waffle Blanket – c/o Magic Linen | Lumbar Pillow Cover – c/o Magic Linen | Striped Sheet Set – c/o Magic Linen | White Pillows – Target | Nightstand – DIY | Wood Stool Nightstand – DIY | Brass Lamps – Lamps Plus | Black Floor Lamp – Target | Chunky Knit Blanket – c/o Creating Comfort Lab | Minimal Planter – Convivial Production | Tall Ceramic Vase – Michaels | Wood Essential Oil Tray – our Etsy Shop | Wood Clock – Amazon | Rug – Marshalls find | Sheepskin Rug – Article | Diffuser – Young Living
-Manda