We've made a few changes in our living room recently and I'm excited to be sharing the updates with you! We had a chance to collaborate with
Article
again (last year we outfitted our new
patio
with some furniture from them) and I was so happy with those pieces and couldn't wait to try out some of their living room furniture! I'm loving our new arrangement and furniture in this room and feel like it gives it the modern, casual, cozy feel I was hoping for. I had been feeling like something needed to change in the room for quite a while, because even though it was "nice", it just wasn't quite working for us. You can see how it pretty much was in this
living room
post, a few things had changed over the years, but this was basically it. I struggled with figuring out how to arrange things in our living room, it's a pretty good size room, but a little bit awkward with the amount of doors and windows and needing to keep a good "walk through" space still since it's in the middle of the house. So I did what any good blogger does, and went to
Instagram
and had you guys help decide on the layout and couch choices! I feel like this new arrangement gives us a cozy hangout/conversation space and still keeps it open for easily walking through. I'm really happy with it!
A few months back, I had our followers on Instagram help decide which sofa they thought would work best in our living room – and this
Burrard sectional
was the winner! Guys, I love this sofa! The deep seats and chaise lounge make it so comfy…I only wish I would have gotten a couch with a chaise lounge sooner! I've had people ask about the firmness, and I will say that I do think it's probably a little more on the firm side, not in an uncomfortable way though, and I actually like that because I feel like it holds it's shape better than a super soft sofa would (and with my boys jumping all over it, that's a must – ha!). And it's definitely so cozy – I can sit on it for hours. I also like that the back cushions are easy to fluff up and reshape.
The other big change in this room was adding the rug! I knew this room needed a big rug, and I just could not decide on one for years. We went with the
Texa rug
in vanilla ivory. I know some of you are thinking that is a
very
light colored rug for a house with a bunch of boys running around. Yes it is. Am I nervous? Slightly. Ha! But as soon as it was down and I looked at our leather couch with it, I felt like it was just what the room needed and I love it. I sometimes felt a little overwhelmed with the amount of brown in the room. And the floor just has a pretty dark feeling overall (and always so orange-y too 😩- my dream is to one day refinish the floors and put a different finish on them, but that could be quite a while before that happens), so I wanted something to lighten it up a bit. The rug does have flecks of dark colors in it, so that helps! 😉
We also added the
Tana stool
and
Copen floor lamp
. I had been eyeing that stool for the last year or so, and it's working so well as a side table in here. And that floor lamp is dreamy. That little corner is my happy place – simple, clean lines, white walls (I intentionally left them bare in this corner), a little bit of wood…perfect! 😌 And it's no coincidence that it's directly across from the chaise – so I can sit in my cozy spot, staring at that corner.
We love that Article offers beautiful, modern furniture at fair prices and has a 30-day, no questions asked guarantee – a little bit of peace of mind since buying furniture online can be a little iffy sometimes!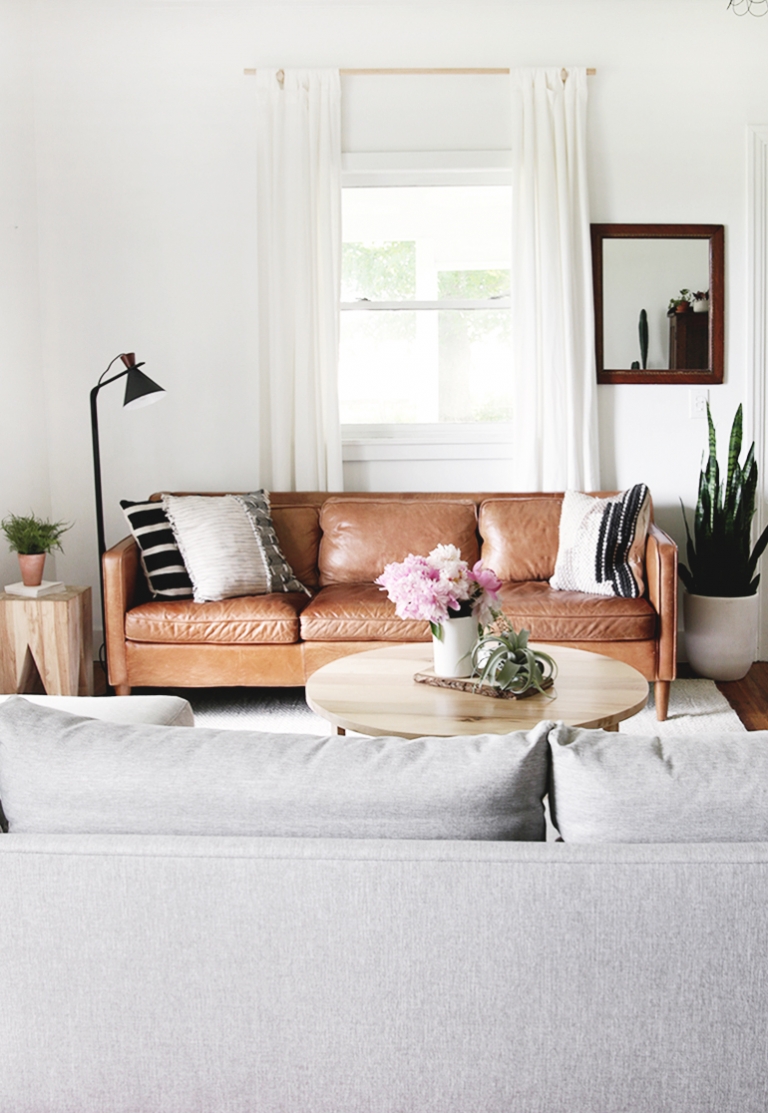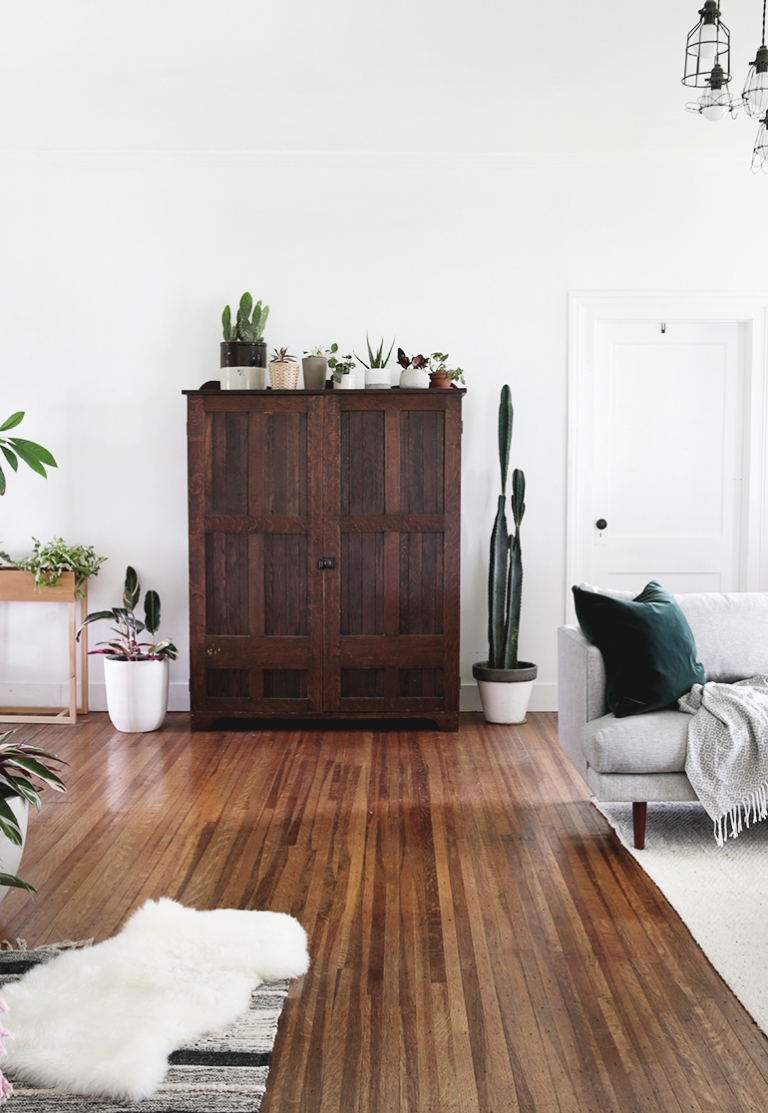 We also made a new coffee table – a round one seemed like it would fit the space a little better, and it definitely does. We'll be sharing the DIY for that soon. (We still have the old one, it's in the family room now – I love it and was a little nervous I wouldn't like a new one as much as that, but now I have two coffee tables I love!). We still have quite a few of the things we've always had in our living room. Since our house is an old farmhouse, built in the 1830s, I like to do a mix of the modern things I'm currently loving with some older pieces that give a nod to the character of an old farmhouse. I think it's important to stay true to the character of your home, but also not feel like you live in some time capsule, and I love the mix of old and new. I've also been seriously taking after my mom with every new plant addition to the room! I kind of grew up in a plant jungle and now my boys can too! 😂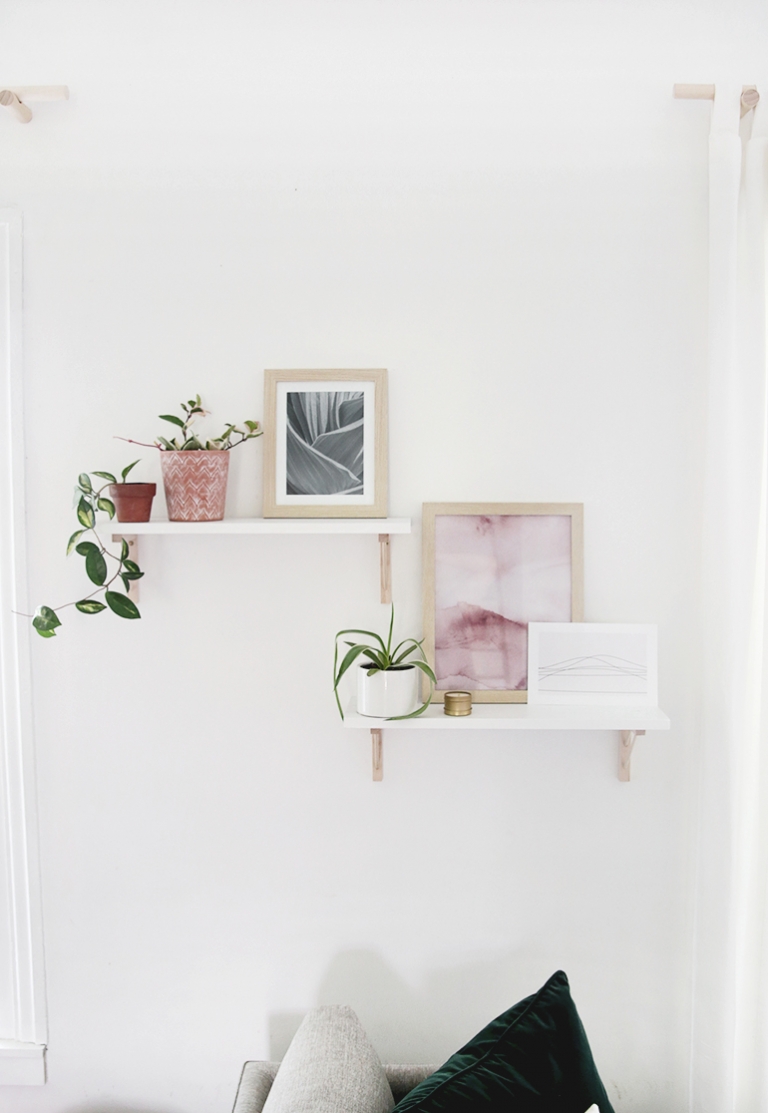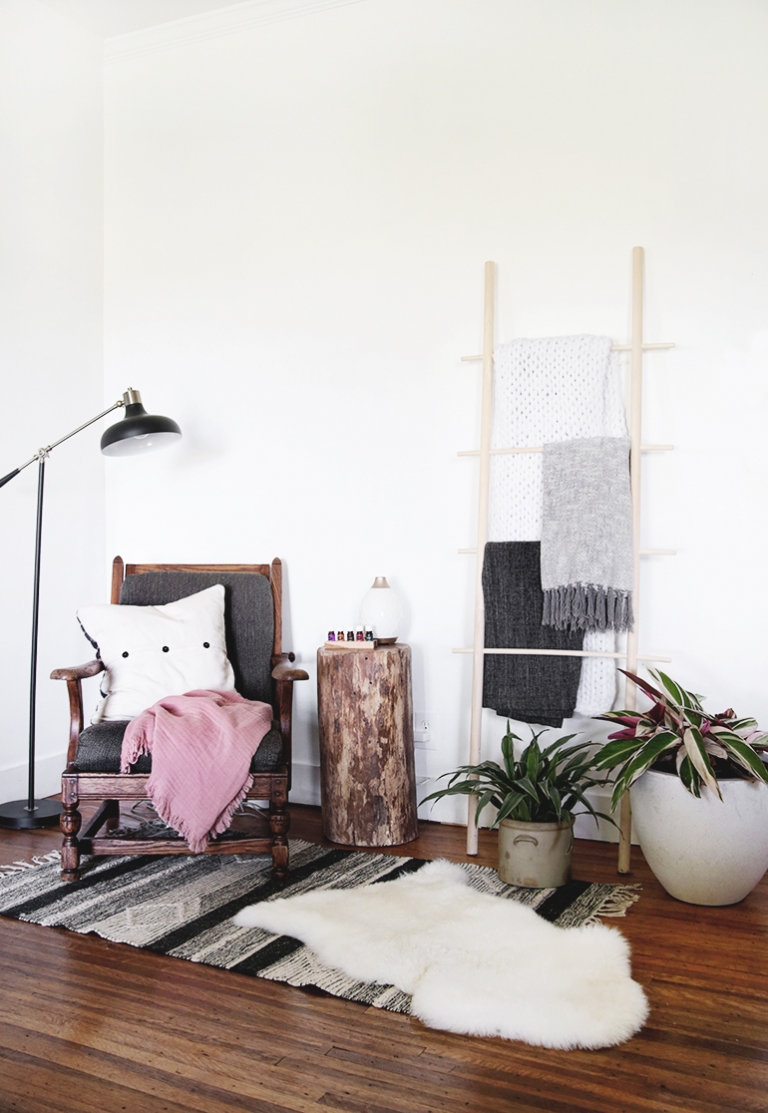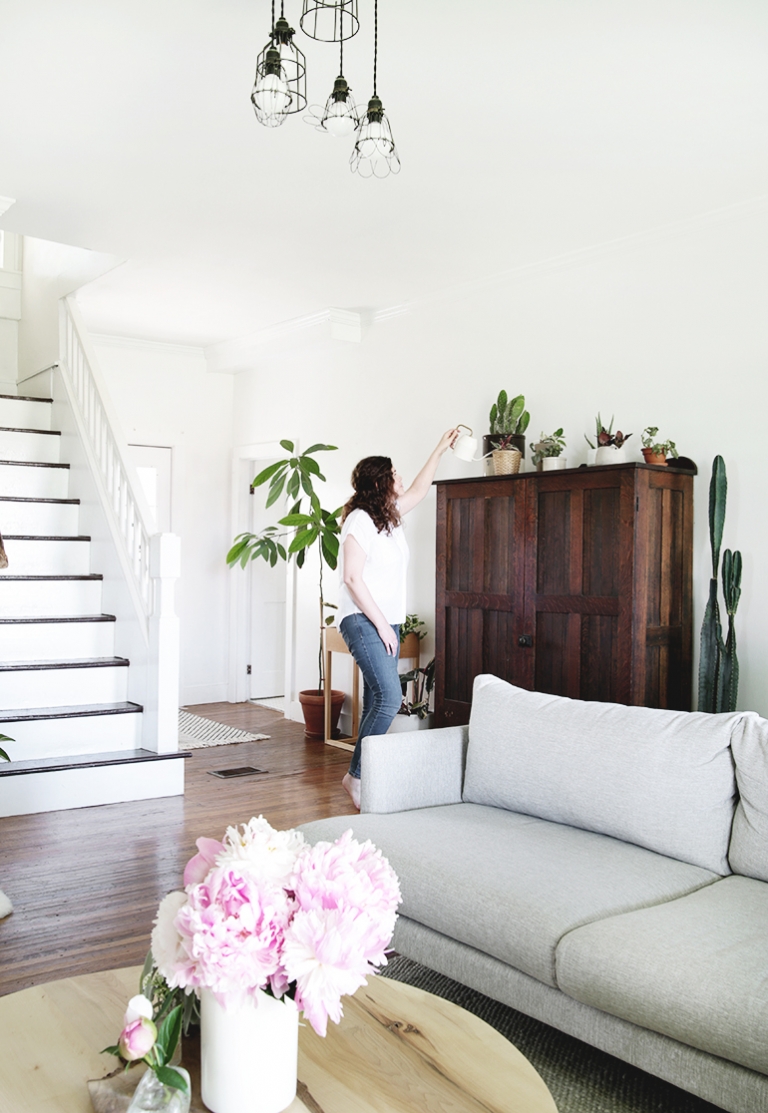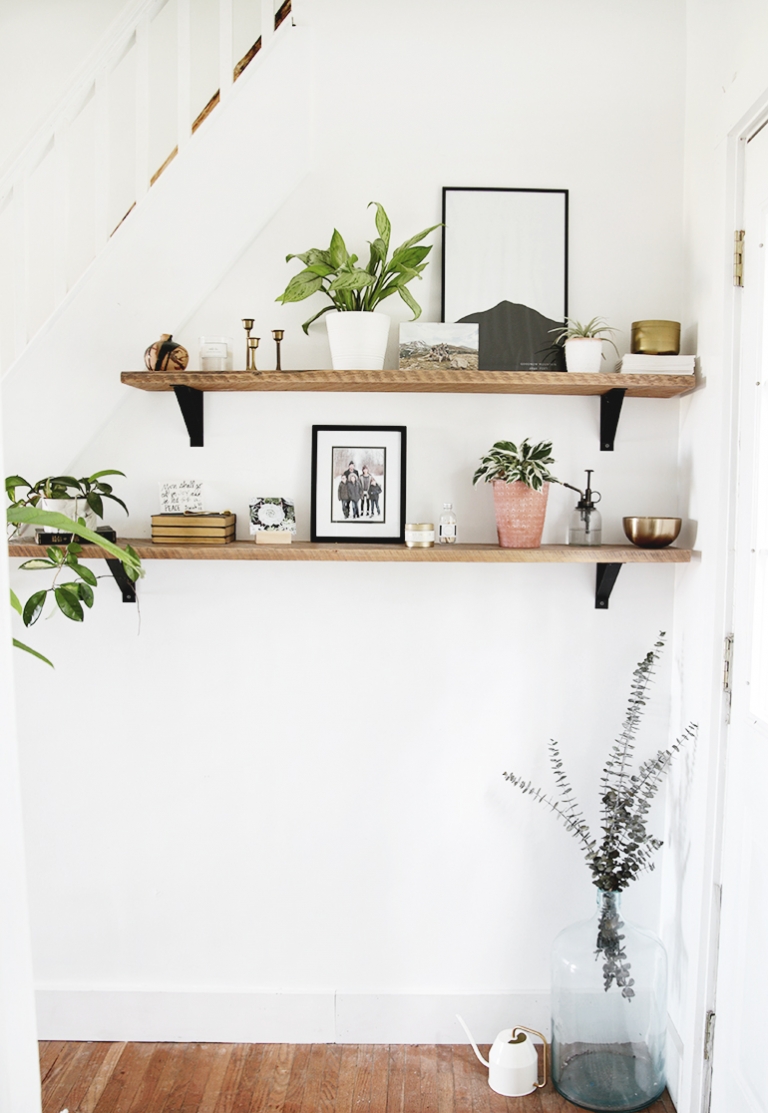 We'll be sharing the DIYs we made for the space over the next few weeks – so be sure to keep an eye out for those!
-Manda
Sources:
Burrard Sectional | Texa Rug| Tana Stool | Copen Floor Lamp | Coffee Table – DIY, coming soon | White wall shelves with wood brackets – DIY, coming soon | Leather Sofa | Sheepskin Throw | Pink Throw Blanket | Velu Pillow | Lucca Pillows | Blanket Ladder | Minimal White Vase | Highland Cow Poster | Crosby Floor Lamp | Lucky Woven Pillow | Curtains |
This blog post has been created in partnership with Article. All ideas, thoughts and opinions expressed are our own.