Oh the difference a little bit of paint can make, as you can see with this painted cabinet! I recently made a very small, easy update to the antique cabinet in our family room, and I couldn't be happier with it! We've had this old cabinet forever, and I've been wanting to repaint it for years. It was a lovely shade of mint green (you can see the before pictures below), but it didn't quite fit with the decor and style of our home anymore, and I finally got around to giving it a facelift!
I shared this painted cabinet over on Instagram last month, but I know there's readers here that don't follow along over there, so I thought I'd share some photos here too! You can check out the stories highlight too to see the whole process.
I'm pretty obsessed with this paint color – it's Pebble from Beyond Paint. It's the perfect mix of grey & brown. (Although this paint is a little expensive, it was sooo great to use because there was no prep work involved other than making sure the cabinet was clean; no sanding, stripping or priming! 🙌🏼).
Besides painting the cabinet, I also finally added pulls to the bottom drawer. Hooray for not having to break nails anymore when trying to open that! 😆 Every time I walk into my family room now, I'm so happy with this update. Now just to get to updating the rest of the room…(which probably won't be happening for quite a while, we're about to start another major project somewhere else, so stay tuned for that)!
(Sorry for the bad quality before pictures, I can't find the ones I took, so I had to screenshot these from my Instagram stories! 🤦🏻‍♀️)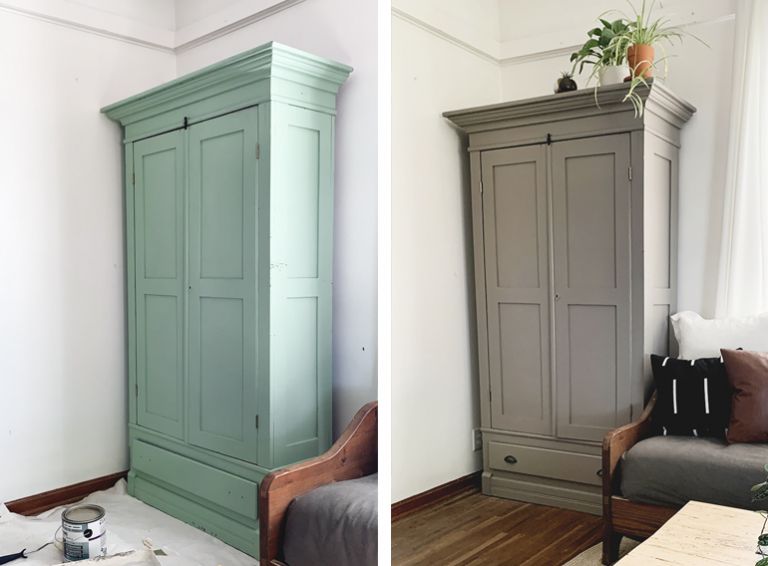 What we used:
How we did it:
Clean cabinet with a damp rag.
Use the paint brush to cut in around edges/corners.
Use the roller to paint flat spots.
Allow to dry overnight. Apply a second coat.
Once the second coat was completely dry, we attached the drawer pulls.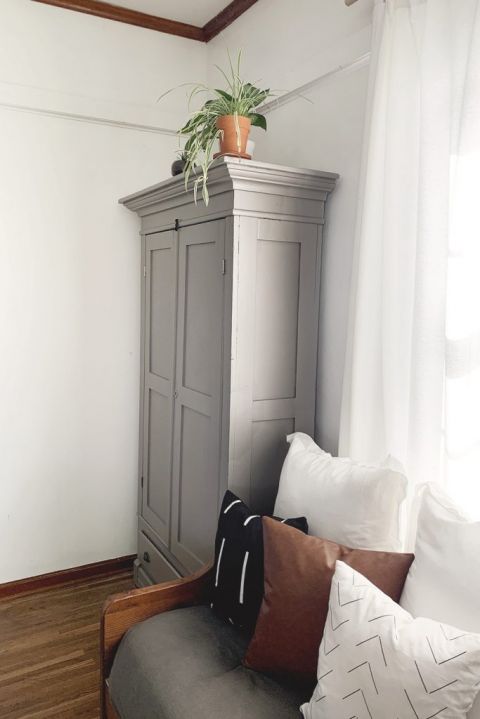 So what do you think, good improvement? I love this color so much, and now I'm just scouting my house for something else to paint with it! 😂
If you're looking for more inspiration for painted furniture projects check out this post on how to paint laminate furniture, our DIY Crate Shelf Statement Wall, our Painted Pool and How to Paint Kitchen Cabinets.
-Manda
(This post contains affiliate links, that when purchases are made from, help support our business, but do not change prices for you.)