We're sharing how to paint an above ground pool to give your old pool a whole new look in just a few hours!
We recently painted our above ground pool walls, and it made such a difference in the appearance! About two years ago we put in an above ground pool. I had always said I wouldn't get one because I didn't like how they looked…three active little boys begging to go places to swim every summer quickly changed my mind on that! I've been so thankful we have one, it's been very worth it! And now that we finally got around to painting the walls of the pool, I'm liking it even more!
We found our pool on Craigslist for $300, but you can sometimes find free ones. We paid because it came with extra things like a pump, pool cover, ladder and other supplies we would have been buying anyhow. As soon as we had the pool and were putting it together in our backyard, I knew I wanted to do something about the outdated look of the pool walls. I wanted it to look modern and clean, and not take a lot of time and money to do it.
While we were putting the pool up, I was debating if we should paint the walls, but I hesitated because I didn't really know if that would work and if there was a better option. Should have just done it then…it only took us two years to get around to finally doing it. 😜 I thought it was going to happen last year, and we even bought supplies then, but then it took us a whole year to finally get around to it!
The difference it's made is huge!! You can see some before and after photos below. I still have lots I want to do for the pool, next step will be some landscaping around it. And we want to build a deck too. But it's pretty low on our priority list – as you can tell by the fact that it took two years just to get around to painting the walls, so who knows when those things will happen!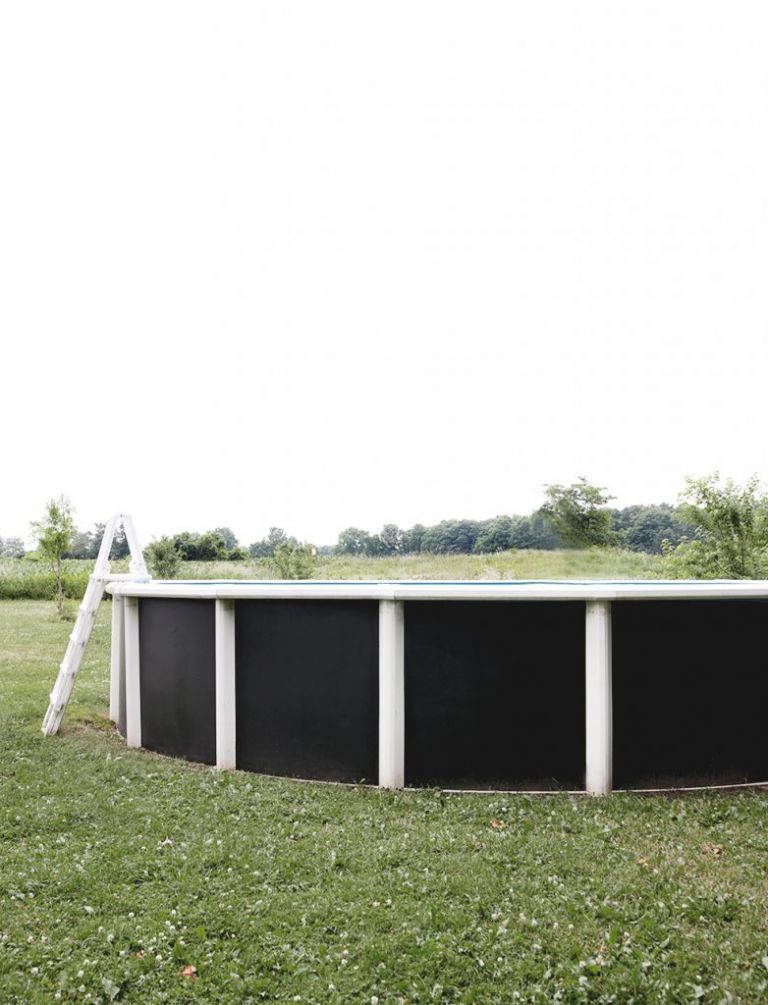 For our pool I chose black paint because I like it, it goes with our patio wall, and I was also hoping it might help get the pool a tiny bit warmer (yes, it's an unheated pool) by having the black paint absorb the heat into the walls of the pool. We've had it painted for over a month now, and haven't really noticed it helping much with that. So that was a bit of a bummer. Maybe somewhere that gets a lot more sun it might work better? Who knows. I still love the color though.
We also chose not to paint the side posts or top rail, I'm still debating whether we should make it all black or leave it as is. We also will need to see how it olds up over the winter, since we get so much snow here. So I'll keep you posted on that and the updates as we continue to do them!
Update: you can see how our pool held up after one year here.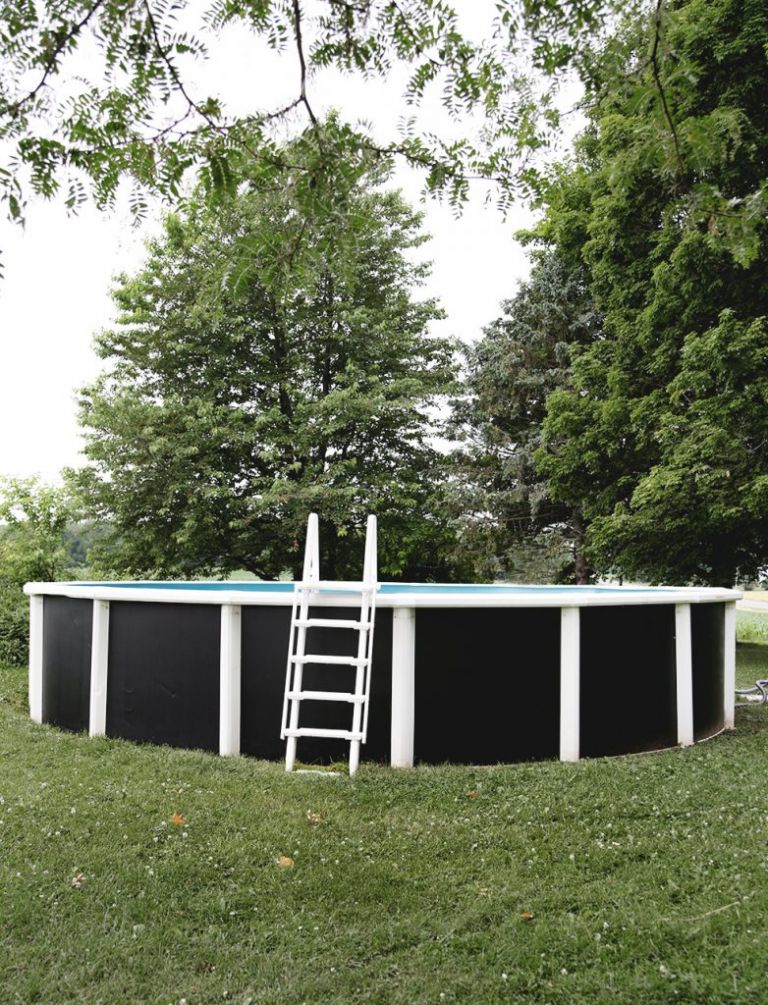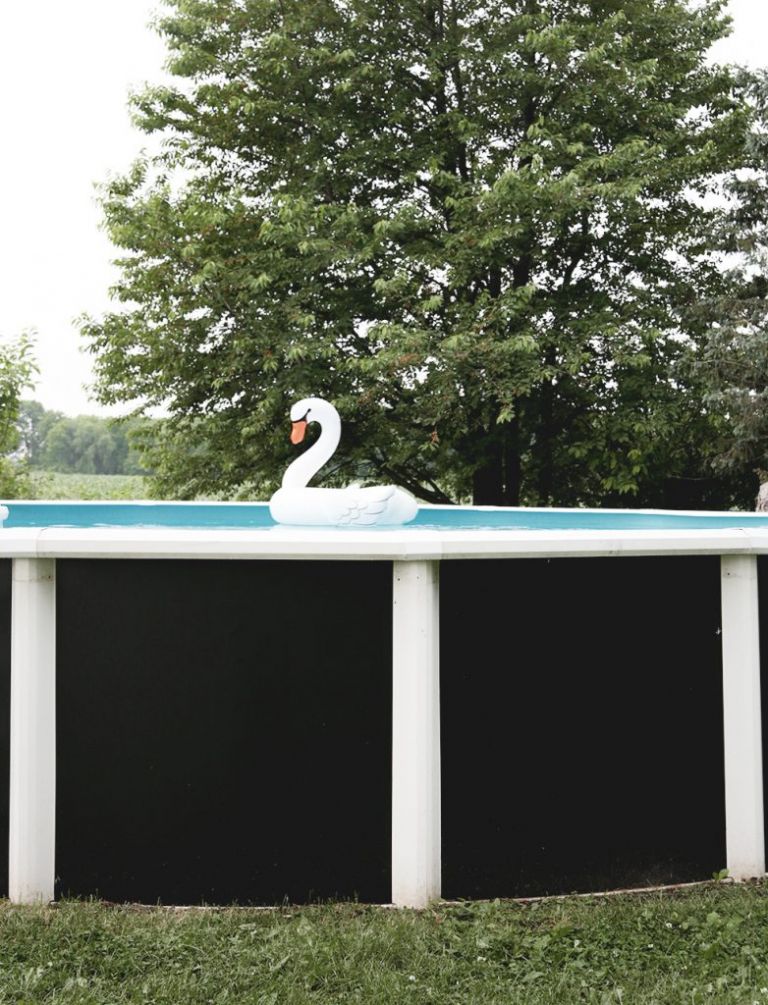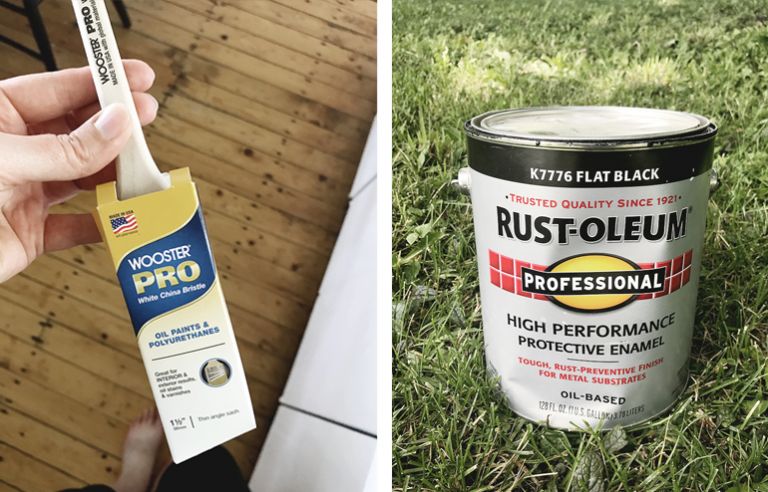 Supplies & Directions to Paint Above Ground Pool:
Watch the video or see the directions below:
Directions:
For this project we used oil-based paint because it's better on metal and will hold up better.
Clean your pool walls really, really well. We scrubbed them and also used a pressure washer on it. If it has rust on it, lightly sand those spot.
If needed, tape off any edges, like the posts, that you don't want to get paint on.
Using the paint brush, cut in around all the edges of the pool walls.
Use the roller to paint the rest.
Apply a second coat if needed. (We did not, as it looked pretty good with the one coat and we're going to see if it will need to be touched up next spring).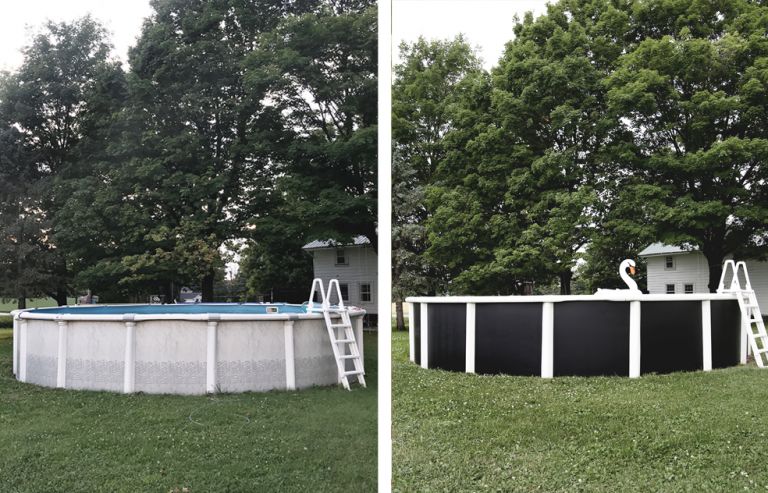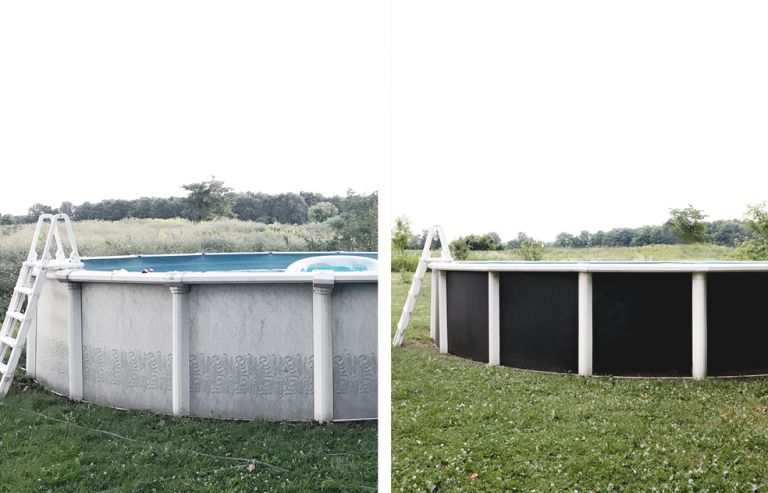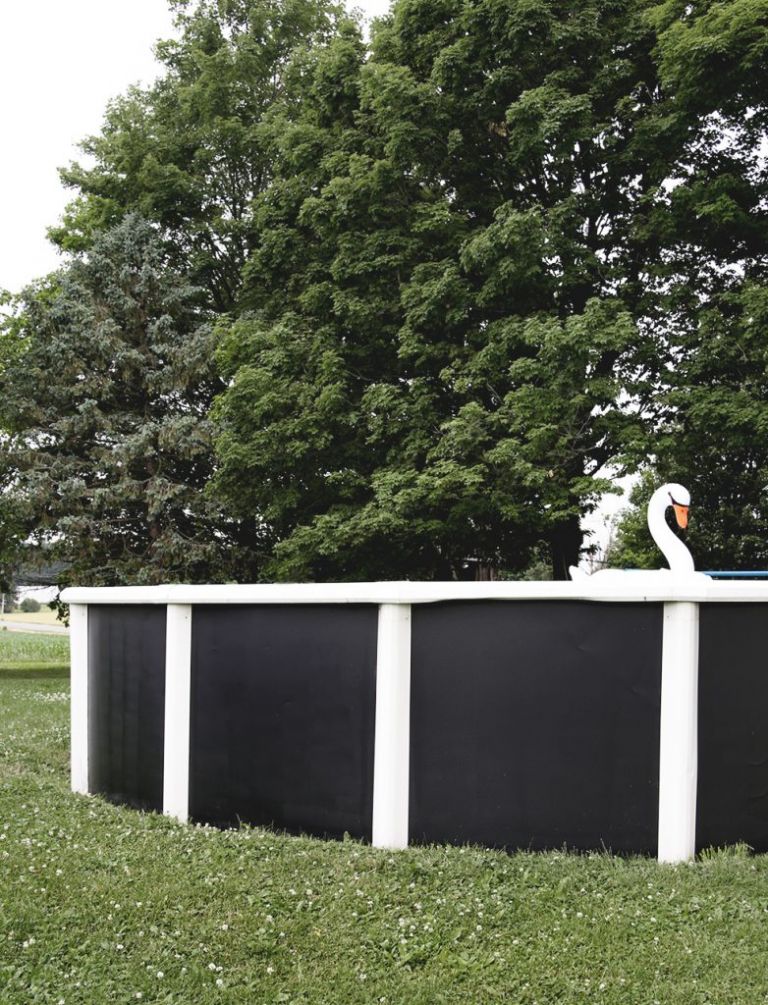 So what do you think? Good improvement? Would you keep the posts and top rail white or paint those black as well?
-Manda