We've received so many requests to share how we made our dishwasher door panel since we shared our tutorial for how to put a panel on any dishwasher. We finally got around to creating a video of how we created ours and are sharing that today!
The dishwasher DIY is one of my favorite ones from the kitchen renovation. I love that our dishwasher looks just like our cabinets and it was such a simple, easy thing to. (You can see a before & after of the dishwasher in the photos below). Even building the dishwasher door panel isn't too complicated! We've got a video tutorial below of how to create the dishwasher door panel, and the steps written out as well.
Supplies:
(This is the dishwasher we have for those wondering)
1×6 pine boards
1/4 plywood
mitre box
table saw
measuring tape
wood glue
clamps
sandpaper
paint
Directions:
The key to this panel is making it as light as possible. You don't want to use heavy, thick wood for this. It will weigh down your dishwasher door.
Cut the plywood to the dimensions of the door of your dishwasher. Our dishwasher panel is 23-1/2″ x 29-3/4″ inches".
Use a table saw to cut the pine boards to the width you want your panel border to be. Our panel edge boards are 1-7/8″. 
Use a table saw to cut the boards to the thickness you want them to be. We made ours 1/4″ thick. You don't want the boards to be too thick, or it will make the panel heavier.
Next, we used a mitre box to cut the pine boards to length. You're going to cut the side pieces the full length of your plywood panel. You're going to cut the top and bottom board pieces to length to fit in between the side board pieces.
Glue and clamp a side piece flush with the edge of the plywood panel. If you have a lot of clamps, you can glue all the pieces on. If not, wait for the glue to dry, then continue to glue each piece on. Glue the top and bottom pieces next, and the other side piece last. 
Once everything is dry, sand the edges and front of the panel. 
Then it's ready to paint and then install.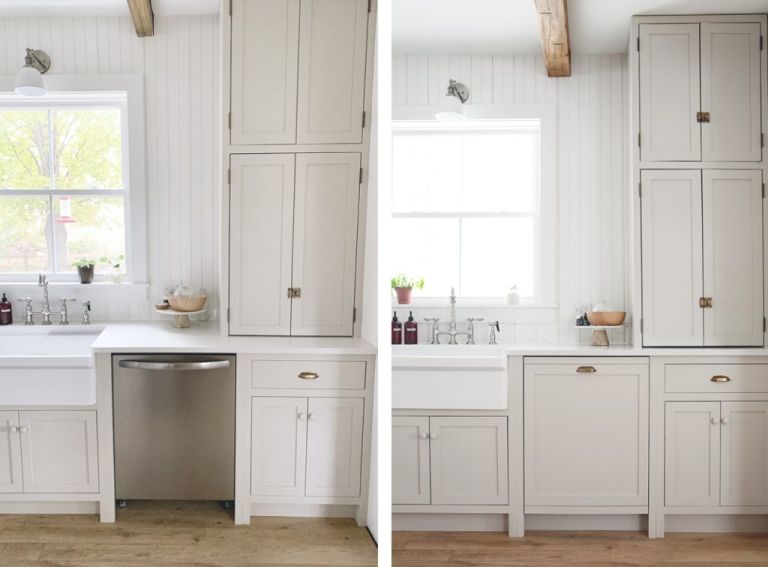 SOURCES:
Flooring – Jasper Hardwood – European Brushed Oak Collection Natural, 4-3/8″ (we bought ours from Build Direct, but they are no longer carrying this specific flooring)
Brass Cabinet Pulls – 3-3/4″ Classic Cast Brass Cup Pull (I aged the brass, you can see that here)
Cabinet Latches – Large Cast Brass Cupboard Latch With Oval Turn Piece 
Wood Cabinet Knobs – 1-1/4 in. (32 mm) Birch Wood Round Cabinet Knob
Range – Cafe Dual Fuel Double Oven
Diffuser (similar)
PAINT COLORS:
Cabinet Paint Color – Sherwin Williams Accessible Beige
Wall & Trim Color – Sherwin Williams Alabaster