I have been searching for an affordable wall sconce for the bathroom and haven't been able to find one that I love. Finally I found these but I'm not big on grey so I decided to quickly share how to recover a lampshade with fabric! It's honestly pretty easy and can be a game changer for thrifted lamps!
I love that you can change any lamp to better fit your space with this simple tutorial! You can use any pattern or color fabric to make a room pop or just use a different neutral like I did here that better fits your space. I am definitely going to use this on a few lamps at the cottage that have lampshades that are past their prime haha.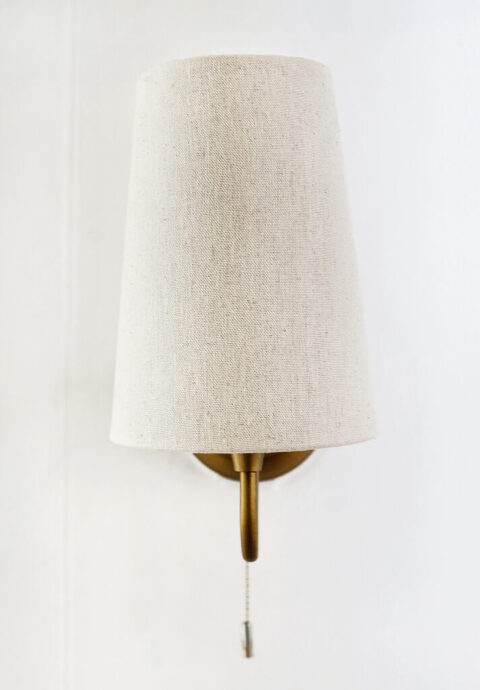 Materials Needed:
fabric (I got this textured cotton at Wal-Mart)
kraft paper roll (you can grab some from the dollar store)
pencil
ruler
water
paint brush
How to Recover a Lampshade with Fabric:
If the lamp shade has any extra fabric/trim along the edges, remove it.
Lay lampshade out on rolled out kraft paper.
Start at seam and slowly roll the shade, tracing along the bottom edge until you get back to the seam.
Roll it back along the line you drew and repeat at the seam along the top of the shade.
Connect lines along the end using a ruler.
Use ruler to measure out about 1/2″ from the top and bottom edges and 1″ on one of the short sides and trace shape around previous shape.
Cut out kraft paper pattern.
Pin onto new fabric and trace shape.
Cut out fabric.
Use spray adhesive or a glue/water mixture to start attaching fabric to shade. I like to start with one of the straight edges right along the previous seam.
Continue until you are almost to the other end. Fold 1/2″ of fabric under and glue in place. This will create a fold so you cannot see the raw edge once it is glued.
Glue final edge in place. (I sometimes use a tiny line of hot glue here for extra security.)
Along the top edge, fold 1/4″ of fabric in onto the rest of the extra fabric and hot glue in place.
Now fold all of this extra fabric along the top down into the shade and glue in place.
Repeat with the bottom.