I shared a post a couple months ago for Homemade Makeup Remover Pads and have had some fun trying out more homemade beauty product recipes! As I mentioned before, I'm taking baby steps in the direction of trying to use more simple, natural products around our home; and I've also jumped on the "oily bandwagon" 😏 – which has made making these diy's a lot easier (and better smelling!).
I had been struggling with more breakouts in the last few months – ughh, not cool skin, isn't this supposed to be done with by my age?! So I decided I wanted to try making something that might help with that. My friend, Charissa, had shared a simple essential oil facial toner recipe with me, and after doing a bit of research, I tweaked it a bit to add a few more things to try to help with my skin breaking out. I've been using this for over a month now and I really love it! It smells great, it's been kind to my skin (I have slightly sensitive skin, and so far no issues with that); and best of all, way less breakouts are happening right now! Toner helps to improve the look of your skin as well as keep your oil production balanced. I use mine in the mornings, after getting out of the shower and follow it up with a moisturizer. I did add lemon essential oil to my recipe, which may help with blemishes, but it also can increase your skin's sensitivity to sunlight. You can leave it out or use the toner at night. After a little bout with skin cancer a few years ago, I'm pretty much always avoiding the sun, so it hasn't been an issue for me. (Not to mention it's winter here, and we don't spend a lot of times outdoors or see a lot of sunlight during these months). This recipe is definitely adaptable, you can adjust the amounts of the ingredients added to suit what works best for you. Please just remember that I've only used Young Living Essential Oils for this and it's important to use high quality essential oils when using on your skin!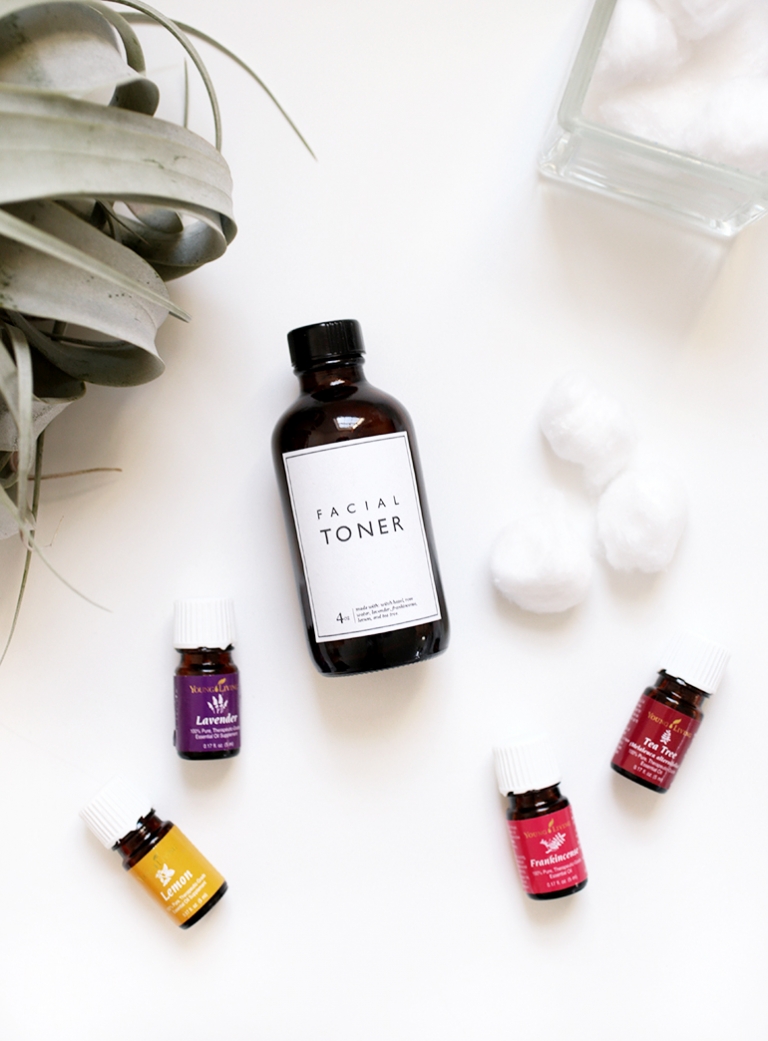 Update:
There's a lot of different essential oils you can use that are good for your skin! I'm adding in this update with a few more options for those that want them.
Good to help with acne:
tea tree
lavender
frankiencense
petitgrain
chamomile
clary sage
neroli
carrot seed
myrtle
lemon*
Good for skin in general:
lavender
frankincense
sandalwood
cedarwood
geranium
patchouli
rose
ylang ylang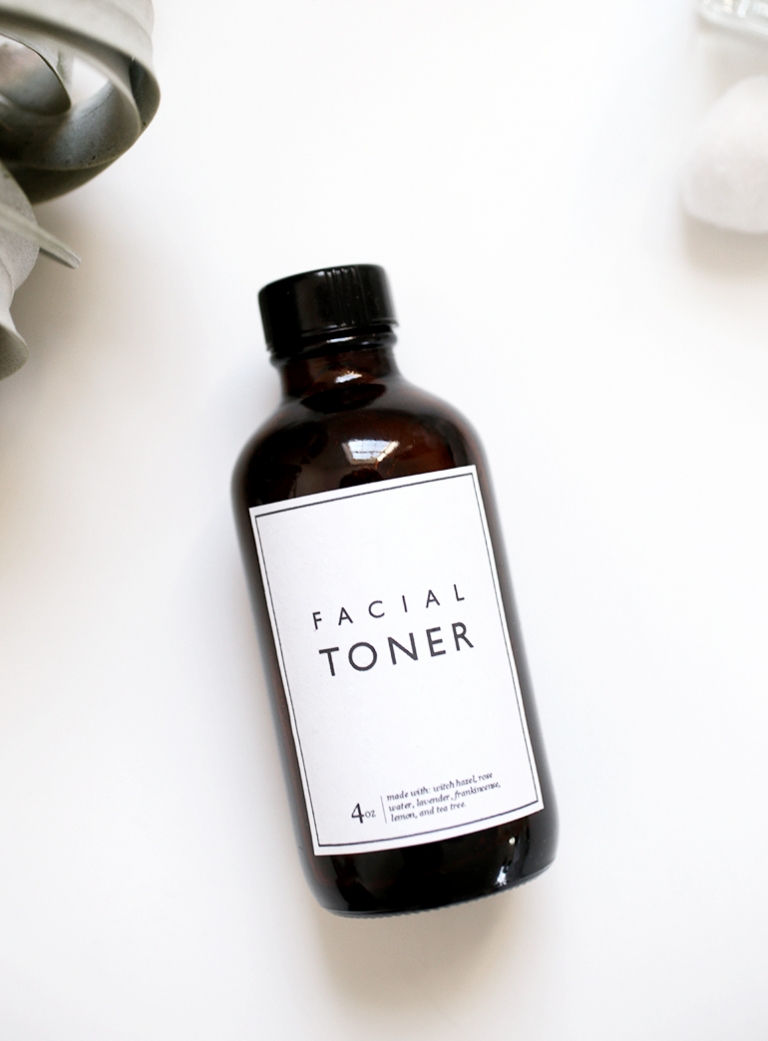 Homemade Facial Toner
1/4 cup witch hazel
2 tablespoons rose water (can be left out or you can use plain water to dilute if needed for your skin)
15 drops lavender essential oil  (see above for more oil options)
15 drops tea tree essential oil  (see above for more oil options)
10 drops frankincense essential oil  (see above for more oil options)
5 drops lemon essential oil*  (see above for more oil options)
Add ingredients to bottle. Place cap on tightly and give a few gentle shakes. Apply to clean skin as needed – I apply mine with a cotton ball.
I'm including a download for the label I made for my bottle if you'd like to print one for your bottle. You can download the exact label I used here. Or for one without the ingredients listed, download here. For a slightly updated minimal label, download here.
*Please read paragraph above for caution about using lemon essential oil!
Any favorite skin care products you use to help with break outs?
If you're curious about essentials oils, you can learn more here. And here's a few other DIY beauty recipes we've tried that you might like: Homemade Makeup Remover Pads | DIY Perfume | DIY Pre-Shave Oil.
-Manda