I've been wanting to make a natural fall mantel display for a couple of years. I feel like I never do much decorating for fall, it always feels hard to do. (I did do this fall mantel in the past, as well as a Halloween one. And before we had this fireplace, I decorated the living room like this for fall). There's just not a lot of decor things that I feel really drawn to for fall. But my favorite part of fall, the leaves (and pumpkins too!). And I've got plenty of those around!
So I decided to use natural elements for my fall mantel decor this year. I walked around my yard and cut branches and vines to use. I also made a dried apple garland, find the tutorial for that here.
This fall mantel decor is a little wild, and maybe not everyone's style. But I love it! I love that it's not traditional and feels a little untamed. I thought about adding even more to this, but thought maybe for my first time around not to go too wild, haha! And I love that the majority was free, from my yard! (I did buy my apples & pumpkins).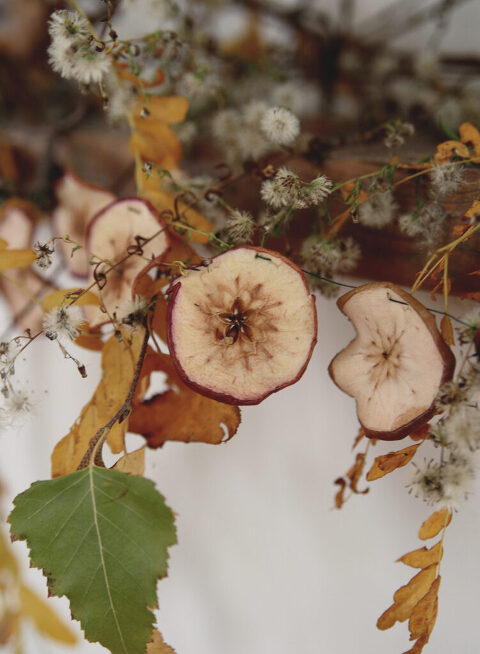 How to Make a Natural Fall Mantel Display:
Supplies:
(I've included links for store bought options, I know not everyone has access to fall decor in their yard)
Directions:
While there's no set way to really do this, here's a few tips that I found made it a little easier.
Start with grapevine if you have it. It's easier to manipulate, and easy to attach other branches to.
I like to try and get things to "stick", just by wedging them in to other branches. Use as few nails or push pins as possible. Branches and vines end up sticking together pretty well.
Be creative and go with the flow!
Be sure to check out these posts for more fall inspiration!
Find the DIY dried apple garland here.
-Manda