When it comes to decorating in the fall, I typically stick with simple fall decor, like pumpkins and dried grasses. I don't usually put up Halloween decorations. I like that simple fall decor can stick around September through November, plus it's just more my style. But the boys always want a little Halloween somewhere, and I guess this is the year I really went for it as you can see by our fireplace decor below (you can see a Reel of decorating that here). Once I made these cute little ghost tea lights, I felt like they needed some fun decor to go with them, so I bought the bats. And I have to say, the little bit of Halloween decor is pretty cute.
Most of the Halloween decor I see out there is a bit much for me, so I decided to make some of my own. I wanted it simple and cute, I'm not into scary, gross decor. I think these ghost tea lights are perfectly cute – and they are so easy to make! One of my boys said the ghosts looked like a kid wearing a ghost costume, not a real ghost, and that was exactly the look I was going for! So if cute Halloween decor is your thing, these ghost tea lights are perfect! And there's so many different colors of clay, you can make a variety of ghosts to fit your decor!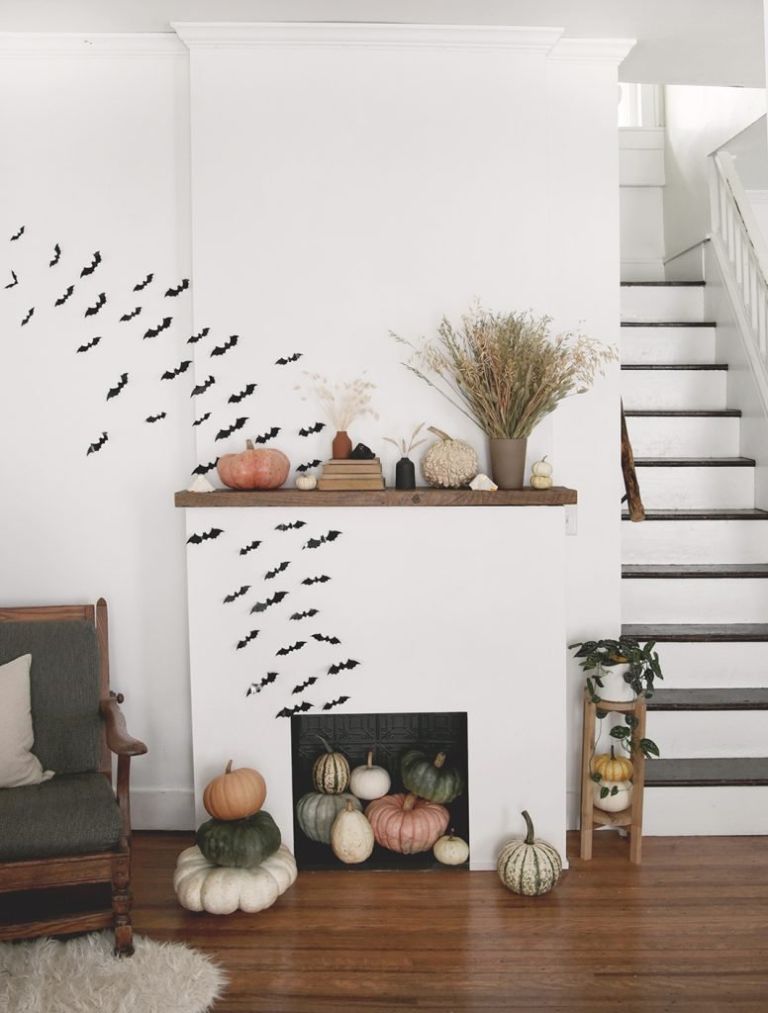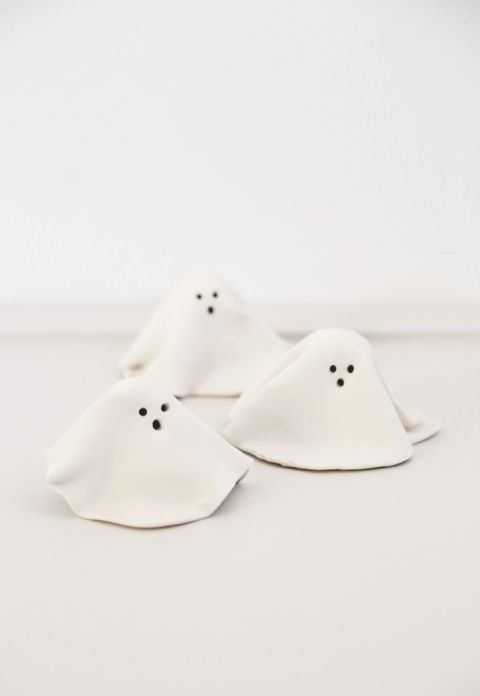 What you need:
Directions:
Roll your clay into a thin circle – it doesn't need to be a perfect circle. 
Gently shape your circle into a ghost. To make this easier, and to make sure I was making this the right size, I draped the clay over a tea light candle with a wood bead set on top. This helped give me an idea of how wide the base of the ghosts needed to be to fit around the candle, and the wood bead helped give the head a round shape. 
Using a wood skewer, create eyes and a mouth. I found it easiest to start the eyes and mouth while the clay was still draped over the wood bead. Then I removed the candle and wood bead, being careful to keep the shape of the ghost (this is the hardest part, keeping the shape while removing the candle & bead). After the candle & bead were out, I made sure the eyes and mouth holes went all the way through.
Bake the clay, following the directions on the clay package. (Be sure to remove the bead and candle before baking!)
Once the ghosts are baked and cooled, set over a tea light and enjoy your new spooky creation! 
You can find more Halloween inspiration – crafts, food and costumes, here!
-Manda