I know so many have moved on to sharing all about Christmas by this time of year, but I'm still over here just enjoying fall! I wanted to squeeze in one more fall related DIY with this dried apple garland! (I've got some Christmas content coming real soon). The great thing about this garland is it works for both fall and Christmas decor!
I currently have it styled with my fall mantel. But I did clip some greenery so you can see how it looks styled with that. Once I start decking the halls for Christmas, I'm going to try using it with some of my greenery. And see how it looks with a dried orange garland. Dried apple garlands are perfect for fall, Thanksgiving and Christmas decor!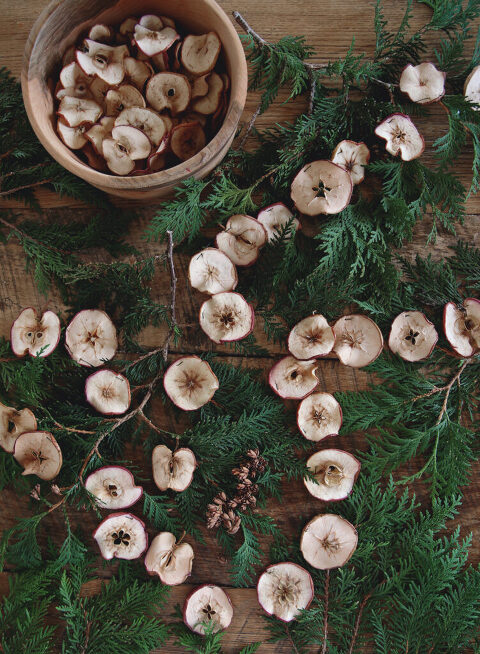 How to Make a Dried Apple Garland:
Supplies:
apples (any variety, but I found ones that were a little larger worked best. Cortland apples tend to be a bit whiter inside)
knife
pineapple juice (lemon, lime, or any citrus juice will work too) (optional, see below)
salt (optional, see below)
baking trays
parchment paper
string, twine or floral wire
large needle (if you're using string or twine for the garland)
Directions:
Watch the video to see how to make these or follow the steps below:
Start by cutting apples into thin slices. 
I used a mixture of pineapple juice and salt to dip my apple slices in to try and keep them from browning as much. Any citrus juice will work. And I just eyeballed the amount, no specific measurements. (To be honest, I didn't notice much of a difference between the apples that I dipped in the mixture, and those I didn't. I found that apples that were sliced a little thicker, and dried for a little less time, turned out the best. So it's up to you if you want to try this solution to help keep the apples a little whiter). 
I dipped the apple slices into the mixture, then dabbed them a little on a washcloth so they weren't dripping.
Place the apple slices on a baking sheet lined with parchment paper. Continue until the tray is full. 
Bake the apple slices at 225 degrees. I baked mine for about 2 hours, flipping them over every 30 minutes. 
Once the apples are baked, let them cool on a cooling rack.
Once cool, the apples are ready to use for a garland. 
You can use string, twine or floral wire to string your apples on. If you're using string or twine, try to use thin string. You'll also need a large needle.
Thread the apple slices onto the string.
I prefer to use floral wire to make the garland (I use it with my dried orange garlands too). You don't need a needle because the wire is sharp enough to go through. And it's also a lot thinner, so it doesn't leave as big of holes in the apple. 
Just a note on how the apples feel and if they go bad. Because I didn't want my apples to be very brown, I didn't dry them until they were crispy. They were still soft when I decided they were good enough. I wondered if they might go bad or attract fruit flies, but neither happened. I left my dried apple slices sitting in a bowl in my dining room for almost 2 months before I turned them into a garland. The apples looked exactly the same as the day I dried them and they didn't attract any fruit flies.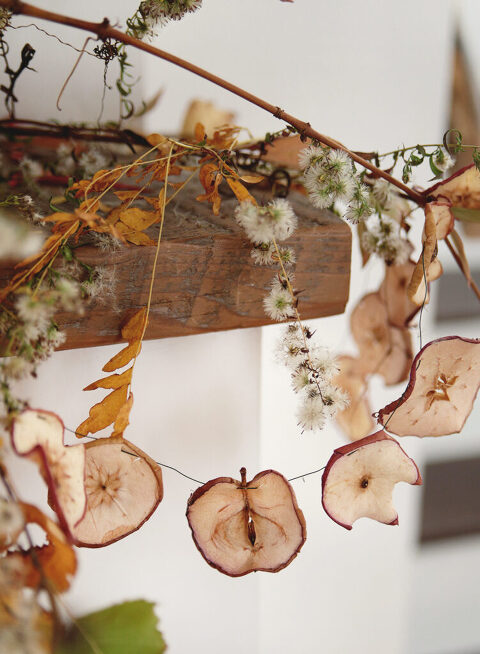 Find more fall inspiration here.
-Manda