We're working on getting the boys room finished up and have just a few projects left. When we added the
bathroom
upstairs, what was once the closet in the boys room became the new bathroom. So we had to rebuild a closet for their room. I didn't want the closet to take up too much space in their room, but also didn't want dressers in the room either – so we've had to be creative with storage space. (And also worked hard on minimizing the amount of clothes they had!) I thought this space right inside the door would be perfect for some hooks to hang hoodies and hats. Easy to grab as they're leaving the room and
hopefully
will encourage them to actually hang things up and not scatter everything around the room!
These hooks are similar to our
towel hooks
in the bathroom – I'm into the simple, wooden wall hooks. And with just a couple cuts, drilling a hole, and putting in a screw, you've got some stylish wall hooks. We left ours natural wood – I loved the wood. If you're not going to paint them, I recommend looking for a dowel with nice coloring and grain (we found ours at Home Depot).
Materials:
– 1-1/4-inch wood dowel
– mitre box
– sand paper
– drill + drill bit
– pliers
– 1/4" x 2" dowel screw
– 5/16" drywall anchor

Directions:
Using the mitre box set at a 30 degree angle, cut the end of the dowel off.
Slide the dowel down, keeping the same orientation until it will be the length you want when you cut it, cut it. (We made ours 2-1/4" from the point of the angled end to the short end of the other angle).
Sand hooks.
Using a 3/16" drill bit, drill a hole about 3/8" down from the top of the flat end that will go against the wall; drill it perpendicular to the back and about 1" deep.
Using pliers, screw the dowel screw in about half way.
The next steps are for installing the hooks where there is no stud (if there is a stud, drill hole into stud and screw hook directly into hole):
Pre-screw the drywall anchor onto the screw (because the dowel screw is slightly bigger than the screw that comes with the drywall anchor).
Drill a 5/16" hole in the wall where you want the hook to go; install the drywall anchor.
Screw the hook into the drywall anchor.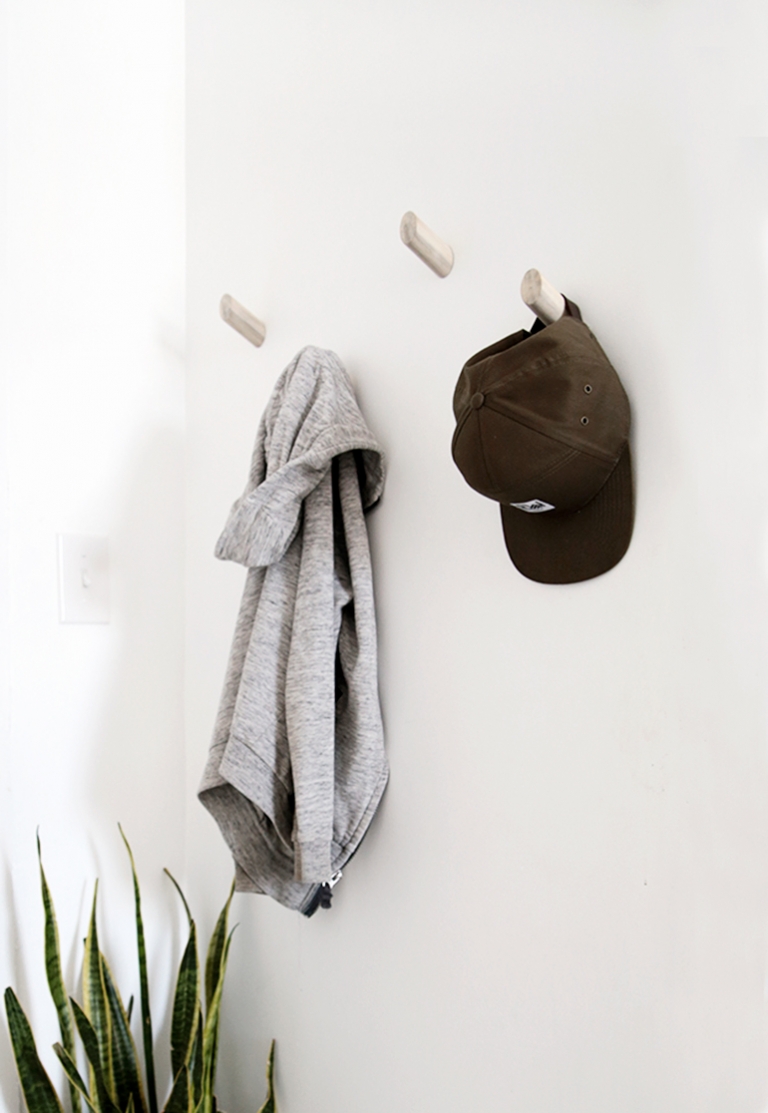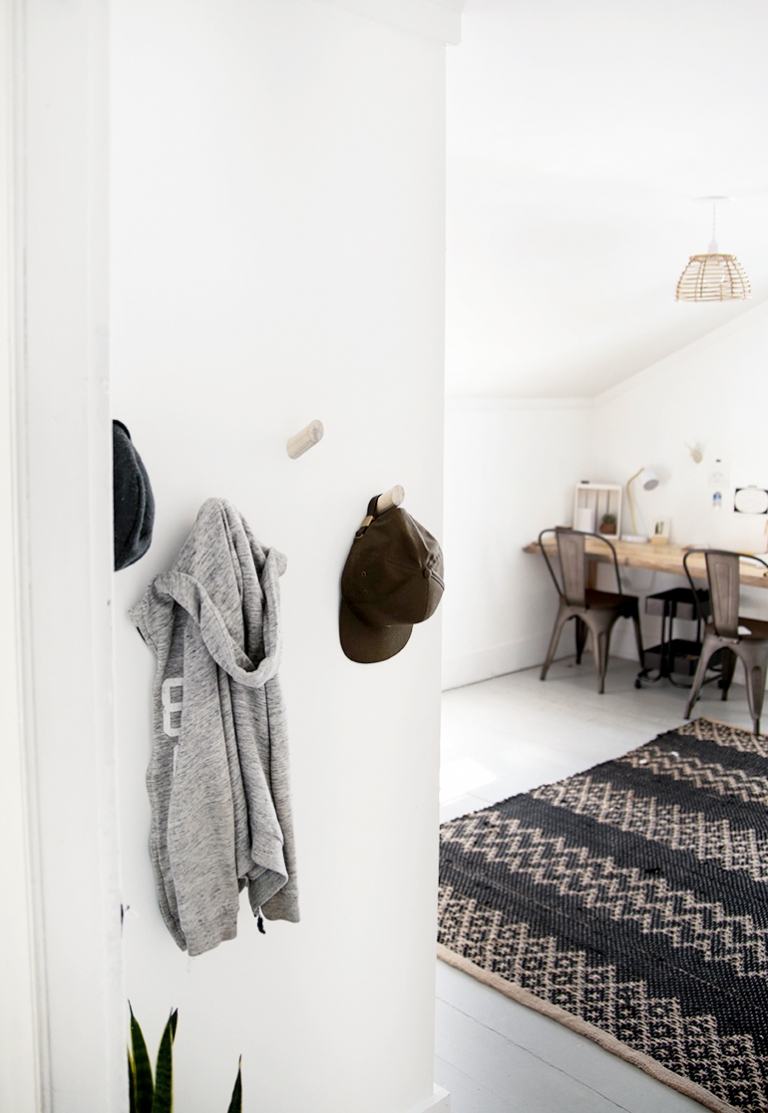 Hoping to have the last few projects in their room finished soon and then can show the whole room! Check out the other room DIYs we've shared: DIY Wood Book Shelves | DIY Live Edge Wood Desk | DIY Rattan Light | DIY Hanging Paper Roll.
-Manda