If you're new around here, let me introduce you to two of my favs – coffee and ice cream. My friends refer to me as a coffee snob, and I'll own up to that. 😉 It started about 5 years ago with Mike roasting our coffee at home. And it really is the best. Except now it's hard to get good coffee when I'm out and about, because I know what good coffee is. And most places just don't have that. Luckily we also live right outside of Rochester (NY) and it happens to be filled with some amazing coffee roasters and shops! When Mike & I go on dates in the city, it almost always includes a stop at Joe Bean. This is where I first realized that coffee was good black. Because really good coffee is. (Confession: I do usually drink mine with half & half, I like the creamier texture it gives the coffee). A couple weeks ago, Joe Bean sent us some Gin Barrel Don Roger coffee to try out. It's got a really unique flavor (it's my brother-in-law's favorite coffee of theirs, he was a very willing taste-tester when I invited them over for affogatos) and I thought it would be perfect paired with my other fav – ice cream! And it is. A scoop of creamy gelato, a little maple syrup and hot espresso made from the gin barrel coffee are the perfect treat! We liked it with Breyers vanilla caramel gelato, but you could just use vanilla ice cream if you can't get your hands on gelato. I added a little bit of warmed maple syrup to pick up on the maple notes in the coffee. Espresso is best for affogatos, but you can sub strong coffee if you don't have an espresso machine (we do have an espresso machine and used that – but I also couldn't resist featuring my tiny french press for the photo shoot, so that's why it's in the photos). And Joe Bean does sell online & ship – so you can buy yourself this blend!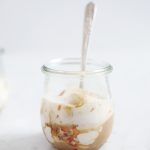 Gin Maple Affogato
Ingredients
1

scoop

gelato

(we like it with Breyers vanilla caramel gelato)

1

teaspoon

pure maple syrup

- warmed

1

shot

espresso - made with Joe Bean Citrus Gin Barrel Coffee

(you could also use strong coffee if you don't have an espresso machine)
Instructions
Place scoop of gelato in a small bowl or coffee cup.  

Pour maple syrup and espresso over gelato. 
-Manda
coffee c/o Joe Bean Coffee Roasters