Back to the bathroom projects again! 😉 I had put a hold on finishing up a few more of the smaller projects, like these wood wall hooks, I wanted done in that room. I needed a brief break from working on it. While it's still currently my favorite space in the house, I just was done with constantly being in there to work. I wanted to be in there soaking in the tub! 
We had put up temporary towel hooks until I was ready to finalize what I wanted in there and was ready to get back to it. And now that I've soaked in the tub –  I guess that time is here!
We made these simple wooden towel hooks, but really, these can be used just about anywhere in your home as wood wall hooks – for coats, closets, accessories, etc. I chose ambrosia maple wood, because it's one of my favorite wood varieties – we used that for the toilet paper holder as well.
For those worried about wood having wet towels on it – it does have a finish on it and we've used wood towel hooks in our other bathroom for years, and as long as they are finished properly, they hold up to wet towels! I'm loving this new small addition to the bathroom and how it ties in with our toilet paper holder.
**Update – for those that have asked, we're now selling these in our shop. Find them here!**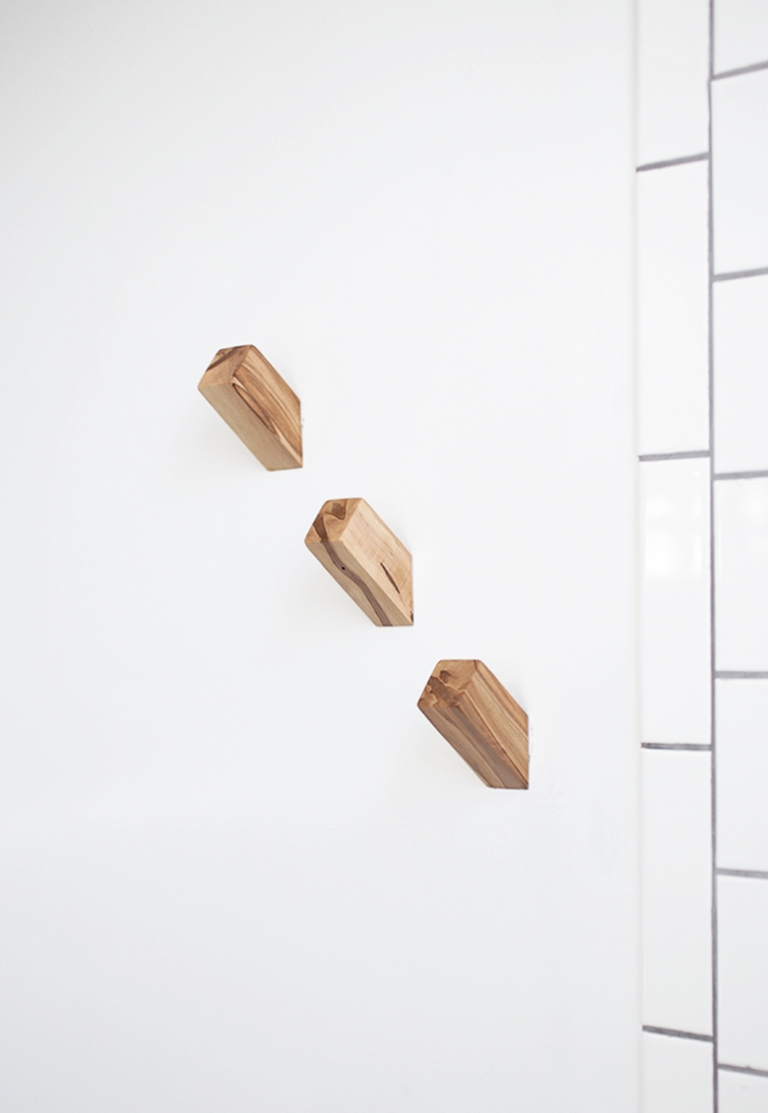 Materials:
– wood (we used ambrosia maple)
– table saw
– miter box
– tape measure
– belt sander & sand paper
– dowel screws
– 1/4″ x 2″
– drywall anchors – 5/16″
– drill & bits
– pliers
– scrap wood (optional)
– water proof finish (we used Minwax indoor/outdoor clear satin finish)
Directions: Cut wood to size (we made 1-1/4″ x 1-1/4″ strips). Cut angle at 40 degrees to the length desired – we made ours 2" to the short side of the angle. Sand all sides smooth with belt sander; sand corners with sand paper. Drill an 1/8" hole in the angled side near the top of the angle in the center about an 1-1/4" deep. Using pliers, screw the dowel screw in a little more than half its length.
Drill 3-1/8" holes into a scrap piece of wood (about 10" long), keeping the holes about 3" apart. Screw the other end of the dowel screw into these holes enough to make them stable – this will help you to be able to apply finish to all sides. Apply finish following directions on can.
Drill 5/16" holes in the wall where you want the hooks to go. We had 1/4" dowel screws which were a little bigger than the drywall anchors, so we pre-screwed the dowel screws into the inserts holding the inserts with pliers. Unscrew the dowel screws from the anchors and close the end of the anchor that popped open. Push the anchors into the holes in the wall and then with a hammer tap them in until they are tight against the wall. Screw the hooks into the anchors.
**Update – for those that have asked, we're now selling these in our shop. Find them here!**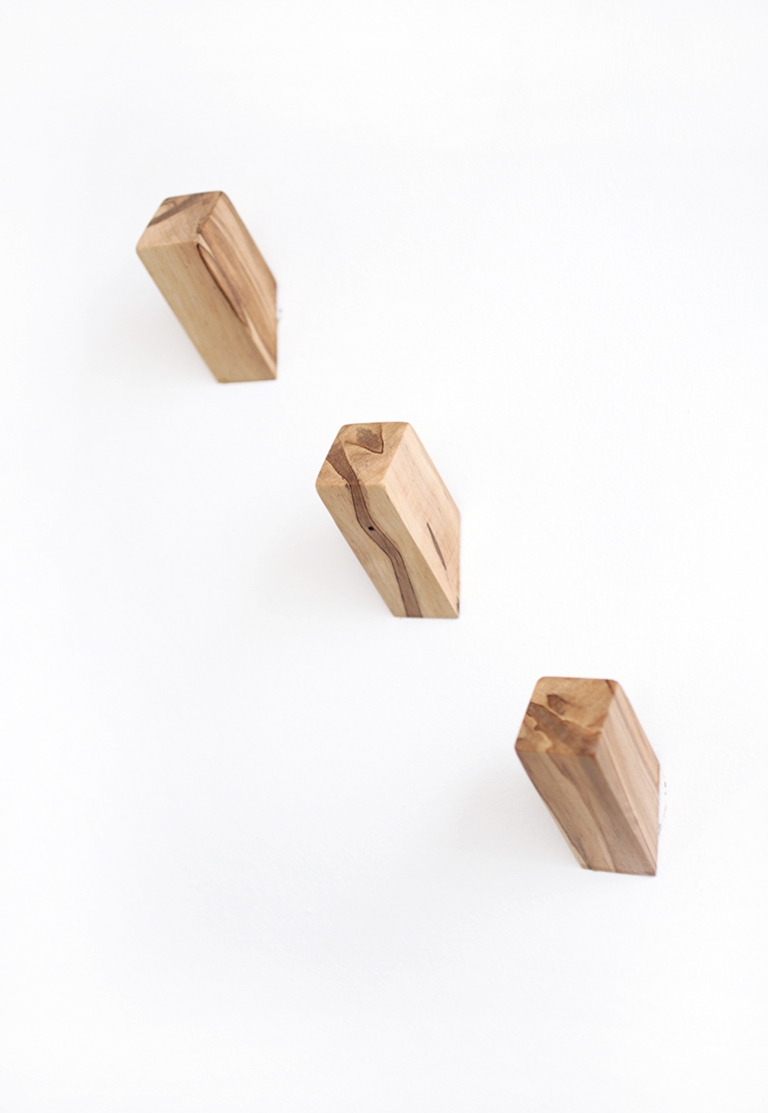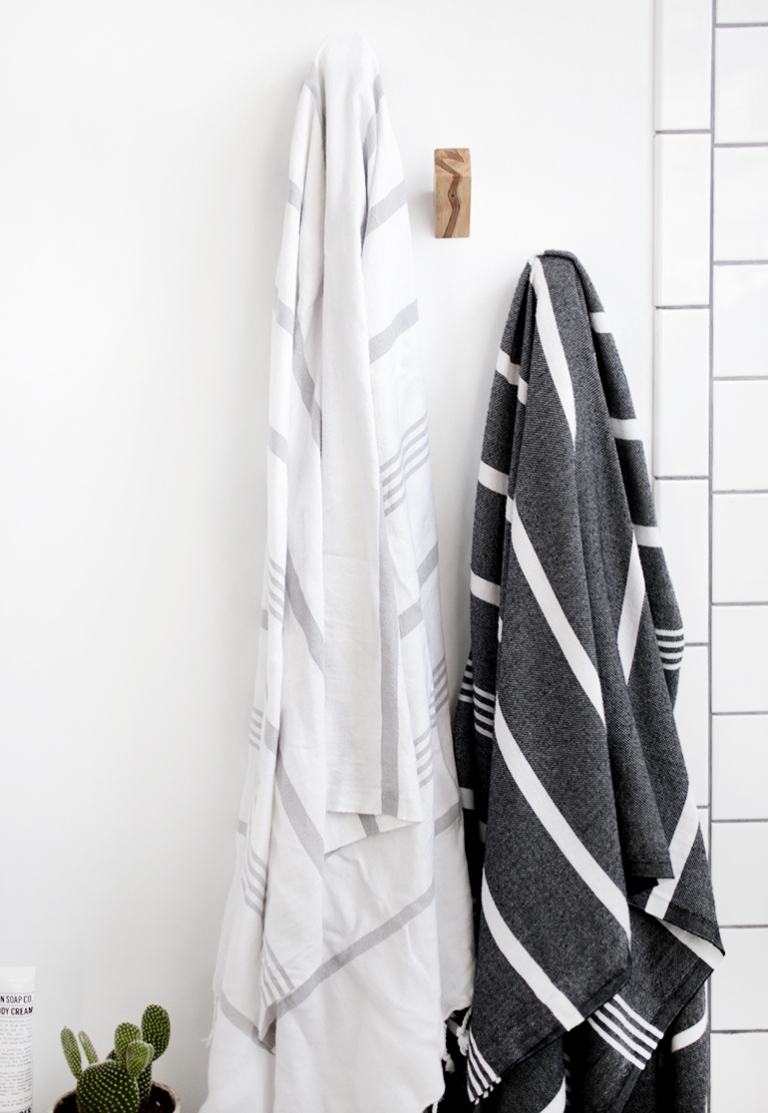 If you haven't seen it yet – you can see the whole bathroom reveal here! And a couple of the other projects from that space: DIY Leather Shower Curtain Rings, DIY Floating Sink Shelf, and DIY Toilet Paper Holder.
-Manda