Here in New York State it's maple season!  Farms around the area are hosting maple tours and selling lots of maple deliciousness. On Saturday, we visited a maple farm with my aunt and uncle and got to see how syrup is made…and we also got to try some maple goodness: maple cotton candy, maple sugar candy, and maple ice cream!  Ahh, maple ice cream.  Soo good.  (One of my favorite treats when we visit Vermont is getting a maple creemee!)  I decided I needed to try making my own maple ice cream with some of my fresh syrup!


I guess I need to confess that as a kid, I never liked pure maple syrup. I only liked the fake stuff. (Insert shocked face emoticon here…) I know! Thankfully my taste buds have grown up and now I'm a fan of the good stuff. (Although I still will have the fake stuff when it's already on the table for the boys and I'm feeling too lazy to get another syrup out!…insert another shocked & chagrined face here).  But I definitely didn't skimp on the good stuff for my ice cream!  (Which also means, I have no idea how this will turn out if you don't use pure maple syrup…)


I recommend using dark maple syrup if you can get it, the maple flavor will be more intense. If not, adding in maple extract will help. I'm a maple lover, so I like to really taste the maple.  I added maple extract to mine, and tasted the batter before chilling and it seemed very maple-y, but after churning the ice cream, the maple flavor was pretty subtle.  So add maple extract to suit your taste, and know that the flavor may seem more mellow after churning and freezing.  Drizzling on a little extra syrup is always a good idea too!  (My sweet little Lincoln was such a good sport and helped his mama with her photo shoot…look at that pro syrup drizzler!)


Maple Ice Cream
2 cups heavy cream
1 cup whole milk
3 tablespoons brown sugar
4 large egg yolks
¾ cup pure maple syrup
¼ tsp. vanilla extract
¼-½ tsp. maple extract
Make an ice bath by putting some ice and a little water in a large bowl and nest a smaller bowl (one that will hold at least 2 quarts) inside it. Set a mesh strainer over the top.
Combine cream, milk and brown sugar in saucepan. Heat over medium heat until hot and the edges begin to bubble and foam.
In a separate medium bowl, whisk together the egg yolks. Slowly pour about half the warm mixture into the egg yolks, whisking constantly, then scrape the warmed egg yolks back into the saucepan. Cook the mixture over low heat, stirring frequently, for 5-8 minutes, until it just begins to bubble. (You can use an instant read thermometer to check that the mixture is at least 170ºF.) Remove from the heat.
Pour the mixture through the strainer into the bowl nested in the ice bath. Mix in the maple syrup, vanilla and maple extract. Cool slightly at room temperature, then cover with plastic wrap, pressing down against the surface to prevent a skin from forming. Refrigerate until completely chilled, about 2-3 hours.
Once mixture is completely chilled, freeze according to your ice cream maker's instructions. During the last few minutes of churning, add the pecans (recipe below).


Maple Glazed Pecans
1 cup chopped pecans (I like my pieces a little bigger)
2 ½ tablespoons maple syrup
2 teaspoons brown sugar
dash or two of salt
pinch of cayenne pepper
Preheat a skillet over a medium-high heat. Add all ingredients. Cook, stirring frequently, until syrup is caramelized and nuts are toasted, about 3-5 minutes. Let cool.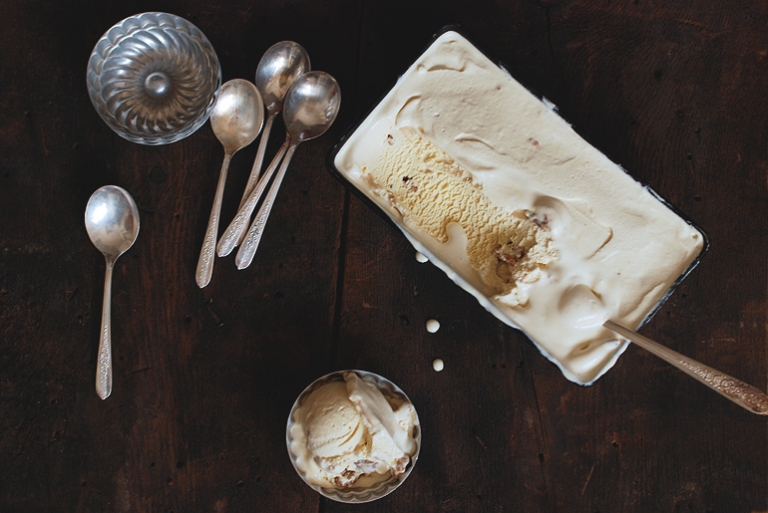 Go enjoy some maple goodness!
-Manda
PS – Here's some more maple recipes you might want to try: Maple Cream Sauce | Maple & Bacon Doughnuts | Spinach, Quinoa & Pear Salad with Maple Vinaigrette