Today is National Ice Cream Day – have you been eating ice cream all day to celebrate?! The whole month of July is actually National Ice Cream month, so if you missed out on eating ice cream today – don't worry, you've got a little bit of time left to make up for it. As you know, we're kind of ice cream obsessed around here. So we think a day honoring ice cream is pretty great. I am yet to be a proud owner of an ice cream maker (eeps, can you believe I don't have one yet?! Birthday's in August…it's top of the wish list. 🙂 ), but my baby sis does have one and she so kindly is sharing her favorite homemade ice cream recipe with us today in honor of this terrific holiday.  (You may remember Lyndsay from this post.)
Happy National Ice Cream Day! In honor of such a wonderful celebratory day as this, I bring you my favorite homemade ice cream recipe. A staple in the Grimm household here in Santa Barbara is the Trader Joe's Dark Chocolate Almonds with Sea Salt & Turbinado Sugar – they are to d.i.e. for! Once my hubby Andy and I realized we could use them in an ice cream and combine sweet & salty with a crunch, we decided to combine the almonds with a mocha ice cream and haven't looked back. If you have an ice cream maker (or aspire to own one) the Ben & Jerry's Homemade Ice Cream & Dessert Book is a great resource for loads of fantastic recipes, including this one:
MOCHA ICE CREAM WITH CHOCOLATE COVERED ALMONDS
Ingredients:
2 cups heavy or whipping cream
1 cup milk
3/4 cup sugar
4 teaspoons unsweetened cocoa powder
2 tablespoons good quality freeze-dried coffee (or you can finely grind coffee beans and use 2 tablespoons, which is what I do)
2 large eggs
8 oz. dark chocolate almonds with sea salt
Mix together everything but the eggs and almonds until blended. Whisk eggs and add to mixture.
Transfer mixture to an ice cream maker and freeze following manufacturer's instructions.
I have a Kitchen Aid Ice Cream attachment. For these devises, mix the ice cream in the pre-frozen bowl for 13 minutes. With 2 minutes remaining, add the almonds (or any other toppings such as mini chocolate chips, fudge swirl, chocolate covered coffee beans, etc.).
If you want a soft serve ice cream, serve immediately. Otherwise freeze for at least an additional hour.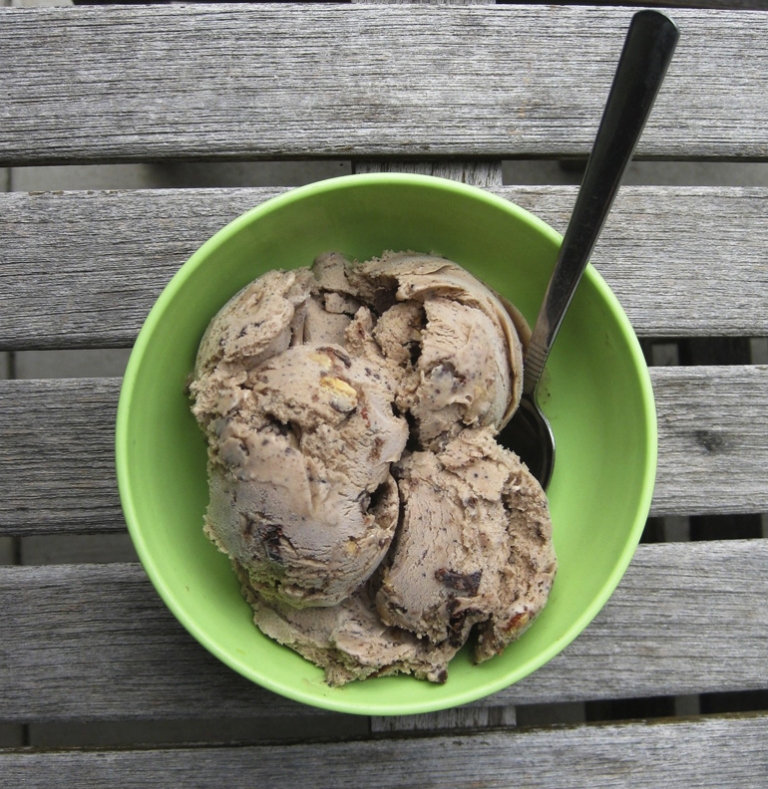 This is by far the yummiest ice cream we have made with our ice cream machine yet. Whatever ice cream celebrating you decide to do today, enjoy! Thanks girls, for letting me share today.
Thanks for sharing your yummy recipe with us today Lyndsay! You can glimpse more of Lyndsay & Andy on her blog, Grimm Tales.
Happy ice cream eating friends!   Manda
See another favorite ice cream recipe here, and some of our favorite local ice cream shops here & here.