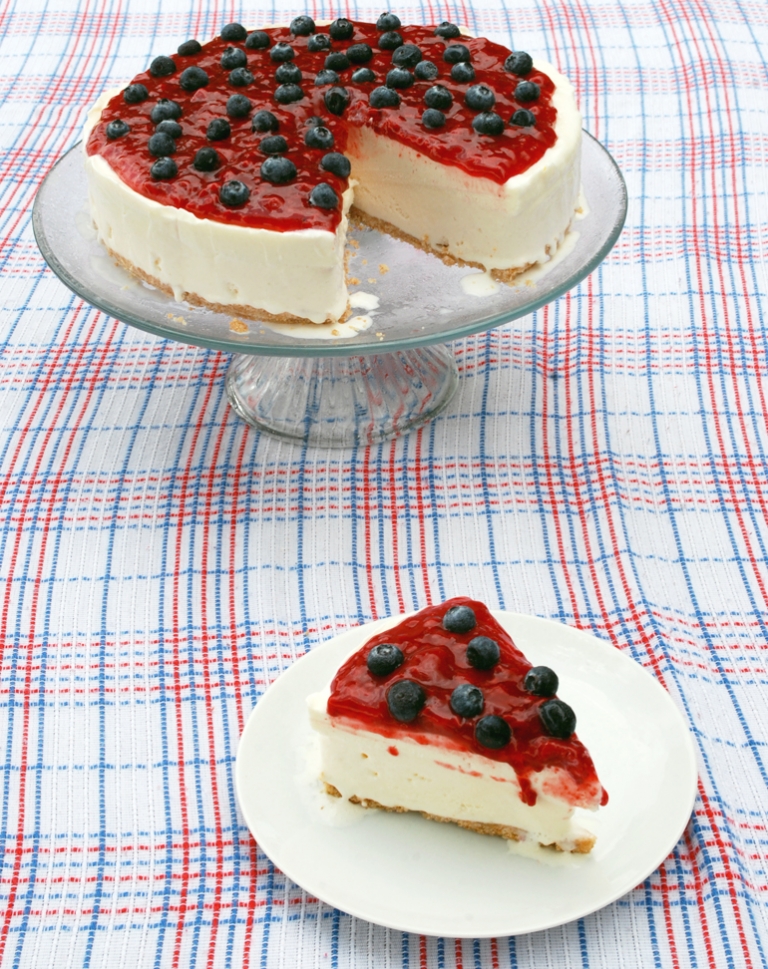 Two of my favorites combined in one dessert – ice cream and cheesecake!  This dessert is soo good.  And so perfect for summer – and Independence Day!  It's no-bake (hooray for no ovens in the hot, hot weather!) and you can make it ahead.  Sweet and creamy ice cream, addicting sweetened cream cheese and crunchy cookie crust in every bite – mmm, delicious!


This ice cream cheesecake is also great for holiday dinners – we've had it at Thanksgiving and Christmas dinners.  (Without the patriotic theme going on obviously…).
The first time I ever had this was on Thanksgiving a few years back.  My Grandma was staying with my parents for a few days and had clipped the recipe from a magazine and brought it along with her to try out.  I became an instant fan.  I've tweaked the recipe a bit, the main difference being the crust – I love nilla wafer crusts. But if you're a graham cracker crust fan, just use that instead.
I love how easy this is to change up – with different pie filling toppings or even different ice cream flavors.

ICE CREAM CHEESECAKE
For the crust:
1 cup nilla wafer crumbs
4 tbsp butter, melted
2 tbsp sugar
For the cheesecake:
2 packages (8 ounces each) cream cheese, softened
2/3 cup sugar
1 tsp vanilla extract
1.5 qt. vanilla ice cream, slightly softened
1 can (21 ounces) of your favorite pie filling*
(Blueberries optional for a patriotic theme if desired)
In a medium bowl, combine nilla wafer crumbs, melted butter and 2 tbsp of sugar; mix thoroughly. Press into bottom of 9-inch springform pan. Freeze 15 minutes.
Meanwhile, in a large bowl, mix cream cheese, 2/3 cup sugar and vanilla until smooth and creamy. Set aside.
Remove pan from freezer and spoon ice cream onto crust, pressing to form an even layer. Evenly spread on cream cheese mixture. Cover and freeze 4 hours or overnight.
Top cheesecake with pie filling. Remove ring from pan. Serve & enjoy!
Tips:
Freeze serving platter 30 minutes before serving

Dip knife or metal spatula in hot water, then wipe dry and run around edge of cake to loosen.
*I don't use the whole can on the cheesecake. I pour enough to cover and serve the rest in a bowl on the side for those that might want to add more.


Happy no-baking!    Manda
PS – Just another reminder that Google Reader is gone today (boo Google!). Remember to switch over to Bloglovin'!    xo
Slightly adapted from Breyers