Lately I've been on a cinnamon kick – or maybe I'm always on a
cinnamon
kick! After making
Homemade Muesli Bars
last fall and loving them, I've been wanting to try out more homemade granola bar varieties – so I decided to try two of my favorite flavors, cinnamon & peanut butter; with some mini chocolate chips thrown in for good measure of course!
These granola bars are sooo good and so easy to make – they're no-bake! I love these flavors together and I love having another better for you, on-the-go snack (or breakfast!) option to grab when I'm in a hurry! The cinnamon chips really bring a lot of flavor to the bars, so if you're not adding those in, you might need to up the amount of ground cinnamon in them, depending on how cinnamon-y you want them to be.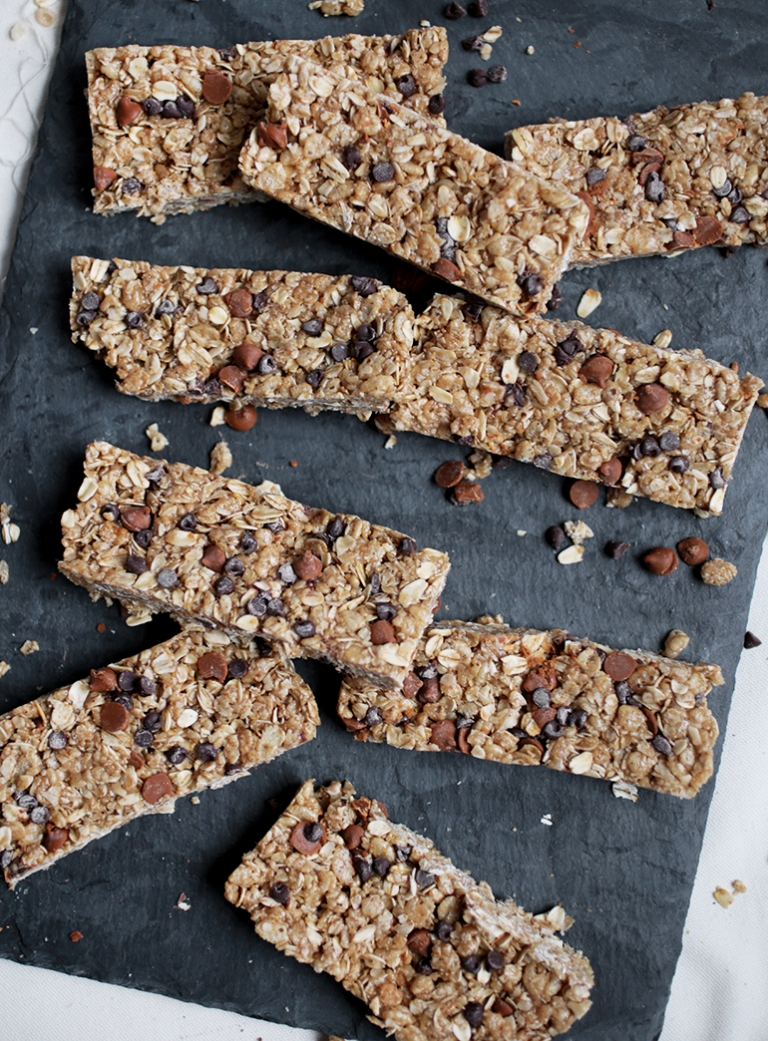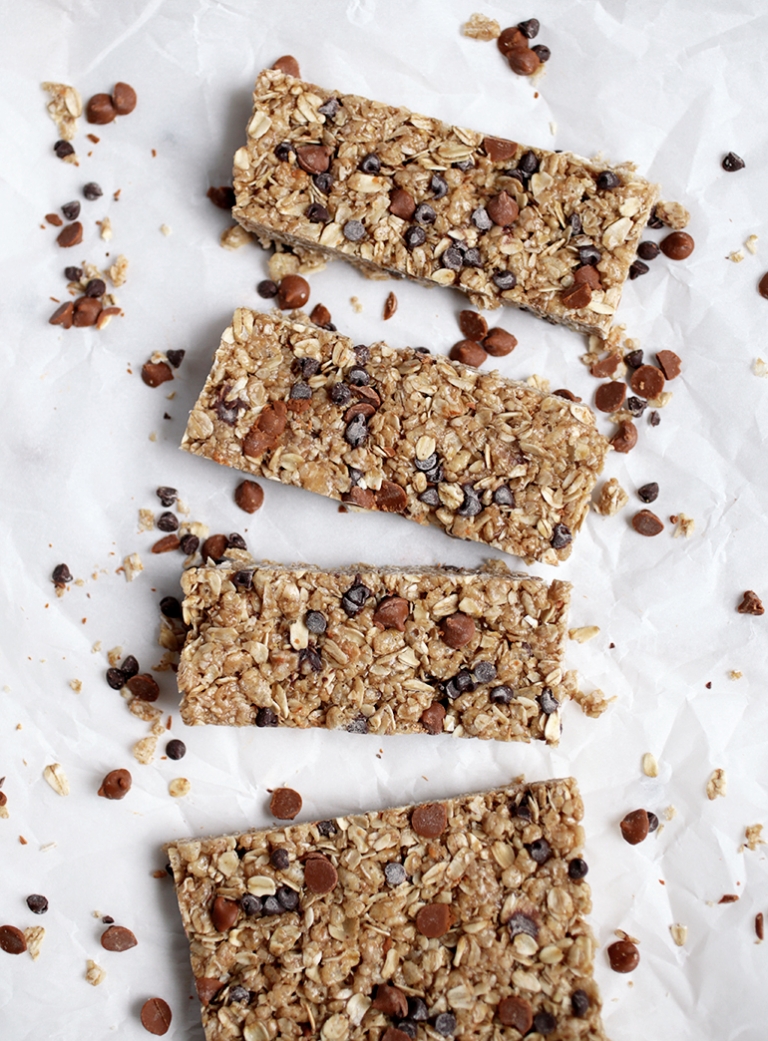 Cinnamon Peanut Butter Granola Bars
2 1/2 cups old fashioned oats (pulse for a few seconds in a food processor if you want)
1 1/2 cups crispy rice cereal
4 tablespoons salted butter
1/3 cup brown sugar
1/4 cup honey
1/4 cup peanut butter
1 teaspoon vanilla
1/4 teaspoon ground cinnamon
1/4 cup mini chocolate chips
1/4 cup cinnamon chips
Line a 9×13 pan with parchment paper. In a large bowl, mix together the oats & crispy rice cereal, set aside.
In a small saucepan combine the butter, sugar and honey; stir over medium high heat until the butter has melted and the sugar has dissolved. When the mixture starts to boil turn the heat down and cook for 3 more minutes, stirring occasionally.
Remove from heat, and let sit for a minute to cool. Stir in peanut butter, vanilla and cinnamon and pour over dry ingredients. Stir well to make sure oat mixture is completely coated. Let the mixture sit for a couple minutes to cool down, you can keep stirring to help cool it down. Add chocolate chips and cinnamon chips, mix thoroughly.
Spread the mixture into your pan and press down firmly (you can sprinkle the top with more chips if you'd like. I like to save the wrapper from my butter and use that to press down the oats with). The pressing will help them stay together better, so don't skimp on your pressing duties!
Place in the fridge for about 30 minutes or until cool, then lift out and cut into bars. Store bars in an airtight container. (They may need to be kept in the fridge if your kitchen is warm, this will help keep them firm.)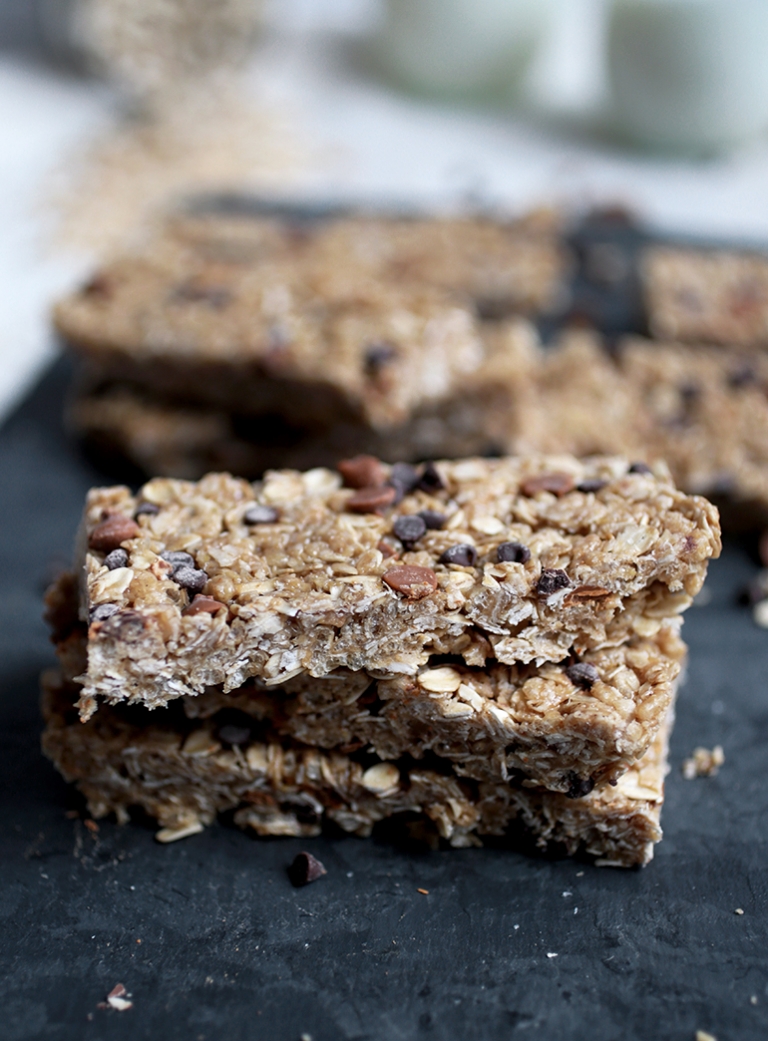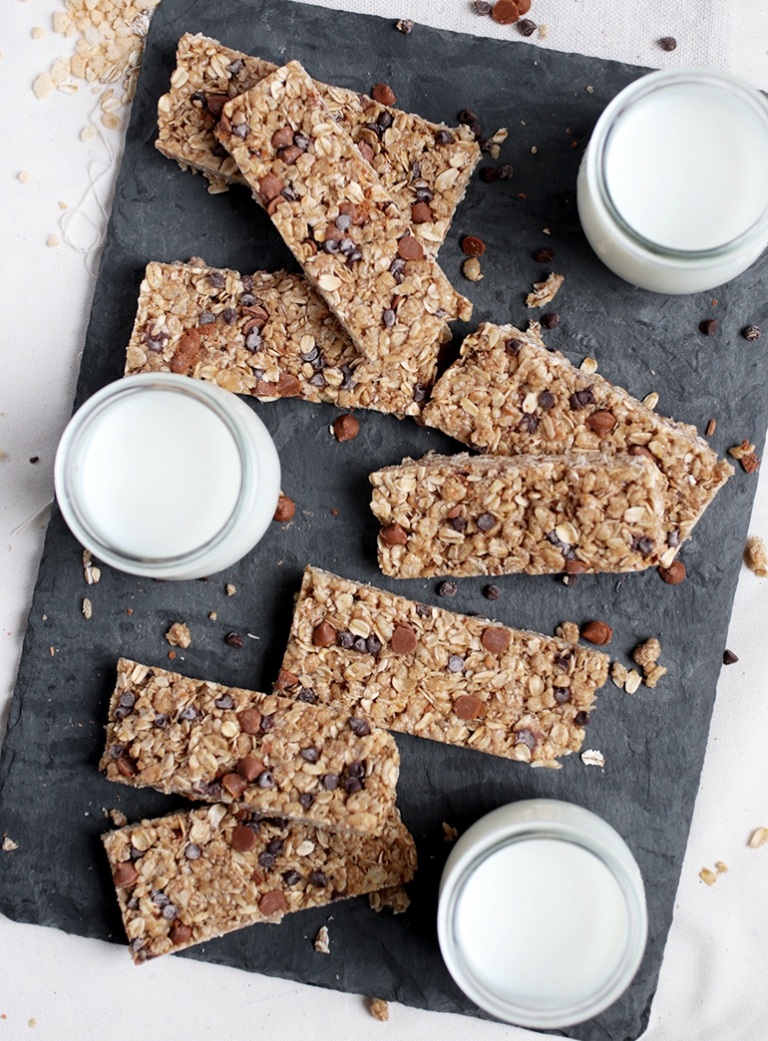 Kid tested and given two thumbs up! 🙂 What's your favorite granola bar flavor?
– Manda