I have been obsessed with this
Blackberry Tangerine Sparkling Water
for the last couple of months. I used to be a diet soda drinker, and knowing that it wasn't the best for me, tried to give it up a few different times without much success. And then one day, I just stopped liking it. Not sure why or what happened, but I was just done with diet soda. And before then, I had always thought sparkling water tasted kind of bitter and just blah, but now, I love the stuff. So my new drink obsession, and all this terribly hot weather we're suddenly having, inspired this creamy, delicious float.
I did add a little bit of sugar to the pureed blackberries, but you can leave that out and just let the ice cream be the sweetener. After they were pureed, I tasted mine and thought they needed to be just a touch sweeter. I also strained out the seeds, but if they don't bother you, feel free to skip that step. And there's no measurements for how much blackberries to add to your float – do what looks & tastes right to you! (You can add more on top too). And even though my boys still aren't fans of sparkling water, they loved these floats, so the sugary soda that's normally in ice cream floats wasn't even missed!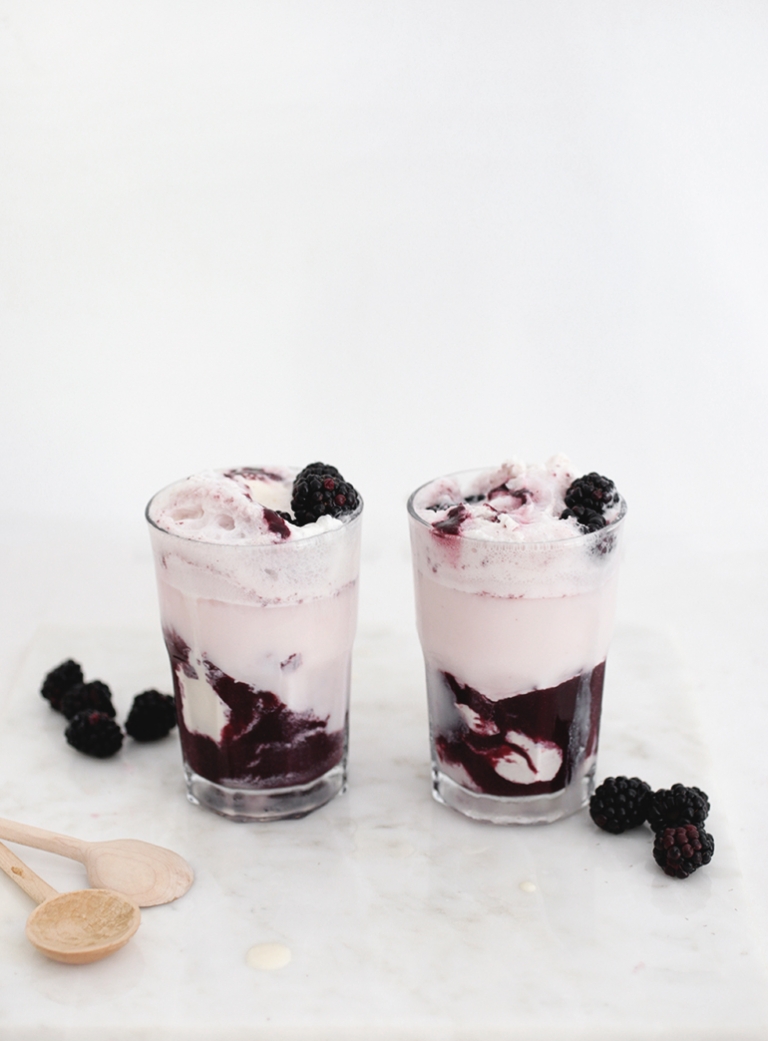 Blackberry Float
2 cups fresh blackberries
2 tablespoons sugar
vanilla ice cream
blackberry sparkling water (I used this, try to use one with no sugar/artificial sweeteners added)
In a blender, puree blackberries until smooth. Pour into a sieve and strain out seeds (if you've never done this before, it does take a little work. Using a spatula or spoon, keep pressing and stirring the blackberry juice until you're left with just a clump of seeds. It might be easier to do in two batches instead of all at once). Once seeds have been strained out, measure out 1/4 cup pureed blackberries and combine with 2 tablespoons of sugar in a small saucepan. Simmer over low heat until sugar is dissolved. Allow to cool and stir back into pureed blackberries.
Pour pureed blackberries into the bottom of a glass. Add 2-3 scoops of vanilla ice cream and top off with blackberry sparkling water.
And here's a few more ways to enjoy blackberries: Blackberry Cheesecake Ice Cream | Blackberry Crumb Bars | Blackberry Mojito Tea Lemonade and even a DIY: Natural Dye with Blackberries!
– Manda