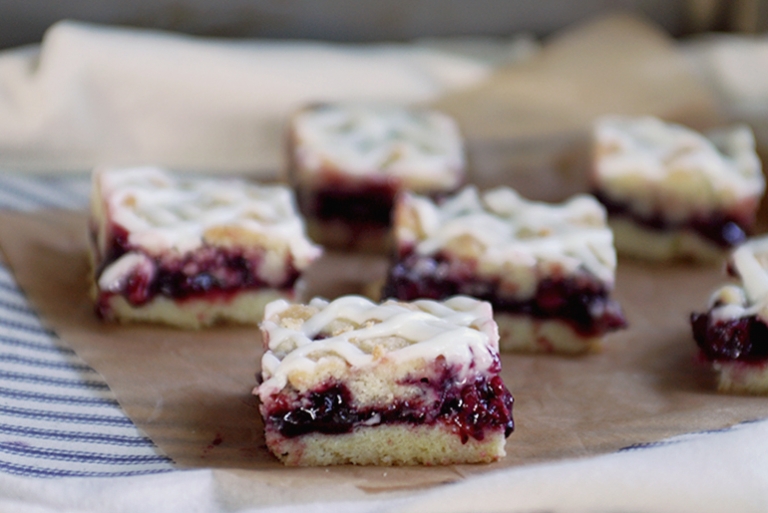 My cousin, Jen, brought these delicious blackberry bars to the 
Floral Baby Shower
 that we shared a few pictures from back in May. We've had a few requests for the recipe and Jen so graciously shared her source with me.  These bars are soo good and get rave reviews by everyone. They'd be perfect to take along to a picnic this summer!
Blackberry Crumb Bars
Crust
1 1/2 – 2 tablespoons of fresh lemon zest (about 2 medium-sized lemons)
3/4 cup white sugar
1/4 cup brown sugar
3 cups all-purpose flour
1 teaspoon baking powder
1/2 teaspoon salt
1 cup (2 sticks) of butter, cold and cut into pieces
1 egg
Filling
2 tablespoons white sugar
1 tablespoon cornstarch
2 cups fresh blackberries
12 oz. jar (or about 1 cup) of blackberry jam
Preheat the oven to 375ºF. Line a 9×13 inch pan with foil and spray the foil.
In a large bowl, combine the lemon zest and white sugar. Using your fingertips, rub the zest into the sugar until it becomes moist and fragrant.
Add the brown sugar, flour, baking powder, and salt. Use a fork or pastry cutter to blend in the butter. (Or just use your fingers – but work quickly so the butter doesn't become too soft).
Stir in the egg. Dough will be crumbly and coarse, like thick wet sand. Pat half of dough into the prepared pan.
In a separate large bowl, stir together the 2 tablespoons of sugar and cornstarch. Gently mix in the blackberries and jam. Spread the blackberry mixture evenly over the crust. Crumble remaining dough over the berry layer.
Bake in preheated oven for 35-40 minutes, or until top is slightly brown.
Drizzle
3 ounces of cream cheese, softened
2 cups of powdered sugar
2 tablespoons heavy cream (or milk)
1/4 teaspoon freshly squeezed lemon juice – optional
In a large bowl, beat the cream cheese until smooth. Stir in the powdered sugar.  Add in the heavy cream and lemon juice.  If the mixture is too thick, add a little extra cream, if it's too thin, add a little more powdered sugar.  Drizzle on bars and let sit until the frosting is set (pop it in the fridge if ya want!). Cut into bars and enjoy!
Adapted from: Une Gamine dans la Cuisine

Enjoy!
-Manda