Tomorrow is Caitlin's birthday! 🎉 So I thought this would be the perfect time to share this yummy cake batter flavored popcorn. I was joking with Caitlin that it seems like we really love her birthday because we've done so many
birthday-ish posts
lately; but then again, as I've mentioned before, we have 10 family birthdays in May & June, so it's no wonder we have
birthday inspired
projects
throughout these
months
!
I've had this on my to-post list for ages and I don't know why it's taken me so long to get around to it. This recipe is so easy to make (with only 4 ingredients) and this popcorn is so addicting!!! It makes for the perfect addition to any party really, not just birthdays. Use whatever seasonal/theme sprinkles you want and then it's perfect for every occasion!
Birthday Cake Popcorn
10 cups popped popcorn (it's about one and a half bags, I used Simply Salted)
8 oz candy melts or white chocolate chips (I used Pastel Colorburst Candy Melts)
1/2 cup white cake mix
2-3 tablespoons sprinkles (or as much or little as you'd like)
Place popped popcorn in a large bowl, set aside. Add candy melts to a medium-size bowl, microwave on medium high for 30 seconds. Stir. Keep heating and stirring in 30 second increments, until the chips are just about melted, but you still see a few small lumps. At that point, just keep stirring and the chips should melt completely as you stir. (Make sure not to overheat!) Stir in cake mix. Pour mixture over popcorn and stir until thoroughly coated. Add about half the sprinkles and stir to mix in. Pour popcorn onto wax paper, spreading into a thin layer. Add remaining sprinkles, let chocolate set and enjoy!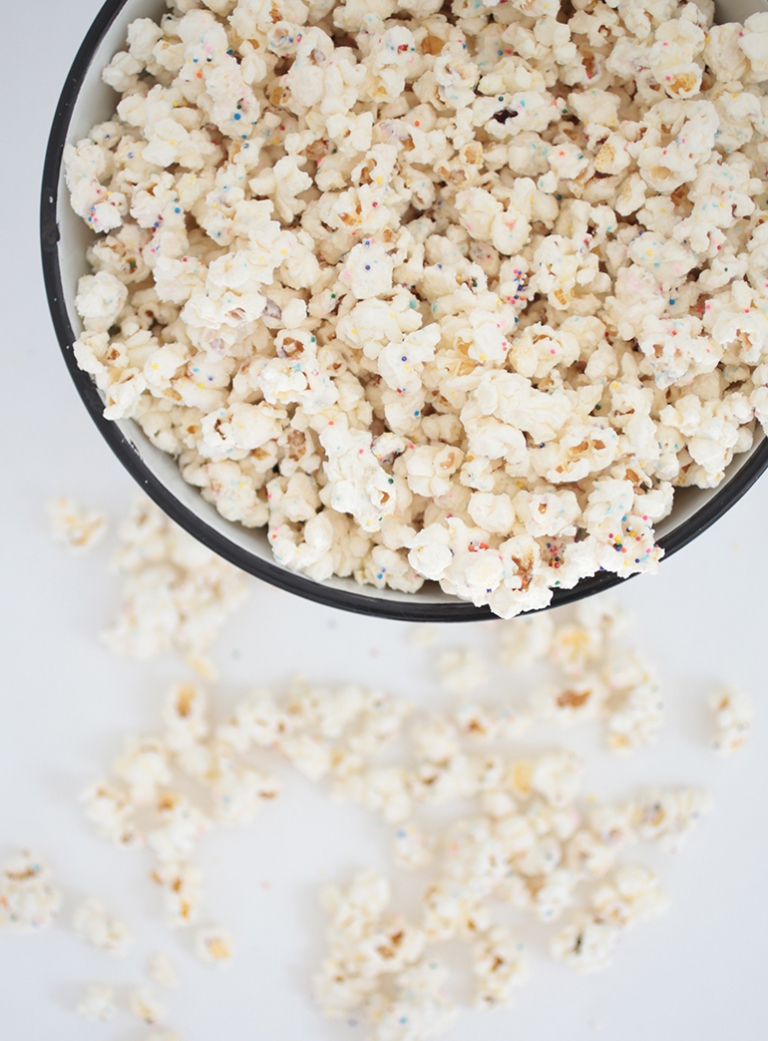 Here's to wishing Caitlin has an amazing 27th year! Happy birthday girl!
-Manda