September through November, apple cider is the drink of choice around here! And ice cream is always a dessert of choice, year round! So we thought we'd combine some of our favorites and make some apple cider floats!
And with this amazing fall weather we've been having, it's the perfect time to indulge! I honestly wasn't too sure I'd love this combination, but my boys were pretty excited about trying it out. Turns out, they are delicious and addicting. And you can't beat an easy-to-make, quick dessert!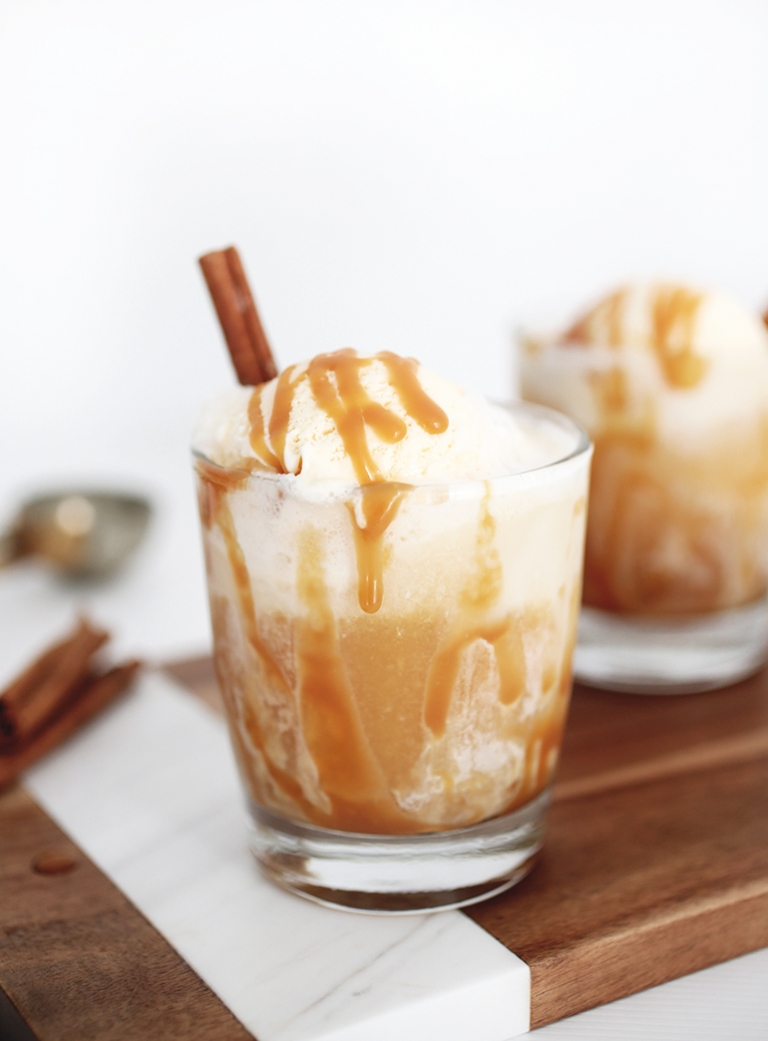 Ingredients for Apple Cider Floats:
vanilla ice cream
apple cider
sparkling apple cider or club soda
salted caramel sauce, optional
cinnamon stick, optional
Apple Cider Ice Cream Float
Cool and creamy, these simple to make ice cream floats are the perfect fall dessert!
Ingredients
vanilla ice cream

apple cider

sparkling apple cider or club soda

salted caramel sauce (recipe below)

cinnamon stick, optional
Instructions
Drizzle glass with salted caramel sauce.

Add 2-3 scoops of vanilla ice cream.

Fill glass 2/3 full with apple cider.

Top off with sparkling apple cider or club soda.

Drizzle with more salted caramel sauce and garnish with cinnamon stick.
Salted Caramel Sauce
Smooth and creamy, this salted caramel sauce is perfect for drizzling on desserts and drinks!
Ingredients
1

cup

sugar

6

tablespoons

salted butter, cubed and at room temperature

pinch or two

of sea salt flakes

2/3

cups

heavy cream, at room temperature
Instructions
Melt the sugar over medium heat in a large sauce pan.

Whisk the sugar as it melts and cook until it becomes a deep amber color.

Add the butter and sea salt flakes and stir it in until melted.

Pour in the heavy cream (mixture will foam) and whisk until you get a smooth sauce.

You may have some lumps but keep stirring until they have melted.

Remove from heat and let cool. (If you still have some lumps in the caramel after it has cooled – strain it through a fine mesh strainer).

Store in the refrigerator.

To use, heat in the microwave until it reaches desired consistency.
Craving more? Here's a couple more fall-inspired ice cream desserts: Apple Cider Milkshakes, Pumpkin Ice Cream with Gingersnap Bowls and Pumpkin Spice Latte Ice Cream Sandwiches.
-Manda