Homemade pop tarts are one of my favorite breakfast treats! They are a
little
more involved than opening a package of store bought ones, but the taste is 1000x better, so it's very worth it. I always use
this recipe
that I shared here in our very first year of blogging (ha – those photos!) and they're always a hit. (We served them at the
Little Babe Brunch Baby Shower
that we threw for my little sister a couple years ago).
Since it's pumpkin season, I thought I'd try making fall-inspired pop tarts. These little gems are sure to please with a subtle-pumpkin flavored creamy filling and a flaky crust. Drizzled with some maple cinnamon icing, they are the perfect fall breakfast treat. Really more of a pastry/dessert, but we'll call them pop tarts so we can get away with eating them for breakfast! 🙂
On a side note, a little while ago I found out that it's a pretty even split on whether people toast store bought pop tarts or not. Honestly, I didn't know people were out there
not
toasting their pop tarts! For the love, I thought eating them straight from the package was only reserved for extreme circumstances, like camping! But I guess some folks don't enjoy the finer things in life, haa! Are you a toast-your-pop-tart kind of person, or a straight-from-the-package pop tart eater? Either way, these homemade ones are definitely worth the extra effort and you should give them a try!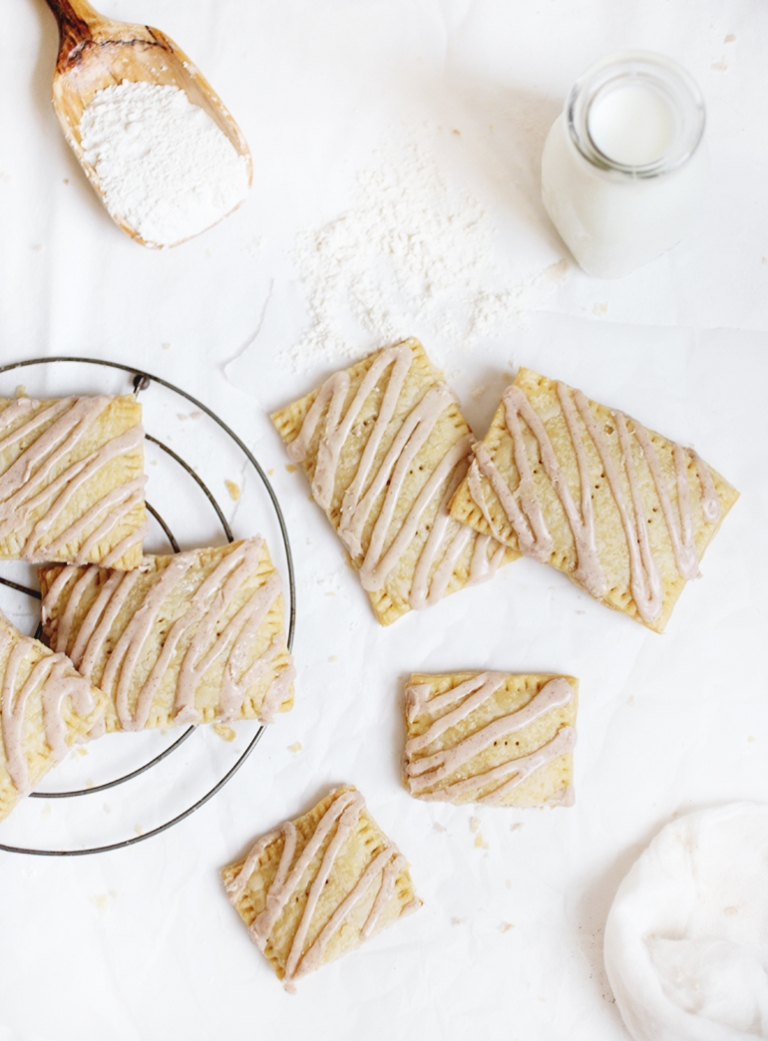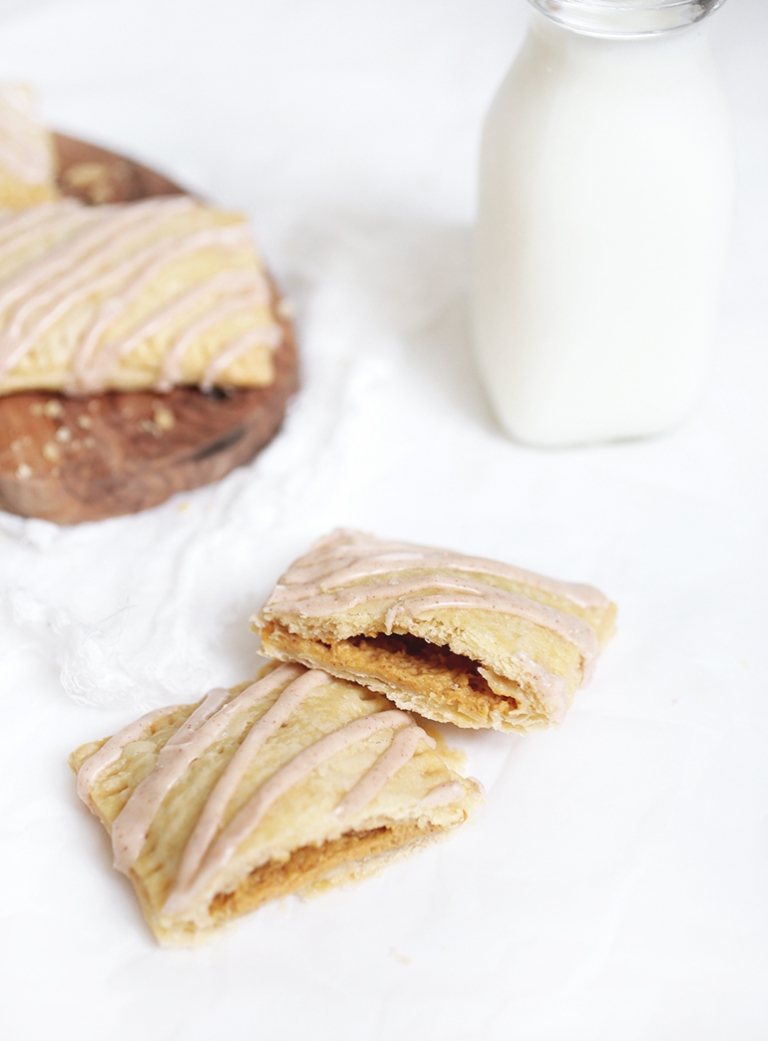 Pumpkin Pop Tarts with Maple Icing
Preheat oven to 350º.
Crust: (or you can use store bought if you'd like)
2 cups flour
dash of salt
1 cup butter flavor Crisco
1/2 cup water
Stir flour & salt together. Add shortening and blend with pastry blender, until dough is crumbly, but don't overwork it. Add water a little at a time until dough sticks together (you may not need all of it) and you can form a ball. Divide dough in half. Roll out one of the halves on a floured surface into a rectangle about 1/8″ thick. Trim the edges to form a rectangle (save your scraps to re-roll). Cut the dough into smaller rectangles, however big you want your pop-tarts to be. Use a ruler or template to help with sizing if you'd like. Make sure you have an even amount of rectangles, for a top and bottom.
Place "bottom" rectangles on a parchment lined baking sheet.
Filling:
4 ounces cream cheese, softened
1/2 cup pumpkin puree
1/4 cup brown sugar
1/2 teaspoon pumpkin pie spice
Stir together ingredients until smooth.
Place 2-3 tablespoons of your filling in the center of your dough, making sure to leave an edge of dough all the way around the rectangle. Dip your finger in some water, and dampen the edge of the dough all the way around.  Place another dough rectangle on top of the filling and press down to seal edges.  Press the tines of a fork all around the edge of the rectangle.  Then prick the top of the pop tart with a fork a few times to allow the steam to escape.
Repeat with remaining dough and filling.
Bake 25 minutes or until light golden brown. Let cool.
Icing:
3/4 cup powdered sugar
1 tablespoon maple syrup
1 tablespoon milk
1/4 teaspoon cinnamon
1-2 drops of maple extract
Mix all the ingredients together in a bowl until it reaches a spreading consistency. It should be thick, but spreadable.
Once pop tarts are cooled, place icing in a baggie, trim a small corner off the baggie and drizzle pop tarts with icing.
Let icing set and enjoy. Watch our video below to see how it's made!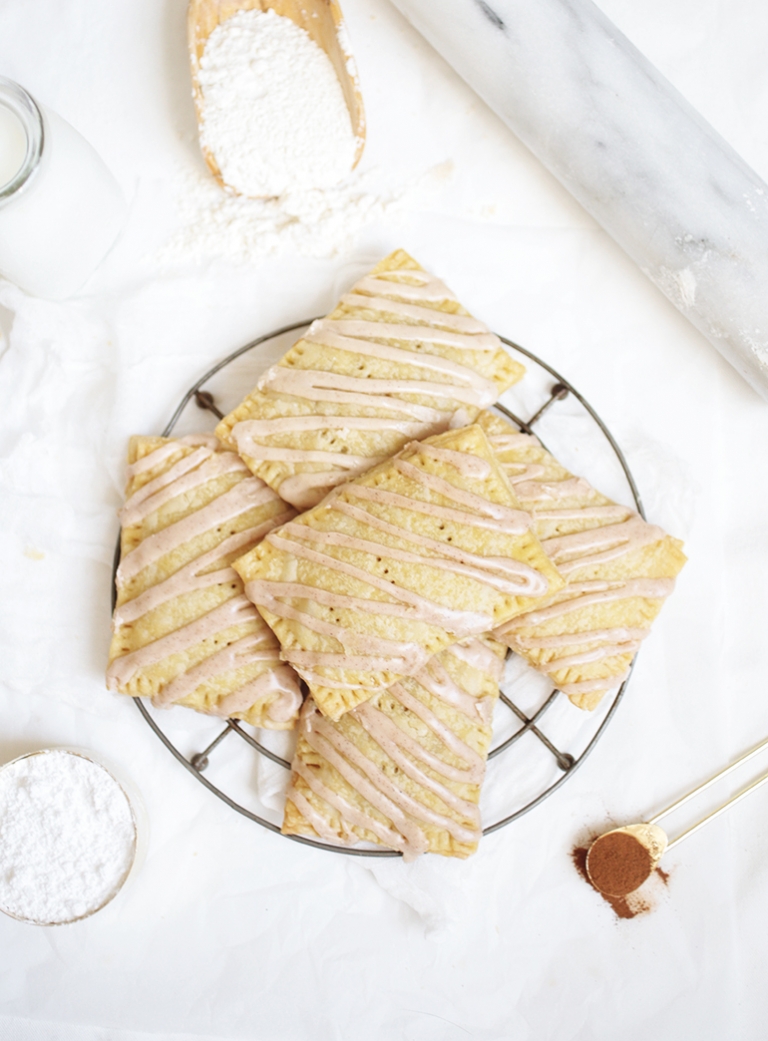 -Manda