More shelves for you today!! Haaa! Wasn't kidding when I
mentioned
that I have a lot of ideas for shelf projects and could fill my house with them…and
obviously
so can Caitlin! I struggled a little bit with this spot between the two windows; I couldn't decide if I wanted to hang another large piece of artwork like we had
before
, or try something new. In the end, shelves won out because I can put up artwork on the shelves and easily switch it up when I want something new. Plus, room for plants too! 😉 I originally had different brackets in mind for these shelves, more similar to the ones we made for the boys
desk
, but at the last minute changed up the design to include dowels. I love the look of these wood brackets, simple but with a slightly modern feel from the dowels. I'm in the process of trying to convince Mike that we should add them to the
shop
!! I'll keep ya posted if we start selling them.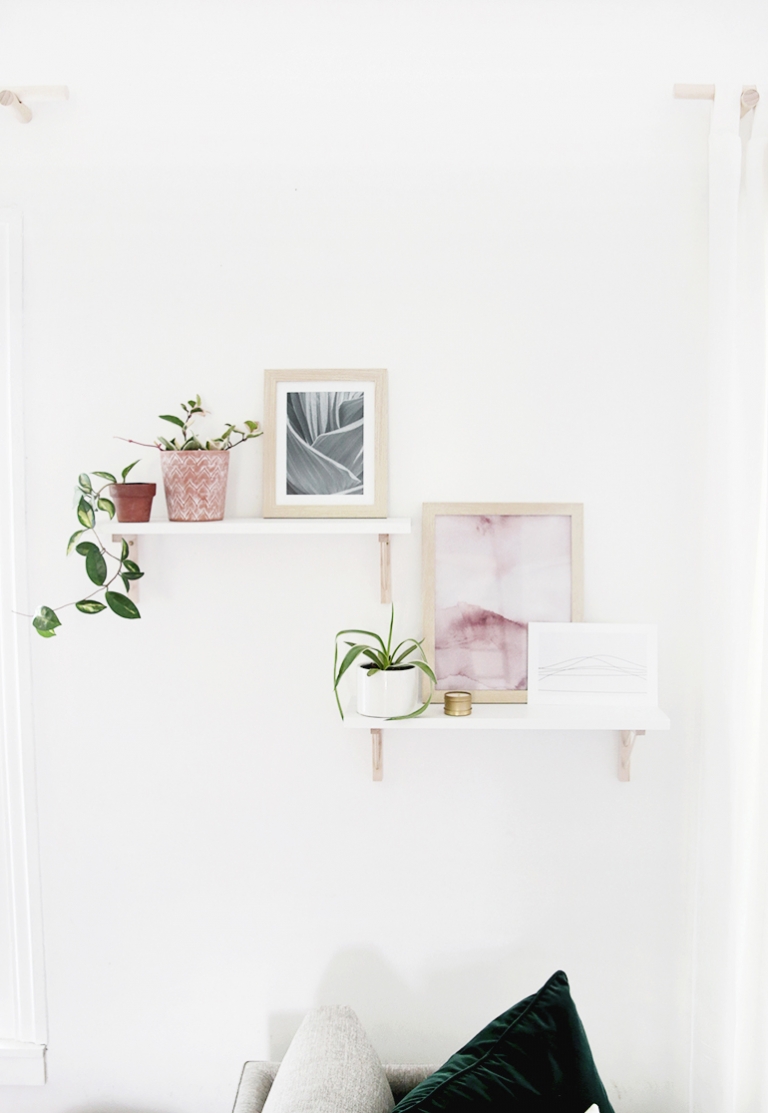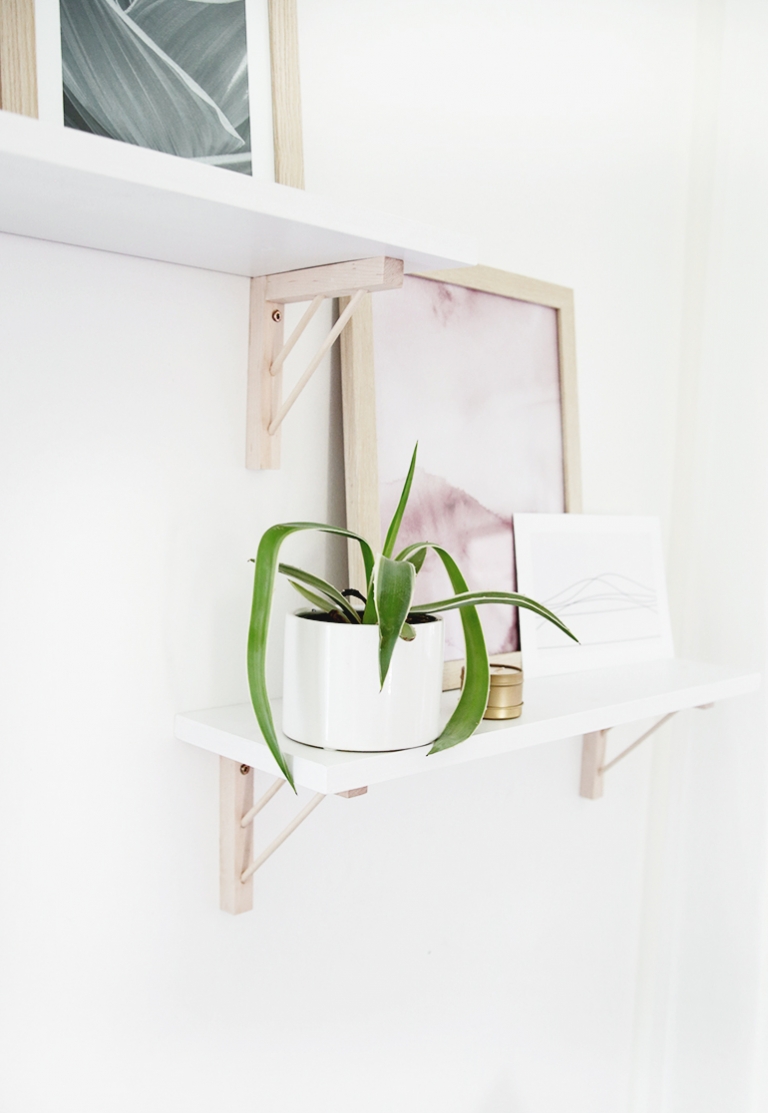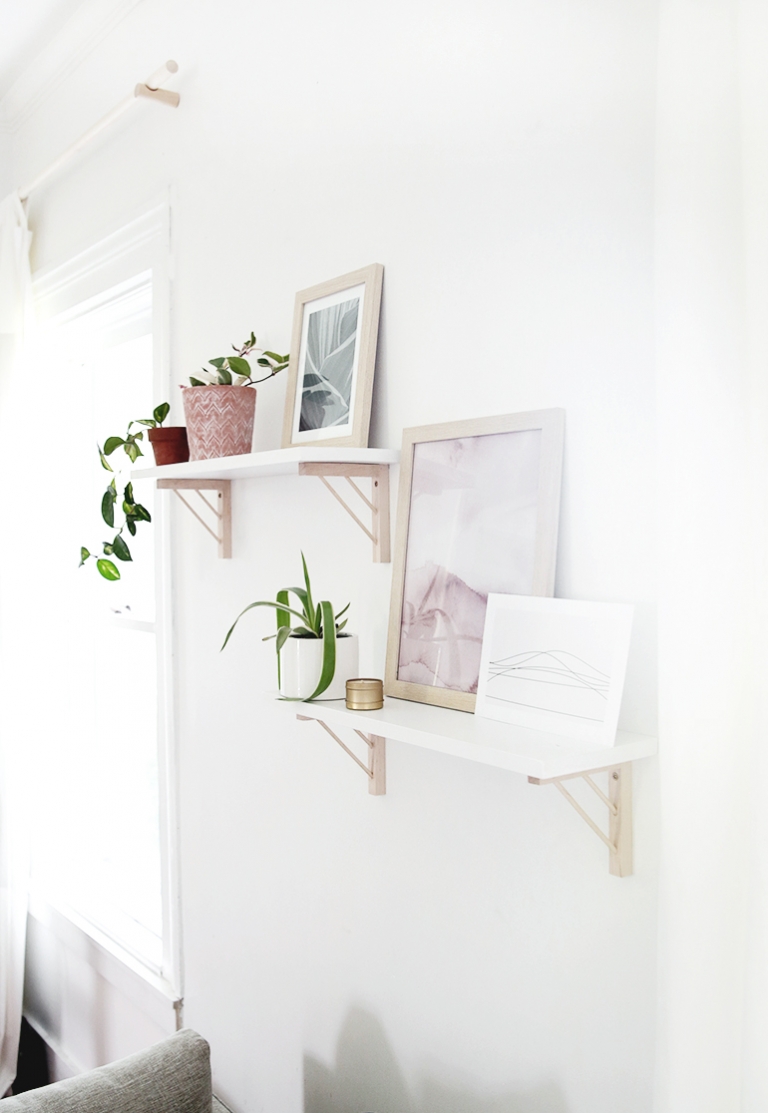 Materials:
– pine board for shelf
– 3/4" thick Maple board
– 1/4" dowel
– table saw
– power planer
– mitre saw
– speed square
– drill and drill bits
– screws
– sand paper
– paint or stain

Directions:
Using the table saw cut a piece 13/16 wide by at least 25" long. Use a power planer to clean up the cut edge, this will leave you with a piece that is 3/4" x 3/4" by 25".
Using the mitre saw cut two 5-1/4" pieces and two 6" pieces. Lay them out in pairs with the 6" piece overlapping onto the end of the 5-1/4" piece so that it forms an L. Use the speed square to make sure they are at a 90 degree angle. Use the speed square to lay out 45 degree angle lines where you want your dowels to be, draw the lines onto each piece. Using the square, transfer the line onto the inside face of each of the pieces and then measure and mark a center line at each of these lines.
Using the drill and a 1/4" brad point drill bit or forstner bit, drill at a 45 degree angle at these points use the lines you drew on the side and the speed square as a reference to keep the drill at the proper angle. Drill the holes about 1/2" deep.
Using a 3/16" drill bit and countersink bit, drill and countersink a hole at the back of the 6" piece on the opposite side from the dowel holes.
Lay out your pieces and measure the length your dowels will need to be to go 3/8" into each hole. Cut your dowels to length.
Dry fit your pieces together; you may have to sand the ends of the dowel to make assembly easier.
Use the square to make sure the pieces are perpendicular, pre-drill with a 3/32 drill bit through the countersunk hole into the end of the 5 1/4" piece.
Take the assembly apart and put glue into the dowel holes. Reassemble and use a 1-5/8" drywall screw to fasten the pieces together.
After the glue has dried, sand the brackets.
Cut a 7" wide piece out of the pine board to the length that you would like your shelf to be, sand and finish the shelf.
To fasten the brackets to the wall, drill a hole through the bracket near the top where the pieces come together; this will have to be at a slight angle because of the dowels. Attach to the wall with screws if attaching where there is a stud, or with drywall anchors if there isn't .

You can see more of the living room here.
– Manda