If you've been following along on our
Instagram
stories, I've been sharing a bit of the process of the making of this patio, and we're excited to finally be sharing the big reveal today! We've been working on this for months and it feels so good to finally have it done! Projects like this kind of take over our life, so it's such a great feeling to finally be able to check it off the list. Or at least partly check it off, I've still got a few smaller things left on my patio to-do list for Mike… 😉 I couldn't be more happy with how it turned out – the before and after is a pretty big transformation – granted, some of that has to do with a
before spring arrived
photo and an
after spring arrived
photo, but still, big change! (You can see the before/after photo below 😳)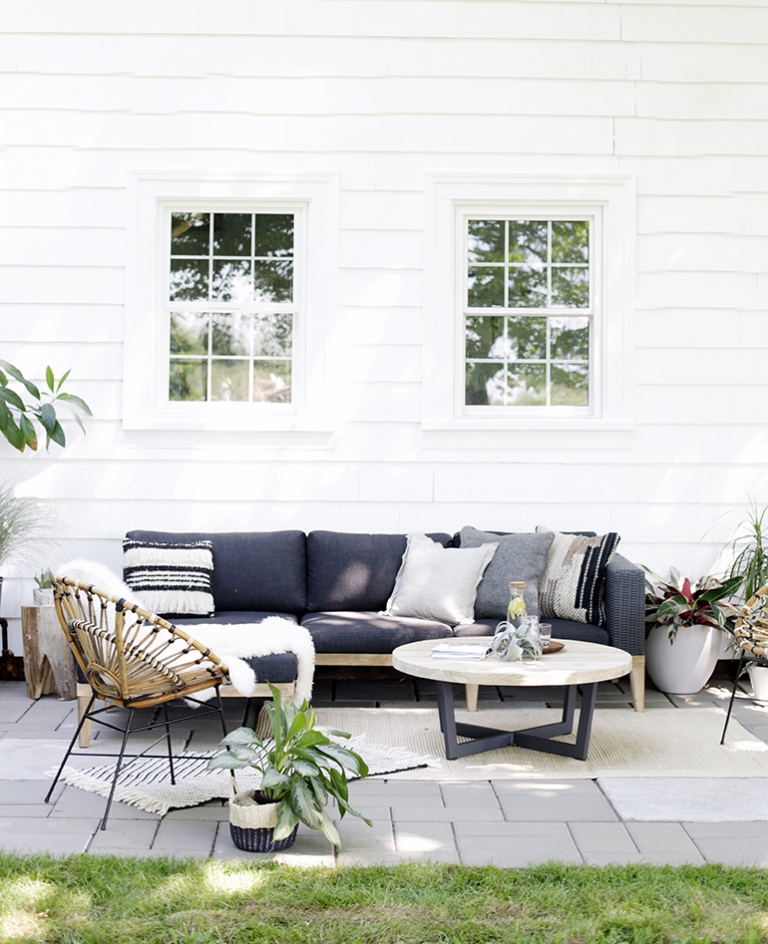 I've been wanting to add a nice outdoor living space to our backyard for years. However I was back and forth on exactly where, when & how (as usual), so we kept putting it off. With plans to make some other bigger changes outdoors this year (painting the house, maybe a pool for the boys), I thought we should just go for it now. When
Article
reached out to us to ask if we'd like to try out some of their outdoor furniture, we were excited to incorporate that into our new patio space! Article sells beautiful, modern furniture and we've been crushing on their style and aesthetic for quite a while (their
sofas
are a fav 😍). Their business model of cutting out the middle man so they can sell directly to you helps keep their prices affordable and we're so happy with the comfort and quality of our pieces!
When we started planning and designing the patio, my goals for this space were for it be cozy & comfortable (as well as look good), keep it as budget-friendly as possible and make it so we could add on to it in the future if we want. Feeling good that we were able to accomplish those goals! I will say the biggest cost savings was the fact that Mike is a contractor, so we didn't have to pay for labor. It was his first time putting in a patio, and the jury's still out on whether he'd ever want to do it again 😉, but I do recognize the blessing of having him be able to take on these projects for us. I'm willing to go more in depth on what actual costs were/what we did and how we did it in a future post, so if that's something you'd want to hear more about, let me know.
Caitlin & I have joked that we're going to be holding our blog meetings on the patio for the summer, it's just such a cozy space! I'm in love with the
Urba Sectional
we got – not only is the look perfect – it's really comfortable. Having a chaise lounge sectional has been on my dream wish list for a few years and I joked with Mike that we should use it in the living room. But for real, I'm just going to spend as much time as possible lounging on that chaise! And we love the relaxed, bohemian vibe of these
Daisy Lounge Chairs
. To add to the cozy, comfortable feel, we added an outdoor rug, lots of plants (of course!) and some cozy pillows. My boys are really excited about the new fire pit as well – they beg for s'mores out on the patio every night! Throughout the whole process, whenever I was feeling like it was just too much work or never going to get finished, I would just tell myself,
it's going to be so worth it when it's done
…
we're going to be so glad to have it
. And I am…it's a perfect outdoor oasis and I love hanging out back here!
We'll be sharing some more projects from the patio throughout the summer, so be sure to keep a lookout for those!
Sources: Urba Sectional c/o Article | Daisy Lounge Chairs c/o Article | Toba Coffee Table c/o Article | Lanna Sheepskin Throw c/o Article | Balla Sheepskin Throw c/o Article | Outdoor Rug | Small Area Rug | Fire Pit
This blog post has been created in partnership with Article. All ideas, thoughts and opinions expressed are our own. Thanks for supporting the brands that keep us bringing fun, new content to you!